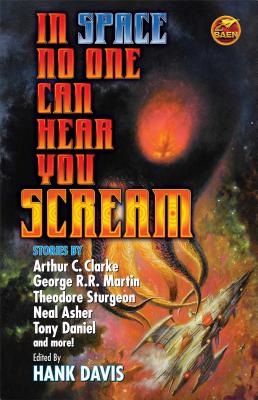 In Space No One Can Hear You Scream
Paperback

* Individual store prices may vary.
Description
Trade Paperback Halloween-themed science fiction anthology. Featuring a mix of classic science fiction reprints where the scary stuff happens in space. THE UNIVERSE MAY NOT BE A NICE NEIGHBORHOOD . . . "The oldest and strongest kind of fear is fear of the unknown," the grand master of horror, H.P. Lovecraft, once wrote. And the greatest unknown is the vast universe, shrouded in eternal cosmic night. What things might be on other planets--or in the dark gulfs between the stars? Giving very unsettling answers to that question are such writers as Arthur C. Clarke, Robert Sheckley, James. H. Schmitz, Clark Ashton Smith, Neal Asher, Sarah A. Hoyt, Tony Daniel and more, all equally masters of science fiction and of terror. One might hope that in the void beyond the earth will be found friendly aliens, benevolent and possibly wiser than humanity, but don't be surprised if other worlds have unpleasant surprises in store for future visitors. And in vacuum, no one will be able to hear your screams--as if it would do any good if they could . . . About In Space No One Can Hear You Scream
" T]he 13 tales in this collection blend sf with horror to demonstrate the resiliency of both genres. . . . this seasonal collection offers strong tales by the genre's best storytellers."--Library Journal " F]irst-rate science fiction, demonstrating how short stories can still entertain."--Galveston County Daily News
Baen Books, 9781451639414, 325pp.
Publication Date: October 1, 2013
About the Author
Editor Hank Davis is Senior Editor at Baen Books.
or
Not Currently Available for Direct Purchase