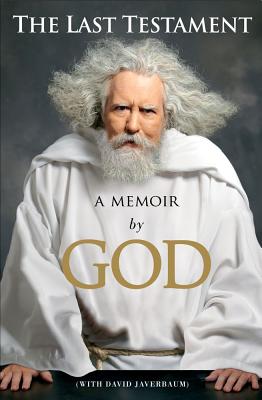 The Last Testament: A Memoir (Hardcover)
A Memoir
Simon & Schuster, 9781451640182, 400pp.
Publication Date: November 1, 2011
* Individual store prices may vary.
or
Not Currently Available for Direct Purchase
Description
***NOW A MAJOR BROADWAY SHOW STARRING JIM PARSONS (THE BIG BANG THEORY) AND DIRECTED BY JOE MANTELLO (WICKED)*** Over the course of his long and distinguished career, God has literally seen it all. And not just seen. In fact, the multitalented deity has played a pivotal role in many major events, including the Creation of the universe, the entirety of world history, and the successful transitioning of American Idol into the post-Simon Cowell era. Sometimes preachy, sometimes holier-than-thou, but always lively, The Last Testament is the ultimate celebrity autobiography.
Praise For The Last Testament: A Memoir…
"Presented as 'A Memoir by God,' the book comes divided into chapters and numbered verses like the Bible, if the Bible were narrated by Mel Brooks on crack-laced manna. It's a bawdy circus of theological vaudeville—Shadrach, Meshach and To-bed-we-go!—determined to sacrifice every sacred cow on the altar of farce."—Ron Charles, The Washington Post



"The Last Testament is billed as a message from God as transcribed by David Javerbaum, the former head writer and executive producer of 'The Daily Show With Jon Stewart,' whose specialty is chutzpah. With no apparent qualms Mr. Javerbaum steps into the infinitely big shoes of the Almighty to deliver a series of pronouncements, gags, parodies of Biblical passages and even a 12-step program envisioned from God's point of view. . . . The Last Testament is fearless . . . a recklessly funny set of gags about all things religious and quite a few things secular too."—Janet Maslin, The New York Times



"I can't be sure, but I think the famously blasphemous Mark Twain (who once said he didn't want to go to heaven because he hated harp music) would have chuckled his way through Javerbaum's book. Maybe even snorted. Because it's very funny. Offensive to some, for sure, but very funny."—A.J. Jacobs for The Globe & Mail



"A 'memoir' by God [The Last Testament] does what The Daily Show does so well—it satirizes religion by both taking it seriously and not taking it seriously at all, using humor to both point out the inconsistencies of the holiest texts and to describe God's codependent relationship with celebrities."—Salon.com



"This book plays spin doctor for the Big Guy, in the form of a really new testament. Author David Javerbaum, formerly a writer and producer for 'The Daily Show With Jon Stewart,' brings that show's arch snappiness to his task, laying out what God really had in mind . . . If you're a churchgoer you might ask, well, isn't this sacrilegious? In many places, decidedly so. And if the human temptation is to continually imagine God in our own image (face it, you think God agrees with your positions on abortion, taxes and political parties, don't you?), The Last Testament does so with a vengeance, quoting a pop-culture-savvy Creator who despises Sarah Palin and holds reliably progressive social views. . . . People of faith should be glad when religious themes show up in popular discourse, even if it's for a cheap joke. Better to be satirized than to be ignored. And, of course, the premise of 'The Daily Show' is in effect: Satire can be the best vehicle for truth."—Buffalo News



"Spit-take funny."—The Jewish Daily Forward




"Oh, God . . . There are enough laughs here, not to mention a dazzling underlying knowledge of theology, to give plenty of props to Javerbaum."—Booklist (starred review)



"A blithely blasphemous satire of monotheism. . . . Adherents of every Abrahamic faith will find plenty of hilarious, offensive manna for thought in these revelations."—Publishers Weekly



"Damned comical. Amen."—Kirkus Reviews



"Absurdity reigns in The Last Testament. . . . A wickedly funny introduction to the opinions and modus operandi of God, 'King of the Universe.'"—ShelfAwareness.com
Coverage from NPR
Advertisement