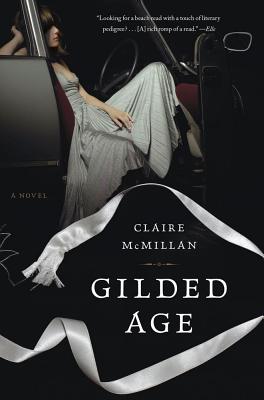 Gilded Age
A Novel
Hardcover

* Individual store prices may vary.
Other Editions of This Title:
Digital Audiobook (6/11/2012)
Paperback (2/12/2013)
MP3 CD (6/12/2012)
Compact Disc (6/12/2012)
MP3 CD (6/12/2012)
Compact Disc (6/12/2012)
Compact Disc (6/12/2012)
Description
A debut author transforms Edith Wharton's The House of Mirth into a powerful modern story of one woman's struggle with independence and love.

Intelligent, witty, and poignant, Gilded Age presents a modern Edith Wharton heroine—dramatically beautiful, socially prominent, and just a bit unconventional—whose return to the hothouse of Cleveland society revives rivalries, raises eyebrows, and reveals the tender vulnerabilities of a woman struggling to reconcile her desire for independence and her need for love.

ELEANOR HART had made a brilliant marriage in New York, but it ended in a scandalous divorce and thirty days in Sierra Tucson rehab. Now she finds that, despite feminist lip service, she will still need a husband to be socially complete. A woman's sexual reputation matters, and so does her family name. Ellie must navigate the treacherous social terrain where old money meets new: charitable benefits and tequila body shots, inherited diamonds and viper-bite lip piercings, country house weekends and sexting. She finds that her beauty is a powerful tool in this world, but it has its limitations, even liabilities. Through one misstep after another, Ellie mishandles her second act. Her options narrow, her future prospects contract, until she faces a desperate choice.

With a keen eye for the perfect detail and a heart big enough to embrace those she observes, Claire McMillan has written an assured and revelatory debut novel about class, gender, and the timeless conundrum of femininity.
Praise For Gilded Age: A Novel…
"Looking for a beach read with a touch of literary pedigree? . . . [A] rich romp of a read."—Elle

"Great fun, an over-the-top social farce, like Gossip Girl for grown people."—Boston Globe

"McMillan, a facile writer who excels at natural dialogue, is deft at bringing character 'types' like Ellie and her professor-swain to life. Readers needn't care about Cleveland aristocracy to enjoy this book. . . . Ellie Hart's conundrum seduces us . . . studded with intriguing and accurate morsels, set among the city's old-money WASP conventions, updated with sexting and tequila body shots. More than a century after The House of Mirth, McMillan demonstrates that human nature's tendency to judge and shun is still with us."—The Cleveland Plain Dealer

"McMillan reimagines Wharton's The House of Mirth as a modern story set amid the upper crust of Cleveland instead of New York. The new setting works brilliantly. While the book hews to the original in terms of plot, this is no literary parlor trick: The dialogue is sharp and witty, and the characters inhabit a world of their own making. It's a tragic comedy that's alternately hilarious and heartbreaking."—Romantic Times


"A hard-edged look at the . . . elite of modern-day Cleveland . . . While the novel tips its hat to House of Mirth, a simple comparison doesn't do McMillan justice."—Publishers Weekly

"McMillan cleverly uses Wharton's classic novel to draw parallels between the social mores of two starkly different centuries. . . . An engrossing first novel."—Library Journal

"Marvelous . . . it is McMillan's deft touch with the complexities of male-female relationships that . . . give Gilded Age real depth. . . . As a stand-alone novel this works in every sense."—Portland Book Review

"With a keen eye for the perfect detail and a heart big enough to embrace those she observes, Claire McMillan has written an assured and revelatory debut novel about class, gender, and the timeless conundrum of femininity."—Bookreporter.com

"Entertaining and thought-provoking . . . mature and deft. . . . An engrossing reinterpretation of Edith Wharton's The House of Mirth."—ShelfAwareness.com

"If Edith Wharton had lived in the contemporary Midwest, here is the novel she would have written. From the dowager who pins a half million dollars in diamonds on her fleece vest to the native son burdened by a decaying family estate, Claire McMillan gets it all right as she spins an intelligent and engrossing story of class, feminism, and beautiful but doomed Ellie Hart."—Susan Rebecca White, author of A Soft Place to Land

"In Gilded Age, Claire McMillan manages to both channel Edith Wharton and tell a compelling contemporary story of a woman unable to define herself through anything but the men who who desire her."—Lily King, author of Father of the Rain

"Claire McMillan has captured Cleveland society in her clever net and with it brought back Lily Bart to vivid life in this witty, perceptive, and compulsively readable story of our human frailties, our strivings for success and love."—Sheila Kohler, author of Becoming Jane Eyre

"Claire McMillan has written a delightful first novel, which cleverly uses The House of Mirth as a counterpoint for her own perceptive take on contemporary social mores. A very fun read for Wharton's fans and anyone who likes a good story."—Emily Mitchell, author of The Last Summer of the World

"Claire McMillan's mesmerizing depiction of contemporary Rust Belt aristocracy—no less stratified and coded than Edith Wharton's New York—is also a tender look at friendship and the secret of happiness. The haunting beauty of this novel lingers after the final page."—Irina Reyn, author of What Happened to Anna K.
Simon & Schuster, 9781451640472, 256pp.
Publication Date: June 12, 2012
About the Author
Claire McMillan is the author of Gilded Age and The Necklace. She is the 2017-18 Cuyahoga County Writer-in- Residence and currently serves as a member of the board of trustees of The Mount, Edith Wharton's home in Lenox, Massachusetts. She practiced law until 2003 and then received her MFA in creative writing from Bennington College. She grew up in Pasadena, California and now lives on her husband's family farm outside of Cleveland, Ohio with their two children.
or
Not Currently Available for Direct Purchase