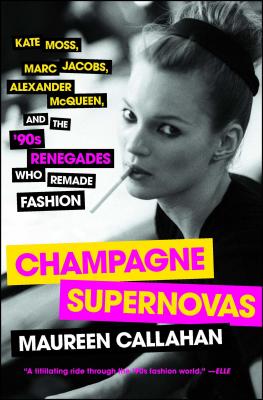 Champagne Supernovas
Kate Moss, Marc Jacobs, Alexander McQueen, and the '90s Renegades Who Remade Fashion
Paperback

* Individual store prices may vary.
Other Editions of This Title:
Hardcover (9/2/2014)
Paperback (6/18/2015)
Description
"Terrifically exciting and fun" (Publishers Weekly), Champagne Supernovas is "a lucid, smoothly executed look at a pivotal decade in the legacy of American fashion" (Kirkus Reviews) as told through the lives of Kate Moss, Marc Jacobs, and Alexander McQueen—the three iconic personalities who defined the time.

Veteran pop culture journalist Maureen Callahan takes us back to the pivotal style moment of the early 1990s—when supermodel glamazons gave way to heroin chic, when the alternative became the mainstream, and when fashion suddenly became the cradle for the most exciting artistic and cultural innovations of the age. Champagne Supernovas gives you the inside scoop from a bevy of supermodels, stylists, editors, photographers, confidantes, club kids, and scenesters who were there. They'll tell the unvarnished story of three of the most influential personalities to emerge in fashion in decades—Kate, Marc, and McQueen—and show why the conditions in the 1990s were perfect for their rise…but also helped contribute to their personal struggles.

Steeped in the creative brew of art, decadence, and genius that defined the era, Champagne Supernovas is a "titillating ride through the fashion world" (Elle) that offers readers front-row tickets to a gloriously debauched soap opera about the losers and freaks who became the industry's It Girls and Boys…and who changed the larger culture forever.
Praise For Champagne Supernovas: Kate Moss, Marc Jacobs, Alexander McQueen, and the '90s Renegades Who Remade Fashion…
"As someone whose knowledge of fashion runs fairly pedestrian, I was surprised to find myself unable to put down Maureen Callahan's propulsive Champagne Supernovas. With a scholar's eye and a tabloid reporter's touch, Callahan bursts open one of the most exclusive industries in the world, revealing to the grit and glamour, the damaged, drug-addled underdogs, and the tortured geniuses who forever changed the way we comprehend and commodify beauty. This instant classic -- a master class in how to write smart, intimate, at times shocking, but always compulsively readable non-fiction -- deserves its place as the 90s answer to other pop culture giants, Easy Riders, Raging Bulls and Fifth Avenue, 5AM.
— Susannah Cahalan, author of Brain on Fire

"Maureen Callahan has pulled off a very neat trick in Champagne Supernovas, capturing the essence of a fleeting moment when fashion's guard changed. This rise-and-fall story has it all: sex, drugs, rock, and frocks. Fasten your seat belt. It's a scary fun ride."
— Michael Gross, author of Model: The Ugly Business of Beautiful Women and House of Outrageous Fortune

"Shocking but never cheap, sometimes hilarious but more often heartbreaking, Champagne Supernovas is a thorough, intimate, and bracing look at the complicated and deeply troubled figures who sparked a fashion revolution."
— Alan Light, former editor-in-chief, Vibe and Spin magazines

"The 90s: a time when fashion suddenly mingled with punk rock, movie stars, art school, the fantasies of the whole world, in ways both deadly and revolutionary. Callahan brilliantly connects all the glittering wreckage from a uniquely explosive moment in pop culture, from London to Seattle to the Viper Room. A major work on a one-of-a-kind pop era."
— Rob Sheffield, author of Love Is A Mix Tape and Turn Around Bright Eyes

"A titillating ride through the '90s fashion world, as Kate Moss, Marc Jacobs, and Alexander McQueen eclipsed the reigning glamazons with their waifish chic."
— Elle

"Terrifically exciting and fun…this book works as a fun, if cautionary, read about some of the folks who changed fashion in the 1990s. Readers will wonder when a similar trio will arrive to save us all from the Kardashians."
— Publishers Weekly

"Fast paced, gossipy and cleverly put together . . . fantastically entertaining and thoroughly researched . . . this is a book about how myths are made."
— Telegraph (UK)

"The author makes great use of personal interviews and reference materials, and through cross comparisons, she discovers like-minded commonalities they all shared with each other…A lucid, smoothly executed look at a pivotal decade in the legacy of American fashion."
— Kirkus Reviews

"Champagne Supernovas puts readers in the front row and three of the era's biggest names in the catwalk spotlight. . . . The pace is as quick as an H&M runway knockoff. Callahan's prose is tight, and she stitches together momentum and suspense by alternating chapters on the trio. . . . A page turner filled with juicy behind-the-scenes tales."
— Associated Press

"Maureen Callahan proves, in a biography as dramatic and addictive as Game of Thrones, that the decade represents a revolution not just in fashion, but also the broader ideals of beauty. . . . A former editor and writer at New York magazine, Spin and the New York Post, Callahan crafts an intoxicating brew of scholarly rigor, dishy anecdotes and wicked commentary."
— Chicago Tribune

"A juicy and gossipy account of the '90s fashion scene. . . . You might not fully approve . . . but you can't help wishing you were there."
— Daily Beast
Touchstone, 9781451640588, 288pp.
Publication Date: September 1, 2015
About the Author
Maureen Callahan has worked as an editor and writer at the New York Post, covering everything from the subcultures of the Lower East Side to local and national politics. She has also written for Sassy, Spin, New York magazine, and Vanity Fair. She lives in Brooklyn. Visit ChampagneSupernovas.com.