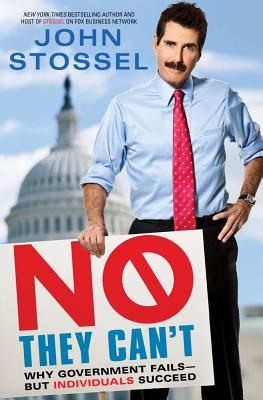 No, They Can't
Why Government Fails-But Individuals Succeed
Hardcover

* Individual store prices may vary.
Other Editions of This Title:
Digital Audiobook (4/9/2012)
Paperback (4/2/2013)
CD-Audio (4/10/2012)
Description
New York Times bestselling journalist John Stossel shows how the expansion of government control is destructive for American society.

The government is not a neutral arbiter of truth. It never has been. It never will be. Doubt everything. John Stossel does. A self-described skeptic, he has dismantled society's sacred cows with unerring common sense. Now he debunks the most sacred of them all: our intuition and belief that government can solve our problems. In No, They Can't, the New York Times bestselling author and Fox News commentator insists that we discard that idea of the "perfect" government—left or right—and retrain our brain to look only at the facts, to rethink our lives as independent individuals—and fast.

With characteristic tenacity, John Stossel outlines and exposes the fallacies and facts of the most pressing issues of today's social and political climate—and shows how our intuitions about them are, frankly, wrong:

• the unreliable marriage between big business, the media, and unions

• the myth of tax breaks and the ignorance of their advocates

• why "central planners" never create more jobs and how government never really will

• why free trade works—without government Interference

• federal regulations and the trouble they create for consumers

• the harm caused to the disabled by government protection of the disabled

• the problems (social and economic) generated by minimum-wage laws

• the destructive daydreams of "health insurance for everyone"

• bad food vs. good food and the government's intrusive, unwelcome nanny sensibilities

• the dumbing down of public education and teachers' unions

• how gun control actually increases crime

. . . and more myth-busting realities of why the American people must wrest our lives back from a government stranglehold.

Stossel also reveals how his unyielding desire to educate the public with the truth caused an irreparable rift with ABC (nobody wanted to hear the point-by- point facts of ObamaCare), and why he left his long-running stint for a new, uncensored forum with Fox. He lays out his ideas for education innovation as well and, finally, makes it perfectly clear why government action is the least effective and desirable fantasy to hang on to. As Stossel says, "It's not about electing the right people. It's about narrowing responsibilities." No, They Can't is an irrefutable first step toward that goal.
Praise For No, They Can't: Why Government Fails-But Individuals Succeed…
"Excellent...No They Can't shed[s] light on how nonsensical government…is way beyond what our constitution allows." --Sarah Palin


"As an introduction to a way of looking at the world, No, They Can't is superb. In about 300 highly readable pages, Mr. Stossel whips through countless topics, explaining for each why libertarians think the government does more harm than good." --The Washington Times

"I love No They Can't. This book sends a message that people need to read."--Senator Mike Lee

"One of the nation's most recognized advocates of free-markets and individualism, Stossel argues that we have to become reality-based skeptics and embrace facts rather than feel-good rhetoric and politically popular policies that simply don't work."--David Harsanyi, Human Events


"Is there anything for a reader already on the capitalist side to learn from yet another one of these books? Yes there is." --Future of Capitalism

Threshold Editions, 9781451640946, 336pp.
Publication Date: April 10, 2012
About the Author
New York Times bestselling author John Stossel hosts his own one-hour weekly Fox Business Network show, called Stossel, and a series of one-hour specials on Fox News. He also appears regularly on The O'Reilly Factor and on other Fox News shows. During three decades in journalism, Stossel has received numerous honors and awards. He is a nineteen-time Emmy winner and a five-time honoree for excellence in consumer reporting by the National Press Club.
or
Not Currently Available for Direct Purchase