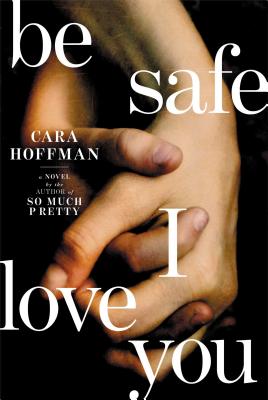 Be Safe I Love You
A Novel
Hardcover

* Individual store prices may vary.
Other Editions of This Title:
Digital Audiobook (3/31/2014)
Paperback (4/21/2015)
MP3 CD (4/21/2015)
Compact Disc (4/21/2015)
Hardcover, Large Print (7/23/2014)
MP3 CD (4/1/2014)
Compact Disc (4/1/2014)
Description
Named one of the 5 Best in Modern War Fiction, alongside The Yellow Birds and Billy Lynn's Long Half-Time Walk —The Sunday Telegraph (UK)

Lauren Clay has returned from a tour of duty in Iraq just in time to spend the holidays with her family. Before she enlisted, Lauren, a classically trained singer, and her brother Danny, a bright young boy obsessed with Arctic exploration, made the most of their modest circumstances, escaping into their imaginations and forming an indestructible bond. Joining the army allowed Lauren to continue to provide for her family, but it came at a great cost.

When she arrives home unexpectedly, it's clear to everyone in their rural New York town that something is wrong. But her father is so happy to have her home that he ignores her odd behavior and the repeated phone calls from an army psychologist. He wants to give Lauren time and space to acclimate to civilian life.

Things seem better when Lauren offers to take Danny on a trip to visit their mother upstate. Instead, she guides them into the glacial woods of Canada on a quest to visit the Jeanne d'Arc basin, the site of an oil field that has become her strange obsession. As they set up camp in an abandoned hunting lodge, Lauren believes she's teaching Danny survival skills for the day when she's no longer able to take care of him.

But where does she think she's going, and what happened to her in Iraq that set her on this path?

From a writer whom The New York Times Book Review says, "writes with a restraint that makes poetry of pain," Be Safe I Love You is a novel about war and homecoming, love and duty, and an impassioned look at the effects of war on women—as soldiers and caregivers, both at home and on the front lines.
Praise For Be Safe I Love You: A Novel…
"A finely tuned piece of fiction . . . Be Safe I Love You is a painful exploration of the devastation wrought by combat even when the person returns from war without a scratch. The story—written with such lucid detail it's hard to believe the main character is an invention—suggests the damage starts long before the soldier reports for duty. . . . In crystalline language that conveys both the desolation of the Iraqi desert and the north country of New York State . . . this book is a reminder that art and love are all that can keep us from despair."
— Alissa J. Rubin

"In so many ways, we still think of warfare and soldiering as male endeavors. The plight of the female soldier remains largely out of view — in print media, on television news, even in fiction and film. Through Lauren, Cara Hoffman's thoroughly researched and carefully crafted heroine, Be Safe I Love You illuminates the distaff side of military service and the ways that life in uniform are at once different and, at times, uncannily similar for men and women. Toward the end of this fine novel, Lauren finds a new life for herself based on her old passions, but Hoffman doesn't give us the sense that she's fully healed. Rather, she is, in her own way, soldiering on, a woman forever changed. . . . 'She knew now that the difference between never and always was small,' Hoffman writes. 'Never and always are separated by a wasp's waist, a small sliver of safety glass, one bead of sweat; separated by the seven seconds it takes to exhale the air from your lungs, to make your body as still as the corpse you are about to create.'"

"Beautifully written and unflinching in its honesty . . . [Be Safe I Love You] is a penetrating social critique: Hoffman paints a vivid and nuanced portrait of post-traumatic stress disorder and raises questions about class divisions (the working class being more directly affected by American warfare than anyone else). . . . A terrific story, suspenseful and smart and tender in unexpected moments, but it's also a call to action, a heartfelt demand for us to pay closer attention to the costly fallout of violence."

"For those of us never deployed into active duty, it is difficult to fathom the adrenaline-fueled combination of terror and anger that combat instills. We only see the aftermath, when soldiers return home, forever changed, trying to connect with a world where everyone seems flawed and fragile and uncomprehending. . . . In prose that is both powerful and poetic, Hoffman (So Much Pretty) paints a searing portrait of PTSD and the disconnect of the returning vet amid the well-meaning but clueless. . . . Even more compelling is the novel's rare, illuminating glimpse into the distinctive experience and psyche of a female vet. Hoffman challenges us to imagine how extraordinarily difficult it must be to reconcile the innate protective instincts of the caregiver with a culture of violence and orders to kill. Yet she does that beautifully and poignantly, without destroying our hope for redemption and healing."

"A riveting suspense story and a frank portrayal of war's psychic damage."

"Hoffman's second novel is a fierce and nuanced tribute to women warriors."

"It would be a mistake to understand Be Safe, I Love You only as a war novel. This is also a book about broken families and class and the impossible choices the working poor are too often forced to make. . . . Deeply moving and gorgeously written — raw in some places, tender in others. Lauren's vulnerability and torment are elegantly rendered."

"Extremely intense and completely engrossing. . . .Be Safe I Love You is one of the best written studies we have of the returning veterans and what they bring with them and what they face."

"Hoffman dazzled me (and many others) with her 2011 So Much Pretty . . . Highly recommend."

"A searing, unforgettable, and beautifully written tale about the corrosive effects of war on the psyche, a contemporary version of Tim O'Brien's The Things They Carried with a female protagonist."

"Tense and stunning . . . exactly what a war novel should be: not a story about battles and guns and machismo, but a tale of refreshing honesty about the harm war does to us all, women, men and children alike, not only in battle, but at home."
— Helen Benedict

"In this story about a female soldier returning from a tour of duty in Iraq, Hoffman (So Much Pretty, 2011) does many things well, including her depictions of sibling dynamics, setting (both upstate New York and Iraq), and the working-class mind-set. But what she does best of all is to capture the symptoms and fallout of PTSD. . . . Hoffman describes in visceral prose the disorientation, guilt, and shame of returning war vets. A page-turner that also offers impassioned social critique."

"Excellent . . . describes the troubled homecoming of U.S. Army Sergeant Lauren Clay to Watertown, N.Y., from a tour of duty in Iraq. . . . Hoffman fills her tight narrative with an ominous sense of imminent violence. . . . [a] haunting page turner."

"There are a lot of reasons I loved Be Safe I Love You: the complex main character of Lauren, the gorgeous descriptions, the thread of mystery weaving deftly through the story. But most of all I loved it because it's a brutal and harsh look at the difficulties of coming home after war, of trying to fit back into an old life, a mold, when you don't fit into your own skin. It's about losing yourself and finding yourself all over again. It is, quite simply, luminous."

"It's good to know that a female protagonist doesn't have to be 'nice' in order to be compelling . . . In Be Safe I Love You, Hoffman pulls us in brilliantly."

"Be Safe I Love You is an important step into new territory that hopefully will blaze a trail for other writers to follow."

"Every once in awhile a book comes around that takes my breath away. One whose beauty knocks me off my feet, whose gorgeousness I simply can't put into words. Today, that book is Be Safe I Love You . . . [Hoffman's] words pack punches at the same time they're soft and comforting; her narrative ability is remarkable, and readers will find themselves lost in the world she creates."

"Riveting. Be Safe I Love You is haunting and rare: the story of a young female soldier returning home, torn between love and rage, unable to recognize who she once was. In lyrical, assured prose, Hoffman probes the ravages of war on the survivors, the power of forgetting, the defiance of love, and the possibility of forgiveness. Be Safe I Love You will make your heart race, and then break it."
— Reiko Rizzuto, author of Hiroshima in the Morning

"A gorgeously written, heart-wrenching novel that explores the damage inflicted upon a veteran of the Iraq war, and the varieties of love that ultimately sustain her. Cara Hoffman's Be Safe I Love You is a tour-de-force of literary suspense by a brilliant, fearless writer — simply the best book I've read in ages."
— Elizabeth Hand, award-winning author of Available Dark and Generation Loss

"Be Safe I Love You isn't just a beautiful and unsparing tale of a soldier's return from the Iraq War, though it is certainly that. It is a reckoning with the moral disaster of that conflict, one that no amount of news and reporting can give us because it requires more than facts. It requires the kind of imaginative transformation Cara Hoffman has accomplished here, turning the story of one young woman's journey from working poverty to war and home again into a song of lament for a country that has lost its way."
— Adam Haslett, author of Union Atlantic

"Cara Hoffman gets it. She gets what war does to soldiers, inside and out, and she gets what they must face when they come home from war. Lauren Clay is a character readers won't forget: determined, admirable, and so loving that even as she goes to hell and back, we are ready to go with her. A riveting novel full of compassion for veterans and those who love them."
— Helen Benedict, author of Sand Queen and The Lonely Soldier

"Packs a shocking narrative punch."

"Hoffman's [skill] is to embed her sleek sentences with weighty, hard-hitting themes, such as family breakdown, class division and PTSD, creating an immensely vivid depiction of life for a female warrior."

"A tribute to women soldiers whose plight is rarely discussed. . . a finely crafted and intelligent piece of fiction whose characters feel immediately real and whose problems certainly are for a great many veterans returning home after battle."

"How many books have you read about soldiers? How many of them were about women soldiers? What's that? Zero? Hoffman's book will fill that gap, and if it's anywhere near as terrifying and brilliant as her debut, So Much Pretty, I'm sure I'll be raving about it well into 2015."
— Jennifer Weiner
Simon & Schuster, 9781451641318, 304pp.
Publication Date: April 1, 2014
About the Author
Cara Hoffman is the author of the critically acclaimed novels So Much Pretty, Be Safe I Love You, and now, Running. She lives in New York City.
or
Not Currently Available for Direct Purchase