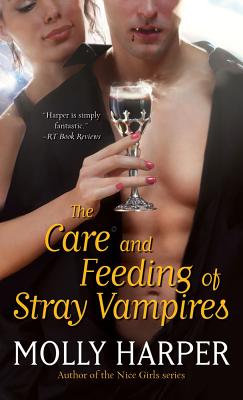 The Care and Feeding of Stray Vampires (Half-Moon Hollow #6) (Mass Market Paperbound)
Pocket Books, 9781451641837, 356pp.
Publication Date: July 31, 2012
* Individual store prices may vary.
Description
A comedic paranormal romance about a vampire concierge, set in Molly Harper's popular world of Half-Moon Hollow. "The thing to remember about a 'stray' vampire is that there is probably a good reason he is friendless, alone, and wounded. Approach with caution." Iris Scanlon, Half-Moon Hollow's only daytime vampire concierge, knows more about the undead than she'd like. Running their daylight errands--from letting in the plumber to picking up some chilled Faux Type O--gives her a look at the not-so-glamorous side of vamps. Her rules are strict; relationships are purely business, not friendship--and certainly not anything more. Then she finds her newest client, Cal, poisoned on his kitchen floor, and her quiet life turns upside down. Cal--who would be devastatingly sexy, if Iris thought vampires were sexy--offers Iris a hefty fee for hiding him at her place. And even though he's imperious, unfriendly, and doesn't seem to understand the difference between "employee" and "servant," she agrees. But as they search for who wants him permanently dead, Iris is breaking more and more of her own rules . . . particularly those about nudity. Could it be that what she really needs is some intrigue and romance--and her very own stray vampire?
About the Author
Molly Harper graduated from Western Kentucky University with a bachelor's degree in print journalism. She worked for six years as a reporter and humor columnist; her reporting duties included covering courts, school board meetings, quilt shows, and once, the arrest of a Florida man who faked his suicide by shark attack and spent the next few months tossing pies at a local pizzeria. Molly lives in western Kentucky with her husband and daughter.
or
Not Currently Available for Direct Purchase