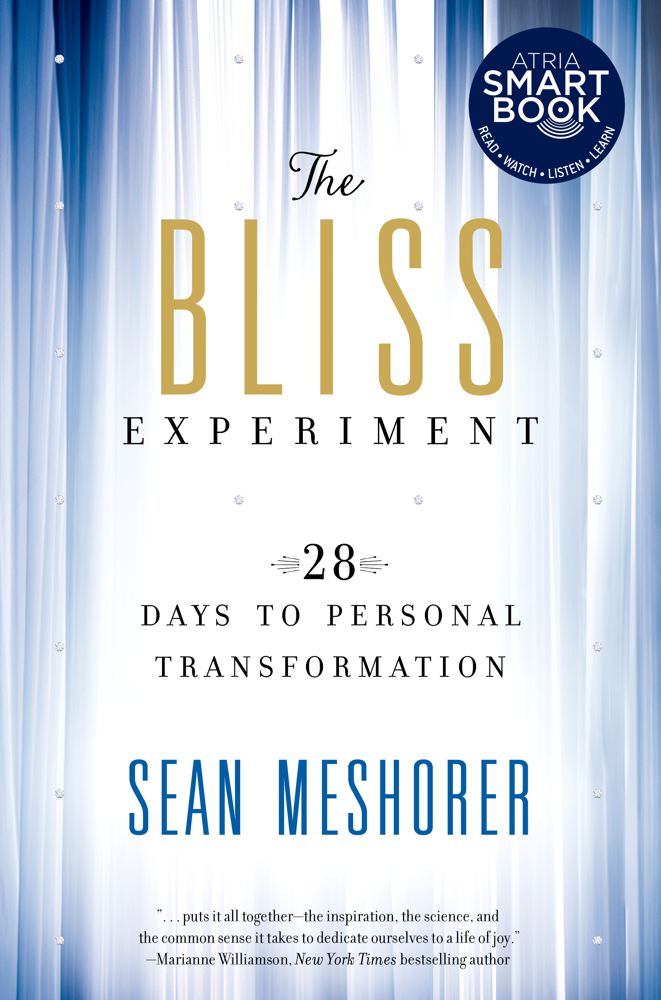 The Bliss Experiment (Hardcover)
28 Days to Personal Transformation
Atria Books, 9781451642117, 352pp.
Publication Date: May 8, 2012
Other Editions of This Title:
Paperback (5/28/2013)
* Individual store prices may vary.
Description
A cross between The Power of Now and The Happiness Project, The Bliss Experiment reveals how to tap into the innate state of inner joy that resides in all of us: the state of bliss.

HAPPINESS IS GOOD. BLISS IS BETTER.

We have a higher standard of living and more ways to instantaneously fulfill every desire than ever before. Then why are we unhappy? Because happiness isn't what we really want. Happiness alone is fleeting and not deeply transformative. Bliss is a spiritual state where happiness, profound meaning, and enduring truth converge. With bliss comes an unshakable joy, a practical wisdom, and a lasting solution to our personal and planetary sufferings.

Based on a successful seminar taught by Sean Meshorer, a leading spiritual teacher and New Thought minister, The Bliss Experiment contains dozens of stories of real people learning from everyday situations, backed by more than five hundred scientific studies. This is the one essential book that distills and unifies seemingly competing practices, philosophies, religions, and psychologies. Meshorer includes exercises that have worked time and again for people from all walks of life—including him. Meshorer suffers with severe chronic pain and is able to live his life to the fullest through the practices he shares here.

Bliss helps with stress, anxiety, and depression. It makes people more successful, better able to see and seize opportunities, and build or improve relationships. Give these ideas and practices twenty-eight days of dedicated attention and you will see results. You only need a moment of bliss to benefit the rest of your life.

The text includes links to bonus videos of Sean Meshorer expanding on the book's themes and demonstrating the exercises.
About the Author
Sean Meshorer is an inspirational twenty-first century speaker, teacher, and spiritual coach based in Los Angeles. He graduated from Stanford in 1993 with a degree in Philosophy and Religious Studies. He spent fifteen years meditating, studying, practicing, and living at Ananda, the renowned ashram and network of spiritual communities headquartered in Northern California. Sean formerly served as president and publisher of Crystal Clarity Publishers and is now the spiritual director of Ananda Los Angeles. Visit SeanMeshorer.com.
Praise For The Bliss Experiment: 28 Days to Personal Transformation…
"The Bliss Experiment puts it all together--the inspiration, the science, and the common sense it takes to dedicate ourselves to a life of joy. For those who are ready to choose smiles instead of tears, this book is really great." --Marianne Williamson, New York Times bestselling author

"Blissful fulfillment and well-being is made accessible by this timely book by Sean Meshorer, providing us with the necessary tools and spiritual techniques to transcend anxiety and despair and find--within ourselves and our lives-- what we are genuinely seeking. Along with his month-long transformation-thru-attention program, here you'll discover excellent stories and anecdotes, wisdom and delight. Don't miss this portal to the treasure trove of deep happiness now. Help yourself!" -—Lama Surya Das, author of national bestseller Awakening the Buddha Within

"Not only does Sean Meshorer reveal that the organic essence of every individual's existence is bliss, there is no need to move to a Himalayan cave to experience it! The spiritual practices he teaches have proven in countless lives that in this now moment bliss can become our natural way of living, that we already have within us all the causes of bliss." --Michael Bernard Beckwith, author of Spiritual Liberation: Fulfilling Your Soul's Potential

"Read it and see what I saw: the deep way that Sean Meshorer understands how to uncover greater happiness, awareness, and spiritual success within yourself."
--Frederic Luskin, Ph.D. Director of the Stanford Forgiveness Projects and author of Forgive for Good.

"If you are seeking to discover peace and joy in these historic and challenging times, The Bliss Experiment provides the essential knowledge and tools." --Gary E. Schwartz, PhD, author of The Energy Healing Experiments

"In clear, concise chapters, [Meshorer] brings together concepts like forgiveness, gratitude, living in the present, meditation and the power of service above self…[This] book will have broad appeal." –Kirkus Reviews
Book Videos
or
Not Currently Available for Direct Purchase