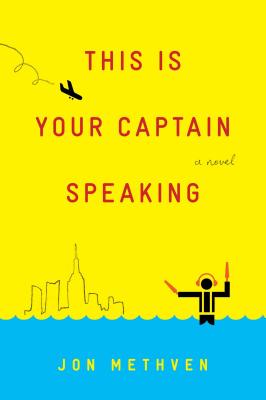 This Is Your Captain Speaking
A Novel
Paperback

* Individual store prices may vary.
Description
What if a miraculous plane landing was no miracle? In the vein of Christopher Buckley and Gary Shteyngart, Jon Methven reimagines such an event as a PR stunt in this biting, hilarious satire on the culture of hero worship and celebrity.

A PILOT, A JOURNALIST, AND A SEMEN TRAFFICKER WALK ONTO A PLANE . . .

When flight AW2921 crashes into the Hudson River and all 162 passengers survive, it's a Monday morning miracle. What the rapturous public doesn't know: the whole thing was staged as a last-ditch attempt at resurrecting the Air Wanderlust stock price.

Captain Hank Swagger piloted the miracle plane into the river. Disgraced TV news anchor Lucy Springer was "luckily" the only reporter on board, and the first to capture the story. Con man Normal Fulk recently faked his own death to escape the consequences of his barely legal career as a celebrity semen trafficker. Toting his last big score—the "John Lennon"—Normal has to leave it behind on the sinking plane or risk being identified and arrested.

In the aftermath of the crash and the chaotic week that follows, Lucy, Normal, and Captain Swagger are all about to discover what it means to be at the center of a miracle that is anything but.
Praise For This Is Your Captain Speaking: A Novel…
"The cheeky send-up is aggressively experimental, but Methven manages to tell an engaging story amid the antic high jinks. B+"—Entertainment Weekly

"Targeting celebrity-obsession, the always-on news cycle and corporate America, Methven raises both questions and laughs."—New York Post

"Relentlessly inventive. . . . Beneath the snappy dialogue and quirky plot twists, Methven is posing a profound question: What happens when a country can no longer live up to its own mythos? . . . Methven keeps the plot humming, all the way to the sticky end. He's an exciting new voice."—Steve Almond, The Boston Globe

"You know who really had a satire coming? Sully Sullenberger. The heroic pilot who avoided crashing a damaged US Airways passenger plane by belly-flopping it onto the Hudson River became the first celebrity airman since Capt. John Yossarian. . . . A similar 'Miracle on the Hudson' event kick-starts Methven's very funny, slightly batshit debut novel. . . . Methven's energy and clear enthusiasm for the ridiculousness of his book translates to the read."—Time Out Chicago

"Do we take this seriously? We think not. We are big fans, though, of such inspired silliness."—Asbury Park Press (NJ)

"Jon Methven's fiction debut is so inventive, assured and hilarious that it instantly establishes him as a major satirist for these times. . . . Entertaining subplots abound. Zinging up and down the ladder of comedy in pitch-perfect prose, This Is Your Captain Speaking is a shrewd response to an America besotted with image, celebrities and reality shows."—Bucknell Magazine

"A Pynchonesque, offbeat parody of American media coverage and celebrity. . . . a smart, fast-paced farce in which Methven ably satirizes America's signature take on reality and culture of greed."—Booklist

"What if the 'Miracle on the Hudson' were completely faked by an unscrupulous airline company in order to boost prices? And what if we got a guy to write the whole thing up just like Carl Hiaasen? . . . Don't miss Methven's psychotic, if interactive, reading group guide at the end."—Kirkus Reviews

"[A] buoyant debut . . . Fans of McSweeney's Internet Tendency will relish this frequent contributor's snappy farce about publicity, celebrity culture, and a ne'er-do-well's attempt to save some crippled orphans by way of one Beatle's frozen swimmers."—Publishers Weekly

"Every so often a first novel comes along that blows your hair back with its ingenuity, that jumpstarts your faith in imaginative literature, and Jon Methven has written one of those novels. This Is Your Captain Speaking is an astonishing debut, a comedic masterwork worthy of the great Joe Orton and Stanley Elkin. Outrageous and gorgeously absurd, it shows us, with fearless accuracy, what a twisted tribe we have become."—William Giraldi, author of Busy Monsters

"I'm not sure how it happened, but Thomas Pynchon and Donald Barthelme bumped into one another while toting their samples into a sperm bank. Jon Methven is the result. This Is Your Captain Speaking proves that Methven has his finger on the pulse of the absurd, the topical, the real. Here's a novel that soars and soars. And swaggers relentlessly."—George Singleton, author of Stray Decorum

"A playful and witty send-up of our media-mad culture. Methven is a comic writer to watch."—Jonathan Evison, author of West of Here
Simon & Schuster, 9781451642155, 336pp.
Publication Date: June 5, 2012
About the Author
Jon Methven has worked as a paperboy, a dishwasher, a Ponderosa meat cook (everything medium well), a pizza deliverer, a golf course grounds crewman, a barbecue seasoning filter employee, an illegal barbecue seasoning filter employee since he was living in Australia without a work visa at the time, a bartender, a mascot at Yankee Stadium (Mr. Popcorn), a journalist, a taste tester, and a cubicle dweller. He knows things you can only dream of knowing, or can learn if willing to work for minimum wage. His work has appeared at Timothy McSweeney's Internet Tendency, n+1, The New York Times, and New York magazine, and he currently writes the "Analytically Speaking" column that appears Mondays at The Awl. He lives in New York City with his wife and son.