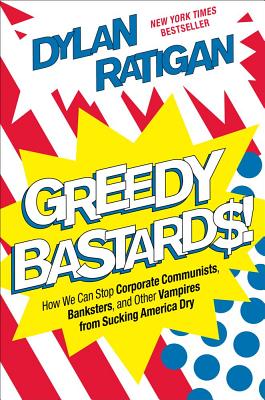 Greedy Bastards
How We Can Stop Corporate Communists, Banksters, and Other Vampires from Sucking America Dry
Hardcover

* Individual store prices may vary.
Other Editions of This Title:
Digital Audiobook (1/9/2012)
Paperback (8/21/2012)
CD-Audio (1/10/2012)
Description
Dylan Ratigan is mad as hell. Infuriated by government corruption and corporate communism, incensed by banksters shaking down taxpayers, and despairing of an ailing health care system, an age-old dependency on foreign oil, and a failing educational system, Ratigan sees an America that has allowed itself to be swindled and robbed. In this book, his first, he rips the lid off our deeply crooked system—and offers a way out.

This country, now more than ever, needs passionate debate and smart policy, a brazen willingness to scrap what doesn't work, and the entrepreneurial spirit to try what does. Ratigan has compiled brash and fresh solutions for building a new and better America, and with this book he has started the debate America deserves.

With you, he wants to take back the country from the six vampires sucking this nation dry:

• A political system in which lobbyists write legislation, lawmakers place "secret holds" to create more pork for their districts, and money drives the whole process.

• A banking system that uses capital for speculation and debt creation, rather than productive investment.

• A "master-slave" relationship with our Chinese bankers, making our corporations and politicians complicit in a system that rigs our currency and leaves us with permanent joblessness and massive trade deficits.

• A health care system that is among the priciest and least sustainable in the industrialized world.

• An educational system that prizes prestige but produces mediocrity.

• An addiction to foreign oil that has sapped us of our willingness to innovate, made us reliant on inefficient technologies, and left us supportive of corrupt governments.

To combat these vampires and to isolate the systematic ways in which our once productive industries and our government have been breached, Ratigan does not offer a grab bag of flimsy suggestions or useless hot air. Instead he provides readers with a set of values that together form the answer for how each of us can not only understand what has gone wrong—but join together to make it right.
Praise For Greedy Bastards: How We Can Stop Corporate Communists, Banksters, and Other Vampires from Sucking America Dry…
"This book might be the smelling salts that wake up America."—Alan Grayson
"Greedy Bastards
is superb. Dylan's policy recommendations track with what the Committee for Economic Development has been saying on: health care, the federal deficit, corporate governance, education, a consumption tax, and campaign finance reform. His explanations are clear, and he nails health care with his criticism of the fee-for-service model.
Greedy Bastards
deserves wide readership!"—Charles Kolb, President of the Committee on Economic Development
"Some books explain a problem, this book gives you an entire world view.
Greedy Bastards,
puts everything in context and makes the enormity and entirety of our crises understandable. Dylan, as always, is incisive, sharp and pointed." —Eliot Spitzer
"Greedy Bastards
is a fantastic book! It has the perfect tone and is completely convincing." —Lawrence Lessig, Director of the
Edmond J. Safra Foundation Center for Ethics
at
Harvard University
and Professor of Law at
Harvard Law School
"Exiles on Wall Street like us have a platform and a responsibility to speak out. Dylan's book shows that our problems don't stem from too much capitalism but not enough of it relative to our jerry-rigged system" —Mike Mayo, financial analyst and author of
Exile on Wall Street
"Very sharp, funny, and splendidly written, Dylan Ratigan's new book is perfect for Americans disgusted with both our political parties who are trying to understand the roots of our broken economy and political system." — Thomas Ferguson, University of Massachusetts, Boston and the Roosevelt Institute and author of
Golden Rule
"Readers will find a great deal to ponder, as Ratigan covers why and how he's certain the USA is 'going seriously wrong.'"—
USA Today
"Ratigan delivers an energetic, powerful, and at times unsettling portrait of America in crisis … And even though his portrait of the U.S. is bleak, he believes we have options."—
Publishers Weekly
"
Greedy Bastards
helps us better understand why we suffer recurrent, intensifying financial crises. First, cheating has become the dominant strategy in finance. Second, cheating is dominant because finance CEOs create such intensely perverse incentives that fraud becomes endemic."— Bill Black, author of
The Best Way to Rob a Bank is to Own One
and associate professor of economics and law at the University of Missouri-Kansas City
Simon & Schuster, 9781451642223, 256pp.
Publication Date: January 10, 2012
About the Author
Dylan Ratigan is the host of MSNBC's The Dylan Ratigan Show, one of the highest-rated, daytime shows on the network. This make-versus-take, analysis-driven daily broadcast fearlessly takes on the world of politics, money, and the unholy alliance between big business and government.

The former global managing editor for corporate finance at Bloomberg News, Ratigan has developed and launched more than half a dozen broadcast and new media properties. They include CNBC's Fast Money and Closing Bell, as well as DylanRatigan.com, which is home to his podcast, "Greedy Bastards Antidote."

Ratigan left as host of Fast Money in 2009, provoked by outrage over the government's handling of the 2008 financial crisis. Since then, he has dedicated his work to launching platforms that engage and debate the U.S. government on policy, while opening the door for millions to learn more about money's often poisonous role in our democracy. His first book, Greedy Bastards, which will be released on January 10, 2012, details this broken system, and more importantly, illustrates how fixing these problems will release a renaissance of growth and innovation.

Since late September 2011, more than 300,000 people have pledged support, millions of dollars have been raised, and an organization with a staff of a dozen people has been formed under Ratigan's leadership to pursue the singular objective to pass a 28th Constitutional amendment to separate business and state.
or
Not Currently Available for Direct Purchase