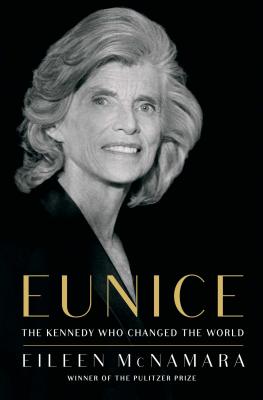 Eunice
The Kennedy Who Changed the World
Hardcover

* Individual store prices may vary.
Other Editions of This Title:
Digital Audiobook (4/2/2018)
Paperback (4/23/2019)
Compact Disc (4/3/2018)
Description
A Pulitzer Prize–winning journalist examines the life and times of Eunice Kennedy Shriver, arguing she left behind the Kennedy family's most profound political legacy.

While Joe Kennedy was grooming his sons for the White House and the Senate, his Stanford-educated daughter Eunice was tapping her father's fortune and her brothers' political power to engineer one of the great civil rights movements of our time on behalf of millions of children and adults with intellectual disabilities. Now, in Eunice, Pulitzer Prize winner Eileen McNamara finally brings Eunice Kennedy Shriver out from her brothers' shadow to show an officious, cigar-smoking, indefatigable woman of unladylike determination and deep compassion born of rage: at the medical establishment that had no answers for her sister Rosemary; at the revered but dismissive father whose vision for his family did not extend beyond his sons; and at the government that failed to deliver on America's promise of equality.

Granted access to never-before-seen private papers—from the scrapbooks Eunice kept as a schoolgirl in prewar London to her thoughts on motherhood and feminism—McNamara paints a vivid portrait of a woman both ahead of her time and out of step with it: the visionary founder of the Special Olympics, a devout Catholic in a secular age, and a formidable woman whose impact on American society was longer lasting than that of any of the Kennedy men.
Praise For Eunice: The Kennedy Who Changed the World…
"An ace reporter and an artful storyteller, Eileen McNamara has rendered an indelible portrait of a Kennedy sibling every bit as savvy and accomplished as her celebrated brothers. Indispensable."
—Megan Marshall, Pulitzer Prize-winning author of Elizabeth Bishop: A Miracle for Breakfast and Margaret Fuller: A New American Life

"Eunice: The Kennedy Who Changed the World is, in many ways, a revelation.... A nuanced portrait of a woman who was brusque yet charismatic, demanding and at times imperious, but also down-to-earth.... Eunice offers glimpses of iconic events... but those much chronicled points in history are not dwelt upon. Because this is Eunice's story. It's about time."
—USA Today

"McNamara gives us what's been missing in our vision of America's First Family: a look at the woman who defied Joe Kennedy's absent expectations for his daughters, an appreciation for how Eunice made the ignored rights of the intellectually disabled into one of the great civil rights causes, and reason to believe the implausible claim that it was Eunice—not her more celebrated brothers Jack, Bobby and Ted—who crafted the Kennedys' most monumental legacy."
—Larry Tye, New York Times bestselling author of Bobby Kennedy: The Making of a Liberal Icon

"Fascinating.... A great, great read."
—The Today Show

"Eileen McNamara writes with grace, elegance, and diplomacy, never making moral judgments on harsh facts.... Her fine biography of Eunice Kennedy Shriver champions the overlooked sister, who deserves as much, if not more, applause than her celebrated brothers in establishing the family's monumental legacy."
—Kitty Kelley, The Washington Independent Review of Books

"Spectacular! Who better to write such a terrific biography of Eunice Shriver than Eileen McNamara, who devoted her own Pulitzer Prize-winning career giving voice to victims and the disadvantaged. In McNamara's piercing reporting and lovely prose, the neglected story of the Kennedy brothers' indomitable sister gets told for the first time."
—John A. Farrell, author of Richard Nixon: The Life

"An exemplary biography: thoroughly researched, beautifully written, and just the right length. It deserves a wide readership."
—Publishers Weekly

"[McNamara's] biography is neither a hagiography nor a hatchet job, but a frank and nuanced assessment of a complicated woman.... Difficult and driven Eunice Kennedy Shriver certainly was, but she used her prickly personality (and the Kennedy fortune) for the lasting benefit of others. Famous for her indifference to such social niceties as good grooming and good manners, she would likely have appreciated Eileen McNamara's forthright portrait."
—The Boston Globe

"What a perfect combination of author and subject. The great Eileen McNamara shows how Eunice was the real deal Kennedy: tough, effective, and committed to social change."
—David Maraniss, New York Times bestselling author of Barack Obama: The Story

"McNamara has written a fair-minded, well-reported book. The Shriver children wisely trusted her and opened up Eunice's papers, allowing McNamara to deliver a sensitive, nuanced portrait."
—The Washington Post

"Along with providing insights into Eunice's roles as wife, mother, sister, and daughter, McNamara uses her journalistic prowess to produce a complete and detailed portrait of this spirited and magnetic activist."
—Booklist

"Compelling.... A clearly written biography crammed full of memorable anecdotes about each of the Kennedys through four generations, about Eunice's influential husband, Sargent Shriver, and about dozens more characters from domestic politics, international diplomacy, and high society."
—Kirkus Reviews (starred review)
Simon & Schuster, 9781451642261, 416pp.
Publication Date: April 3, 2018
About the Author
Eileen McNamara spent nearly thirty years as a journalist at The Boston Globe, where she won a Pulitzer Prize for Commentary and was among the first to raise the alarm about clergy sexual abuse. She is now the director of the journalism program at Brandeis University. She is the author of Eunice, Breakdown, and The Parting Glass (with Eric Roth).
or
Not Currently Available for Direct Purchase