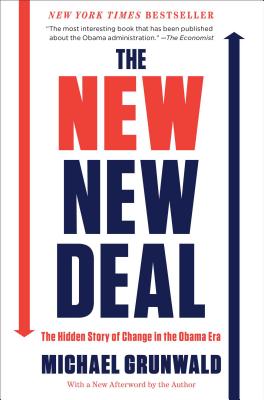 The New New Deal
The Hidden Story of Change in the Obama Era
Paperback

* Individual store prices may vary.
Other Editions of This Title:
Hardcover (8/14/2012)
Description
A New York Times bestseller, now with a new foreword by the author, The New New Deal is a riveting story about change in the Obama era--an essential handbook for citizens who want the truth about the president, his record, and his enemies. Drawing on new documents and interviews with more than 400 sources, award-winning reporter Michael Grunwald reveals the vivid story behind one of the most important and least understood laws in U.S. history, President Obama's $800 billion stimulus. Grunwald's New York Times bestseller shows how the politically disastrous stimulus was a real new New Deal, preventing a depression while jumpstarting the president's ambitious agenda for lasting change. It launched America's transition to a clean-energy economy, established the boldest education reform in U.S. history, overhauled the nation's antipoverty programs, and funded the most extensive infrastructure investments since Eisenhower's interstate highway system. This is the definitive account not only of a transformative law, but of a transformative president's first term.
Praise For The New New Deal: The Hidden Story of Change in the Obama Era…
"The New New Deal is the most interesting book that has been published about the Obama administration."

"Exceptional...The single best book on the inner workings of the Obama administration. ... Grunwald points out how everything you think you know about the stimulus is wrong."

"The New New Deal is not only the best book about the administration and its challenges, but ... one of the two best books ever written about government."

"Grunwald peppers this Washington drama with dialogue and characters in action, which makes it a rollicking good read."

"Engrossing ... It is a full detailed, careful argument, based on detailed, careful reporting."

"Michael Grunwald is one of our generation's most original and tireless journalists—a reporter who is allergic to received wisdom, a writer with an uncommon talent for illuminating hidden truths. So it is a delight, but not a surprise, that The New New Deal demolishes cliches and vividly reframes our thinking about President Obama and his stimulus package through a gripping narrative."
-John Harris
Simon & Schuster, 9781451642339, 544pp.
Publication Date: September 10, 2013