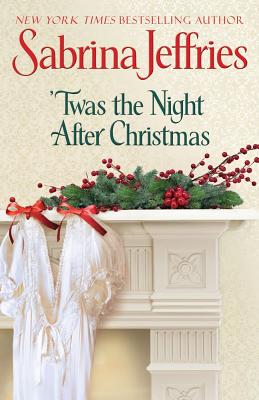 'Twas the Night After Christmas (The Hellions of Halstead Hall #6)
Hardcover

* Individual store prices may vary.
Description
A heartwarming Christmas romance from a beloved New York Times bestselling author!

Unwrapping her talent for creating "scintillating wit and heart-stopping sensuality" (Library Journal ), Sabrina Jeffries gives readers a gift to cherish: a touching new novel of an unexpected Christmas reunion—sparked by a cunning ruse, family secrets, and the mysterious ways of the heart.

Dear Sir,

. . . I feel I should inform you that your mother is very ill. If you wish to see her before it is too late, you should come at once.

Sincerely,

Mrs. Camilla Stuart

Pierce Waverly, the Earl of Devonmont, has led an unabashed rogue's life, letting no woman near his heart. Inexplicably abandoned as a child to be raised by distant relatives, he never forgave his parents, refusing to read any of his mother's letters after his father's death. Then came a letter that shook his resolve. A Christmas visit to Montcliff might prove his last chance to discover the truth of his past, and come to terms with the stranger he calls "Mother."

But two surprises await him at Montcliff. His mother is perfectly healthy, nowhere near a deathbed, as her meddling lady's companion led him to believe. The second is Camilla Stuart herself, a lively vicar's widow, too bright and beautiful not to arouse the scoundrel in Pierce. Though she alone is reason enough to prolong his stay, he is soon faced with other tantalizing riddles: What secrets lie in his mother's past to explain his childhood abandonment? Why is the captivating Mrs. Stuart so determined to mend the breach between mother and son? Meanwhile,

Camilla herself is caught up in love's complications since the arrival of the irresistible earl. As his bold flirtation and suggestive whispers draw her dangerously close, can anything protect her vulnerable heart? If they are destined to share real happiness, there must be honesty between them—yet telling him the truth about her own life may shatter that chance.

None of them can predict the startling revelations to come. Or the secrets, both heartening and shocking, divulged between a mother and son, and between two lovers haunted by their respective pasts, that will make Christmas night at Montcliff one to remember—and the glorious night after, one to treasure for a lifetime.
Praise For 'Twas the Night After Christmas (The Hellions of Halstead Hall #6)…
"Sharply witty, deliciously sexy, and infinitely endearing, this holiday gem strikes an emotional chord that will resonate with fans long after the book has been closed. Jeffries's first hardcover release, it serves as a bridge between her recent "Hellions of Halstead Hall" quintet and a new series that is slated to begin next spring."

"Bestseller Jeffries delivers a moving Regency with heart, soul, and holiday spirit.... The compelling, fast-paced, and lively tale wraps up with several surprising, tear-jerking twists."

"Jeffries' latest historical romance is an enchanting holiday charmer with a complex and captivating plot; characters that interact with emotional authenticity; and a rich set of conflicted, heart-tugging obstacles--all of which combine to provide a satisfying happily-ever-after set against a fun holiday backdrop. Skillful writing and storytelling, compelling sexual and emotional tension, and a cast of realistic, vulnerable characters contribute to a lovely, spirited Christmas winner."
Gallery Books, 9781451642469, 368pp.
Publication Date: October 30, 2012
About the Author
Sabrina Jeffries is the New York Times and USA TODAY bestselling author of several Regency-set historical romance series, including the Royal Brotherhood, the School for Heiresses, the Hellions of Halstead Hall, the Duke's Men, and the Sinful Suitors. When she's not writing in a coffee-fueled haze, she's traveling with her husband, caring for her adult autistic son, or indulging in one of her passions: jigsaw puzzles, chocolate, music, and costume parties. With more than nine million books in print in twenty languages, the North Carolina author never regrets tossing aside a budding career in academics for the sheer joy of writing fun fiction and hopes that one day a book of hers will end up saving the world. She always dreams big.
or
Not Currently Available for Direct Purchase