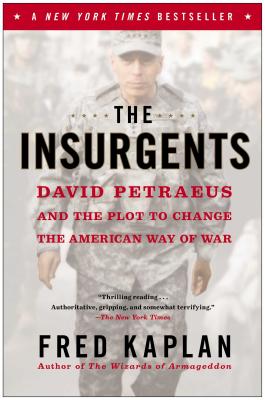 The Insurgents (Paperback)
David Petraeus and the Plot to Change the American Way of War
Simon & Schuster, 9781451642650, 432pp.
Publication Date: January 7, 2014
Other Editions of This Title:
Compact Disc (1/4/2013)
Hardcover (1/2/2013)
MP3 CD (1/4/2013)
Compact Disc (1/4/2013)
* Individual store prices may vary.
Description
A finalist for the Pulitzer Prize

The Insurgents tells the inside story of the small group of soldier-scholars, led by Gen. David Petraeus, who plotted to revolutionize the oldest, stodgiest institution in America—the military. Working from secret documents, private emails, and interviews with more than one hundred key characters, Pulitzer Prize–winning journalist Fred Kaplan details how these men and women forged a community (a "cabal," some of them called it), manipulated the bureaucracy, and changed official policy.

This is a story of power, politics, ideas, and personalities—and how they converged to reshape twenty-first century warfare. It is also a cautionary tale about how creative doctrine can harden into dogma and how smart strategists—today's "best and brightest"— can win the battles at home but not the wars abroad. Petraeus and his fellow insurgents made the US military more adaptive to the conflicts of the modern era, but they also created the tools—made it more tempting—for political leaders to wade into wars that they would have been wise to avoid.
About the Author
Fred Kaplan is the national-security columnist for Slate and the author of five previous books, Dark Territory: The Secret History of Cyber War, The Insurgents: David Petraeus and the Plot to Change the American Way of War (a Pulitzer Prize finalist and New York Times bestseller), 1959, Daydream Believers, and The Wizards of Armageddon. He lives in Brooklyn with his wife, Brooke Gladstone.
Praise For The Insurgents: David Petraeus and the Plot to Change the American Way of War…
"There is no one better equipped to tell the story. ... Kaplan, a rare combination of defense intellectual and pugnacious reporter … knows the military world inside and out. ... An authoritative, gripping and somewhat terrifying account of how the American military approached two major wars in the combustible Islamic world."
— Thanassis Cambaniss

"Compelling"
— Dexter Filkins

"Riveting...essential reading... Kaplan's meticulous account of the ways Petraeus found to bring together and nurture the counterinsurgency 'cabal' might profitably be read by anyone interested in bringing change to a giant bureaucracy."
— John Barry

"Serious and insightful. … The Insurgents seems destined to be one of the more significant looks at how the US pursued the war in Iraq and at the complex mind of the general in charge when the tide turned."
— Tony Perry

"A very readable, thoroughly reported account of how, in American military circles, 'counterinsurgency' became a policy instead of a dirty word."
— Janet Maslin

"Excellent … Poignant and timely. … A good read, rich in texture and never less than wise."
— Rosa Brooks

"A compelling story combined with thoughtful analysis of the development, application and limitations of a new model of applying American military power."
— Kirkus Reviews

"Fred Kaplan has written a dazzling, compulsively readable book. Let's start with the fact that it is so well written, a quality so often lacking in books describing counterinsurgency. Let's also throw in the facts that it is both deeply researched and also devoid of cheerleading for the military or indeed any other kind of political bias. This book will join a small shelf of the most important accounts of the wars America has fought and will likely continue to fight in the 21st century."
— Peter Bergen, author of Manhunt: the Ten-Year Search for Bin Laden from 9/11 to Abbottabad

"Fred Kaplan is one of the best in the business, a top-notch journalist and military analyst with serious intellectual chops and a killer pen. His new book The Insurgents tells the story of the rise and fall of the COINdinistas from Iraq to Afghanistan and beyond, and it's not only a great read—it's a major contribution to one of the most important strategic debates of our time."
— Gideon Rose, editor, Foreign Affairs, and author of How Wars End

"A fascinating and powerful work by America's wisest national-security reporter about an epic battle: the Army's search for a way to win the wars of the 21st century. If you love your country, if you care about its soldiers, if you wonder about the wisdom of their commanders, read this book now."
— Tim Weiner, author of Legacy of Ashes: The History of the CIA and Enemies: A History of the FBI

"Fred Kaplan, one of the best military journalists we have, tells the compelling story of how a cadre of officers and civilians tried to rescue victory from defeat in Iraq and Afghanistan by putting the theory of counterinsurgency into practice, revolutionizing the US Army from within. His narrative is vividand revelatory, dramatizing a crucial piece of recent history that we shouldn't allow ourselves to forget, however painful the memory."
— George Packer, author of The Assassins' Gate: America in Iraq