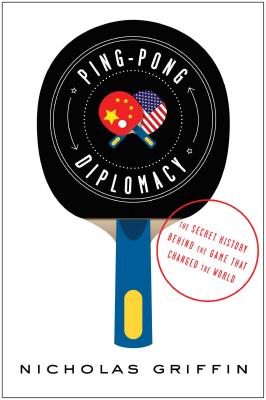 Ping-Pong Diplomacy
The Secret History Behind the Game That Changed the World
Hardcover

* Individual store prices may vary.
Other Editions of This Title:
Paperback (9/15/2015)
MP3 CD (8/30/2016)
Description
Combining the insight of Franklin Foer's How Soccer Explains the World and the intrigue of Ben Affleck's Argo, Ping Pong Diplomacy traces the story of how an aristocratic British spy used the game of table tennis to propel a Communist strategy that changed the shape of the world.

THE SPRING OF 1971 heralded the greatest geopolitical realignment in a generation. After twenty-two years of antagonism, China and the United States suddenly moved toward a détente—achieved not by politicians but by Ping-Pong players. The Western press delighted in the absurdity of the moment and branded it "Ping-Pong Diplomacy." But for the Chinese, Ping-Pong was always political, a strategic cog in Mao Zedong's foreign policy. Nicholas Griffin proves that the organized game, from its first breath, was tied to Communism thanks to its founder, Ivor Montagu, son of a wealthy English baron and spy for the Soviet Union.

Ping-Pong Diplomacy traces a crucial inter­section of sports and society. Griffin tells the strange and tragic story of how the game was manipulated at the highest levels; how the Chinese government helped cover up the death of 36 million peasants by holding the World Table Tennis Championships during the Great Famine; how championship players were driven to their deaths during the Cultural Revolution; and, finally, how the survivors were reconvened in 1971 and ordered to reach out to their American counterparts. Through a cast of eccentric characters, from spies to hippies and Ping-Pong-obsessed generals to atom-bomb survivors, Griffin explores how a neglected sport was used to help realign the balance of worldwide power.
Praise For Ping-Pong Diplomacy: The Secret History Behind the Game That Changed the World…
"This is the amazing drama of how Ping Pong changed the world. With great research and narrative skills, Griffin brings us behind the scenes of the historic trip by the American team to China in 1971 to tell what really happened and why. Plus he puts it into the context of Ping Pong's fascinating history of being more than just a game."
— Walter Isaacson, author of Steve Jobs

"Among the many quirks that make Mr. Griffin's account so interesting is the culture clash that ensued. . . a broad diplomatic tableau with fascinating personal histories."
— Janet Maslin, The New York Times

"Full of eyebrow-raising surprises…the book tells the secret history of Ping-Pong, a story of violence and intrigue and political machinations. Ping-Pong as a vehicle for international espionage? It's an idea so outlandish that, if it weren't true, some novelist would have to invent it. A remarkable story, well documented and excitingly told."

"Alfred Hitchcock would grab this book for a spy thriller. He himself makes an entry into the melodrama superbly plotted by Nick Griffin. The MacGuffin in this case are table tennis balls by the hundred, which mislead British intelligence in its surveillance of an apparently rather daffy British aristocrat. I happen to have known the aristo, Ivor Montagu, when I played in table tennis tournaments he organized in Europe. He fooled me, too. But then until Ping Pong Diplomacy came along, who'd guessed what he was up to as he moved among the marquee names—Trotsky and Charlie Chaplin, President Roosevelt and Sam Goldwyn, Mao and the Queen of England?"
— Sir Harold Evans author of My Paper Chase

"At last, here is the fascinating story of the sport that shaped the geopolitics today. Part character-driven history, part diplomatic caper, and part investigative pilgrimage to contemporary China, Ping Pong Diplomacy makes us look again at an event that Griffin reveals is the climax of a decades-long movement. This is narrative history at its best."
— Michael Meyer, author of The Last Days of Old Beijing: Life in the Vanishing Backstreets of a City Transformed

"Ping-Pong Diplomacy is a deeply absorbing, suspenseful, and hilarious behind-the-scenes peek into a riveting slice of sports and political history. Nicholas Griffin has delivered an overhead smash. I love this book!"
— Davy Rothbart, author of My Heart is an Idiot, creator of Found Magazine, and contributor to public radio's This American Life

"A gripping read of the unlikely intertwining of table tennis as a sport with British and Soviet spycraft, and the high politics that broke China and the United States out of their Cold War confrontation. Anyone interested in the history of Sino-American normalization will find this literate and well documented history of "ping-pong diplomacy" filled with poignant examples of how the politics of Mao's Cultural Revolution used and destroyed the lives of Chinese officials enamored with the play of the little white ball."
— Richard H. Solomon, formerly a member of Henry Kissinger's NSC staff, Assistant Secretary of State for Asia, and President of the US Institute of Peace

"Ping-Pong Diplomacy belongs in the category of 'you can't make this stuff up.' It reads more like a le Carré novel than diplomatic history. But the tale it recounts actually happened, and casts a new and provocative light on the U.S. Opening to China, one of the great foreign policy breakthroughs of the 20th century."
— Anne-Marie Slaughter

"Griffin has found an intriguing story with which to illuminate several important political events of the later 20th century and told it well."

"A quirky, thoroughly enjoyable trek through the implausible beginnings of international table tennis and the colorful characters-cum-diplomats behind it. Griffin has the dexterity and cleverness to take on the story…[and] maintain lively interest in the array of personalities involved."

"Impossible to resist…full of colorful characters."

"Off-beat and engrossing.... Griffin tells human stories as deftly as he describes the machinations of international communism…a fitting treatment of the entire overlooked episode."

"A stranger-than-fiction tale….Through meticulous research and an impressively-crafted narrative, Griffin gives depth to the life of the "the forgotten architect" of so-called ping-pong diplomacy."

"Meticulously researched and ambitiously conceived... a scrupulous meditation on how eccentricities of time and place can shape big political and social events".

"An absorbing tale…this book is full of fast-paced narratives and well-crafted characters."

"A racy account of the matches themselves and of the endless maneuvers behind them."

"A jolly romp through the 20th century . . . a series of events that might bedeemed too outlandish for the sensible reader, were they not entirely true."

"Ping Pong Diplomacy is terrific from first line to last."

"Reads so much like a thriller that you have to keep reminding yourself that it is all fact ... a book of meticulous archival research and reportage."

"A fascinating account … revealing and well-researched … It is to Griffin's credit that in this book he has finally nailed … the crucial event that initiated Ping-Pong diplomacy."

"Fascinating … tales of grit and tenacity, manipulation and deception. In his deeply-researched and fast-paced narrative, reading in parts almost like fiction, Griffin brings to life the redoubtable Ivor Montagu and others who transformed the innocuous game with the little bouncy white ball into a potent instrument of international politics."

"An informative and entertaining book ... Griffin shows that the Chinese were controlling the game all along. In both ping-pong and diplomacy, the Americans were woefully outmatched."
Scribner, 9781451642773, 352pp.
Publication Date: January 7, 2014
About the Author
Nicholas Griffin is a journalist and author of four novels one work of non-fiction. His writing has appeared in The Times (UK), The Financial Times, Foreign Policy, and other publications on topics as disparate as sports and politics, piracy, filmmaking in the Middle East, and the natural sciences. Griffin has written for film and is a Term Member at the Council on Foreign Relations. He lives in New York City with his wife and two children.
Coverage from NPR
or
Not Currently Available for Direct Purchase