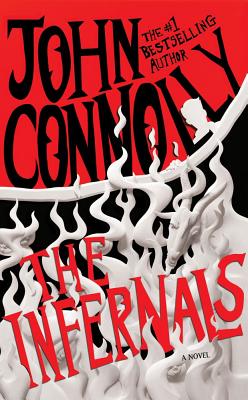 The Infernals
A Samuel Johnson Tale (The Samuel Johnson Series #2)
Hardcover

* Individual store prices may vary.
Description
From New York Times bestselling author John Connolly, a wonderfully strange and brilliant novel about a boy, his dog, and their struggle to escape the wrath of demons. Young Samuel Johnson is in trouble. Not only is his eyesight so poor that he mistakenly asks out a letter box on a date, but an angry demon is seeking revenge for Samuel's part in foiling the invasion of Earth by the forces of evil. It wants to get its claws on Samuel, and when Samuel and his faithful dachshund, Boswell, are pulled through a portal into the dark realm, the home of the Infernals, it gets its chance.

But catching Samuel is not going to be easy, for the Infernals have not reckoned on the bravery and cleverness of a boy and his dog, or the loyalty of Samuel's friend, the hapless demon Nurd, or the presence of two clueless policemen and the unlucky, if cheerfully optimistic, driver of an ice-cream van.

Most of all, no one has planned on the intervention of an unexpected band of little men, for Samuel and Boswell are not the only inhabitants of Earth who have found themselves in the underworld. If you thought demons were frightening, just wait until you meet Mr. Merryweather's Elves. . . .
Praise For The Infernals: A Samuel Johnson Tale (The Samuel Johnson Series #2)…
"Connolly's graceful prose, laced with acerbically witty footnotes, is a joy to read, and he easily alternates among slapstick comedy, powerful drama, and skin-crawling horror."—Publishers Weekly

"Brilliantly funny, often touching, with enough action to keep adventure fans on the edges of their chairs, this novel combines top-notch writing with cutting wit."—Kirkus Reviews

"Roald Dahl meets Harry Potter."—My Shelf Confessions

"Connolly lets his imagination and his wit run delightfully wild as he describes Hell's denizens and the human band's pilgrimage through its geography."—New Orleans Times-Picayune
Atria Books, 9781451643084, 320pp.
Publication Date: October 18, 2011
About the Author
John Connolly is the author of the Charlie Parker series of mystery novels, the supernatural collection Nocturnes, the Samuel Johnson Trilogy for younger readers, and (with Jennifer Ridyard) the Chronicles of the Invaders series. He lives in Dublin, Ireland. For more information, see his website at JohnConnollyBooks.com, or follow him on Twitter @JConnollyBooks.
or
Not Currently Available for Direct Purchase