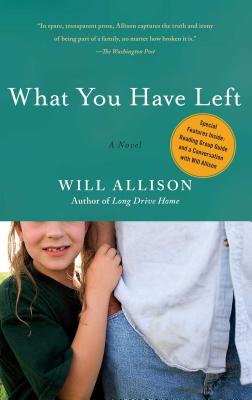 What You Have Left (Paperback)
Free Press, 9781451643190, 222pp.
Publication Date: April 5, 2011
Other Editions of This Title:
Digital Audiobook (12/4/2008)
Hardcover (6/5/2007)
* Individual store prices may vary.
Description
In 1976, on the day of his wife's funeral, Wylie Greer drops off his five-year-old daughter, Holly, at his father-in-law's dairy farm on the outskirts of Columbia, South Carolina. Wylie asks for a little time to clear his head, but thirty years pass before Holly sees her father again. What You Have Left is about a father and daughter trying to make their way back to one another across decades of longing, uncertainty, and ambivalence--all the while hoping to discover that what they have left is worth salvaging. Shot through with sly humor and a knowing sympathy for human weakness, What You Have Left is a stunning debut that explores the weight of history, the nature of loss, and the possibility of forgiveness.
Praise For What You Have Left…
"Loss and redemption take center stage in Allison's beautifully written debut novel....Characters' tension-fraught relationships are well played, and Allison is adept at navigating a labyrinthine web of psychological underpinnings. The nonlinear narrative gives Allison a trove of angles, and he nails all of them."
-- Publishers Weekly, starred review



"Soulful, salt-of-the-earth tales of hurt and hope....Tender, smart, and efficiently told....Raw-boned, heartfelt prose."
-- Kirkus, starred review



"Mr. Allison's novel is plainspoken and eloquent in the way that So Long, See You Tomorrow is plainspoken and eloquent. It's worked up right out of the American grain and speaks to me, direct and true."
-- Richard Ford



"The death of race car driver Maddy Greer reverberates throughout What You Have Left, creating a sharp and haunting picture of an absence. The prose is precise, the observations acute, and the emotional range huge. This is beautiful work."
-- Karen Joy Fowler, author of The Jane Austen Book Club



"Will Allison's What You Have Left is written with such vitality, such delicate intensity and clarity of feeling that I wanted it never to end. A story of fast cars and colliding emotions, it runs quicker than a dirt-track car on a Saturday night. The characters are heartbreaking, and absolutely real -- good people spinning out of control."
-- Mark Childress, author of One Mississippi



"The clarity of Will Allison's prose underscores the small, crucial moments when the fate of human beings is decided, on the subtle abacus of hope and accommodation, betrayal and love. He perfectly captures the texture of unstylized American lives."
-- Janet Fitch, author of White Oleander and Paint it Black


"What You Have Left is a remarkable first novel that glows with feeling and crackles with surprising insight into the ways that families shape one another. I love the elegance of Will Allison's prose -- he knows how to write a beautiful sentence but hasn't forgotten how to tell a story too -- and his book shows such wonderful control over complex moods: it's funny yet thoughtful, heartfelt yet unsentimental, and altogether a rich and rewarding reading experience."
-- Dan Chaon, author of You Remind Me of Me



"Though the beautifully drawn characters of What You Have Left do not understand how their lives draft, fender to bumper, upon each other, the reader can only sit back wondering whether clear driving's ahead, or a seemingly inevitable disaster. This is a masterpiece in writing, and in understanding Nature versus Nurture. We understand that Holly's her mother and father's child whether she wants to be or not. Brutally hilarious and mesmerically tragic, What You Have Left might be the perfect novel."
-- George Singleton, author of Drowning in Gruel



"Allison's quiet prose gets at a mother's raw nerve, a father's desperate evasions, the daredevil rage of an abandoned daughter, and the anxiety of a husband curbing his own destructive impulses as he gauges the risks of love." -- O, the Oprah Magazine



"Allison...has a gift for storytelling. He sets his first novel in South Carolina; his characters teeter between mistakes and redemption." -- The Charlotte Observer