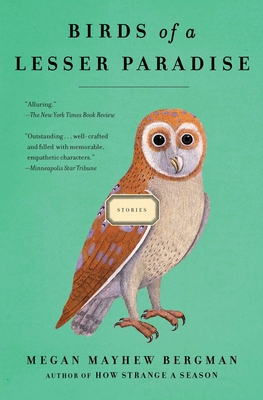 Birds of a Lesser Paradise
Stories
Paperback

* Individual store prices may vary.
Other Editions of This Title:
Digital Audiobook (11/5/2012)
Hardcover (3/6/2012)
March 2012 Indie Next List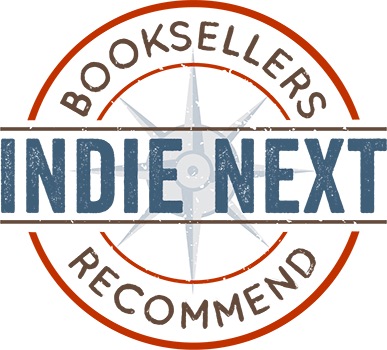 "
Birds of a Lesser Paradise
is a poignant collection of stories, each filled with vivid imagery, surprising wit, and elegant prose. My copy is filled with dog-eared pages of Bergman's brilliantly written observations on who we are and who we hope to be. She masterfully captures the fragility of human life by placing it within and against the natural world. Read these stories. You will be so thankful you did, and then you will read them again!"
— Anderson McKean, Page & Palette, Fairhope, AL
View the List
Description
An "astonishing debut collection, by a writer reminiscent of such greats as Alice Munro, Elizabeth Strout, and even Chekhov" (Sara Gruen, author of Water for Elephants), focusing on women navigating relationships with humans, animals, and the natural world.

Exploring the way our choices and relationships are shaped by the menace and beauty of the natural world, Megan Mayhew Bergman's powerful and heartwarming collection captures the surprising moments when the pull of our biology becomes evident, when love or fear collides with good sense, or when our attachment to an animal or wild place can't be denied.

In "Housewifely Arts," a single mother and her son drive hours to track down an African gray parrot that can mimic her deceased mother's voice. A population-control activist faces the conflict between her loyalty to the environment and her maternal desire in "Yesterday's Whales." And in the title story, a lonely naturalist allows an attractive stranger to lead her and her aging father on a hunt for an elusive woodpecker.

As intelligent as they are moving, the stories in Birds of a Lesser Paradise are alive with emotion, wit, and insight into the impressive power that nature has over all of us. This extraordinary collection introduces a young writer of remarkable talent.
Praise For Birds of a Lesser Paradise: Stories…
"Birds of a Lesser Paradise is an astonishing debut collection, by a writer reminiscent of such greats as Alice Munro, Elizabeth Strout and even Chekhov. Expertly delivered, Bergman's stories bloom from the minutiae of life. They confirm the inescapable power that nature--and our own biology--has over us."
– Sara Gruen, author of Water for Elephants




"Megan Mayhew Bergman apparently possesses, all in one sensibility, Ralph Waldo Emerson's love of a back-to-the-land self-sufficiency, Amy Hempel's infinite tenderness towards animals, and Tillie Olsen's fierce sense of the emotional intensities of motherhood. Birds of a Lesser Paradise features characters who, even understanding it as well as they do, want to mother the world, and their stories are rendered with dazzling compassion, intelligence, and grace."
– Jim Shepard, author of You Think That's Bad




"A big-hearted collection of stories—each one a precise and compassionate study of human life, the changes and obstacles—all carefully housed under the miracles and marvels of nature. Megan Mayhew Bergman is a brilliantly gifted writer who recognizes and highlights life's fragilities in a way that will leave your heart aching while also finding those bits of hilarity and absurdity that bring uniqueness to each and every creature."
– Jill McCorkle, author of Going Away Shoes



"I predict that astronomers will soon be renaming the star Sirius to Megan Mayhew Bergman. Birds of a Lesser Paradise offers us a spectacular new voice in the world of American short fiction. The characters in these stories—each one—perform as beacons on who we are and how we should act, all without pretense or exhortation. This is a first-rate collection."
—George Singleton, author of The Half-Mammals of Dixie




"Bergman's excellent stories are hard-earned and well-honed. Her characters speak as if their very lives depend upon getting it right, getting it down, facing the toughest stuff that tumbles down with equal toughness and enduring resilience. A very fine and impressive debut."
–Brad Watson, author of Aliens in the Prime of Their Lives



"Readers will be shocked, amazed, and always entertained by the work of this accomplished writer of short fiction." --Booklist



"A top-notch debut... that deserves big praise. The beginning, one suspects, of a fine career." --Kirkus
Scribner, 9781451643367, 272pp.
Publication Date: November 6, 2012
About the Author
Megan Mayhew Bergman is the author of Almost Famous Women and Birds of a Lesser Paradise. Her short fiction has appeared in two volumes of The Best American Short Stories and on NPR's Selected Shorts. She has written columns on climate change and the natural world for The Guardian and The Paris Review. Her work has been featured in The New York Times, The New Yorker, Tin House, Ploughshares, Oxford American, Orion, and elsewhere. She teaches literature and environmental writing at Middlebury College, where she also serves as director of the Bread Loaf Environmental Writers' Conference. She lives on a small farm in Vermont.
How much of a role does nature play in the lives of the heroines of Mayhew Bergman's stories? How do their relationships with the natural world affect their decisions?
Whether it is an African Gray parrot or a lemur, animals are central to each of these stories. How do the characters identify with or distinguish themselves from animals? Do any of the characters share certain qualities with the animals described?
In "Housewifely Arts," what did her mother's parrot represent to the narrator while her mother was still alive? How did the parrot's importance change after her mother passed away?
How did you react to the veterinarian husband in "The Cow That Milked Herself" examining his pregnant wife in the same way he examines animals? Do you think his clinical take on his wife's pregnancy reveals any universal truths about motherhood?
"For centuries people had used the swamp to hide from their problems" (41), says the narrator of the title story. Does Mae use the swamp to hide from her own problems? If so, how? How does her father's scare in the swamp change her priorities?
Lila feels ugly and damaged after her face is disfigured in "Saving Face," and goes to great lengths to isolate herself. How do you think her experience with Romulus and the sickly calf will change her? Can she reclaim the person who she was, despite her new challenges?
Lauren, the population control activist in "Yesterday's Whales," has a crisis of faith when she becomes pregnant. Have you ever experienced an event that's challenged your long-held convictions? Is there any way to reconcile two wildly different points of view?
Do you think the narrator of "Another Story She Won't Believe" realizes the mess she's made? What do you think propelled her to self-destruct? Do you think her treatment of the lemurs represents an insurmountable character flaw?
What does it take to forgive yourself after an act of negligence? What kind of mother do you think the narrator of "The Urban Coop" will turn out to be, if she can become pregnant?
"My mother once told me: Never underestimate avoidance as an effective coping mechanism," says the narrator of "The Right Company" (146). Is her retreat to the small Southern town of Abbet's Cove an effective way to deal with the collapse of her marriage? When she tries to free Mussolini's dog, the animal refuses to make an escape. What does this juxtaposition say about the narrator's circumstances?
In "Night Hunting," a young girl must come to terms with her mother's declining health. How does her walk through the cold Vermont night force her to confront her fears? Do the ever-threatening coyotes represent a more primal danger than her mother's cancer?
Could a hunter and an animal lover ever have a functional relationship? Do you think the woman in "Every Vein a Tooth" uses her relationship with animals to avoid the messiness of human intimacy? Or does her extreme devotion to the animals she rescues come from a purer, more optimistic place?
"The Artificial Heart" is the only story in Birds of a Lesser Paradise that's set in the future. How do you think it fits in with the rest of the stories in the collection? Do you think it's a natural impulse to want to prolong life, even if the quality of that life becomes less than ideal? Or do we become lesser versions of ourselves if we try to cheat death?
The narrator of "The Two-Thousand Dollar Sock" is a fighter, as is her husband, and ultimately her dog, Vito, who attacks a bear to protect the family. Do you think humans have a similar compulsion to fight and defend?