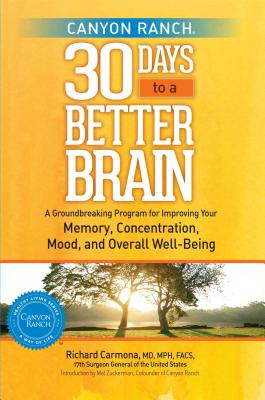 Canyon Ranch 30 Days to a Better Brain (Hardcover)
A Groundbreaking Program for Improving Your Memory, Concentration, Mood, and Overall Well-Being
Atria Books, 9781451643800, 320pp.
Publication Date: May 6, 2014
Other Editions of This Title:
Paperback (5/19/2015)
* Individual store prices may vary.
Description
The essential, must-have guide to staying sharp and mentally active—from a former Surgeon General and the experts at Canyon Ranch.

When it comes to aging, most of us understand how to keep our bodies healthy and fit, but few of us know where to begin when it comes to taking care of our brains. Do you want to improve your memory, sharpen your thinking, increase your attention span, and boost your mental energy? If so, Dr. Richard Carmon provides all the information you need—including healthy living tips, step-by-step exercises, recipes, and a thirty-day program for maximizing your brain function.

Synthesizing the cognitive science behind memory, sleep, stress, and addiction, Canyon Ranch's 30 Days to a Better Brain is the definitive guide to caring for your brain, whether you're approaching your elder years or still in your quarter-life crisis. Guiding you through the anatomy of the aging brain, how stress and toxins affect your mind, and the importance of sleep, Dr. Carmona lays out a thirty-day nutrition, exercise, and medical plan to help you achieve optimal brain health. You'll also find answers to all your questions, including how your health is affecting your brain, what foods to eat and what to avoid, whether or not supplements are necessary, what important medical tests to ask your doctor about, and how best to challenge your brain. Also included are techniques for practicing mindfulness, meditation, and spiritual contemplation.

The immense benefits of this thirty-day program include better memory, mood, and sleep; faster, sharper thinking; more energy; quicker reflexes; safer driving; improved attention span; and much more. Combining the best of traditional and alternative therapies, behavioral science, and exercise physiology, this indispensable guide will help you maintain and enhance a strong, agile mind so that your body does not outlive your brain.
About the Author
Richard Carmona, MD, MPH, FACS, is the President of the Canyon Ranch Institute, Vice Chairman of Canyon Ranch, and the Distinguished Professor of Public Health at the University of Arizona. He also served as the seventeenth Surgeon General of the US from 2002 to 2006.
Praise For Canyon Ranch 30 Days to a Better Brain: A Groundbreaking Program for Improving Your Memory, Concentration, Mood, and Overall Well-Being…
"Protecting brain health is a key strategy for aging well. In this user-friendly guide, Dr. Richard Carmona gives specific, practical advice about optimizing brain function based on the best scientific evidence. I recommend it."
— Andrew Weil

"30 Days to a Better Brain offers a winning strategy to stave off cognitive decline, improve cardiovascular fitness, and enjoy better all-around health. People of all ages will want to read this book and benefit from its sound advice."
— Dr. Toby Cosgrove, M.D., CEO and President  of the Cleveland Clinic

"In this extraordinary book, Dr. Richard Carmona (one of the finest Surgeon Generals in our nation's history) shows how we can keep our brains young for as long as possible. Highly recommended."
— Dean Ornish, M.D., New York Times bestselling author of The Spectrum and Dr. Dean Ornish's Prog
or
Not Currently Available for Direct Purchase