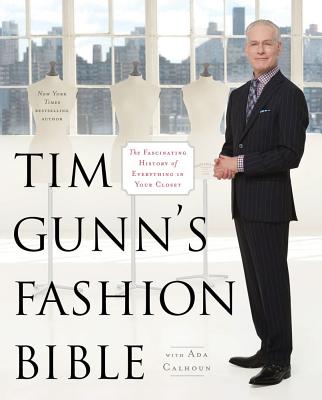 Tim Gunn's Fashion Bible (Hardcover)
The Fascinating History of Everything in Your Closet
Gallery Books, 9781451643855, 320pp.
Publication Date: September 11, 2012
* Individual store prices may vary.
or
Not Currently Available for Direct Purchase
Description
From a bestselling fashion guru--a fascinating, meticulously researched history of Western fashion covering every topic from the history of the high heel to the origin of blue jeans. In the beginning there was the fig leaf... and the toga. Crinolines and ruffs. Chain mailand corsets. What do these antiquated items have to do with the oh-so-twenty-first-century skinny jeans, graphic tee, and sexy pumps you slipped into this morning? Everything Fashion begets fashion, and life--from economics to politics, weather to warfare, practicality to the utterly impractical--is reflected in the styles of any given era, evolving into the threads you buy and wear today. With the candidness, intelligence, and charm that made him a household name on Project Runway, Tim Gunn reveals the fascinating story behind each article of clothing dating back to ancient times, in a book that reads like a walking tour from museum to closet with Tim at your side. From Cleopatra's crown to Helen of Troy's sandals, from Queen Victoria's corset to Madonna's cone bra, Dynasty's power suits to Hillary Clinton's pantsuits, Tim Gunn's Fashion Bible takes you on a runway-ready journey through the highs and lows of fashion history. Drawing from his exhaustive knowledge and intensive research to offer cutting-edge insights into modern style, Tim explains how the 1960s ruined American underwear, how Beau Brummell created the look men have worn for more than a century, why cargo capri pants are a plague on our nation, and much more. He will make you see your wardrobe in a whole new way. Prepare to be inspired as you change your thinking about the past, present, and future of fashion.
About the Author
Beloved pop culture icon Tim Gunn is best known as co-host of the twelve-time Emmy-nominated reality show Project Runway. He also hosted two seasons of his own Bravo makeover series, Tim Gunn's Guide to Style.
Praise For Tim Gunn's Fashion Bible: The Fascinating History of Everything in Your Closet…
"Tim Gunn is fun and chatty, but most of all he is incredibly knowledgable and informed!"
—Diane von Furstenberg



"Tim Gunn's Fashion Bible is a must-have for discerning fashionistas. Not only is it packed with fun facts from the whole of fashion history, but it is a rollicking good read and, in many places, laugh-out-loud funny. Gunn combines acerbic wit with disarming charm—a rare combination—such that we don't realize how much we learn from the book. Beware: he may be unforgiving when it comes to a favorite style—but you can't help feeling he's right."
—Kathryn Earle, Head of Visual Arts Publishing at Bloomsbury



"Rich with photos, this book combines Gunn's signature brand of sassy wisdom with a smart and entertaining journey through the history of fashion--no item in the closet is left uncovered…. Gunn makes this history of fashion more than just another lesson about fabrics and dyes--for him, it's the people and the culture that bring the items we wear into sharper focus; in fact, Gunn states that "the primary purpose of this book is to give your clothes more significance." …. Numerous cultural tidbits, fantastic images, and sartorial wisdom from one of fashion's most respected gurus make this a must-read for "everyone who gets dressed in the morning, not just an elite crew in Manhattan."
—Publishers Weekly, Starred Review



"[Gunn's] expertise is very up to the minute, and while this book is a valuable guide for today, it will also reflect well historically on our current styles in decades to come."


-Saturday Evening Post
Advertisement