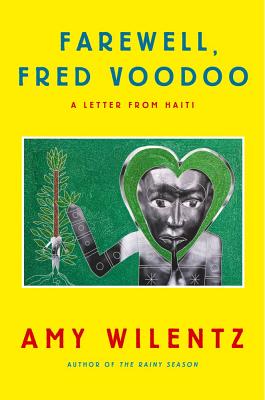 Farewell, Fred Voodoo (Hardcover)
A Letter from Haiti
Simon & Schuster, 9781451643978, 352pp.
Publication Date: January 8, 2013
Other Editions of This Title:
Paperback (12/17/2013)
* Individual store prices may vary.
Description
A brilliant writer's account of a long, painful, ecstatic—and unreciprocated—affair with a country that has long fascinated the world.

The Rainy Season, Amy Wilentz's award-winning 1989 portrait of Haiti after the fall of Jean-Claude Duvalier, was praised in the New York Times Book Review as "a remarkable account of a journalist's transformation by her subject." In her relationship with the country since then, Wilentz has witnessed more than one magical transformation. Now, with Farewell, Fred Voodoo, she gives us a vivid portrayal of the extraordinary people living in this stark place.

Wilentz traces the country's history from its slave plantations through its turbulent revolutionary history, its kick-up-the-dirt guerrilla movements, its totalitarian dynasty that ruled for decades, and its long and always troubled relationship with the United States. Yet through a history of hardship shines Haiti's creative culture—its African traditions, its French inheritance, and its uncanny resilience, a strength that is often confused with resignation.

Haiti emerged from the dust of the 2010 earthquake like a powerful spirit, and this stunning book describes the country's day-to-day struggle and its relationship to outsiders who come to help out. There are human-rights reporters gone awry, movie stars turned aid workers, priests and musicians running for president, doctors turned diplomats. A former U.S. president works as a house builder and voodoo priests try to control elections.

A foreign correspondent on a simple story becomes, over time and in the pages of this book, a lover of Haiti, pursuing the essence of this beautiful and confounding land into its darkest and brightest corners. Farewell, Fred Voodoo is a spiritual journey into the heart of the human soul, and Haiti has found in Amy Wilentz an author of astonishing wit, sympathy, and eloquence.
About the Author
Amy Wilentz is the author of The Rainy Season, Martyrs' Crossing, and I Feel Earthquakes More Often Than They Happen. She has won the Whiting Writers Award, the PEN/Martha Albrand Non-Fiction Award, and the American Academy of Arts and Letters Rosenthal Award. She writes for The New Yorker and The Nation and teaches in the Literary Journalism program at UC Irvine.
Praise For Farewell, Fred Voodoo: A Letter from Haiti…
"Farewell, Fred Voodoo showcases all [Wilentz's] formidable gifts as a reporter: her love of, and intimate familiarity with, Haiti; her sense of historical perspective; and her eye for the revealing detail. Like Joan Didion and V. S. Naipaul, she has an ability not only to provide a visceral, physical feel for a place, but also to communicate an existential sense of what it's like to be there as a journalist with a very specific and sometimes highly subjective relationship with her subject."
— Michiko Kakutani

"Excellent….Wilentz matches [Joan Didion] for note-perfect prose and unflinching inquiry…. Wilentz is an artful guide…. [An] intimate, honest, bracingly unsentimental book."
— Ben Fountain, author of Billy Lynn's Long Halftime Walk

"Excellent and illuminating….a love letter to—and a lament for—Haiti, a country with an already strange and tortured history that became even more tragic, interesting and convoluted in the months after the earthquake…. [Wilentz] brings to Haiti empathy and her great skills as a narrator….it's Wilentz's honesty about her own role in Haiti and that of so many other American visitors to that country that ultimately distinguishes her book most from other works that cover similar terrain."

"A veteran journalist captures the functioning chaos of Haiti. ... An extraordinarily frank cultural study/memoir that eschews platitudes of both tragedy and hope."

"Farewell, Fred Voodoo is engrossing and gorgeous and funny, a meticulously reported story of love for a maddening place. Wilentz's writing is so lyrical it's like hearing a song – in this case, the magical, confounding, sad song of Haiti."
— Susan Orlean, author of The Orchid Thief and Rin Tin Tin

"Farewell, Fred Voodoo is written with authority and great affection for Haiti and Haitians and for those who are trying to help them. An informative and wonderful piece of writing, it is a work of considerable artistry, immensely evocative. I read it with pleasure and with mounting gratitude."
— Tracy Kidder, author of Mountains Beyond Mountains

"Amy Wilentz is a brilliant writer, an ace journalist and, perhaps most important, she is not an outsider. She's the perfect guide through the heartbreak and beauty of post-earthquake Haiti. I was gripped by her respectful and first-hand reporting on Voodoo, and impressed by her enormous sensitivity to the crushing deprivation most Haitians endure."
— Barbara Ehrenreich, author of Nickel and Dimed

"Amy Wilentz knows Haiti deeply: its language, its tragic history, the foibles of her fellow Americans who often miss the story there. This makes her a wise, wry, indispensable guide to a country whose fate has long been so interwoven with our own."
— Adam Hochschild, author of King Leopold's Ghost

"I can't imagine there's a better book about Haiti—a smarter, more thoughtful, tough-minded, romantic, plainspoken, intimate, well-reported book. Amy Wilentz has paid exceptionally close attention to this dreamy, nightmarish place for a quarter century, and with Farewell, Fred Voodoo she turns all that careful watching and thinking into a riveting work of nonfiction literature."
— Kurt Andersen, author of Heyday and True Believers

"With great storytelling and a wry sense of human comedy, Amy Wilentz explains Haiti—its characters, its romance, and its unique place in world history—and brings it all to life with passion."
— Mark Kurlansky, author of Cod and Salt

"No one has plumbed Haiti more thoroughly, or explored it more passionately, than Amy Wilentz. In Farewell, Fred Voodoo, she embraces that obsession and follows it unflinchingly where it leads, deep into the phantasmagoria of Haiti—and into herself. She has written a beautiful, compelling book."
— Mark Danner, author of Stripping Bare the Body: Politics Violence War
or
Not Currently Available for Direct Purchase