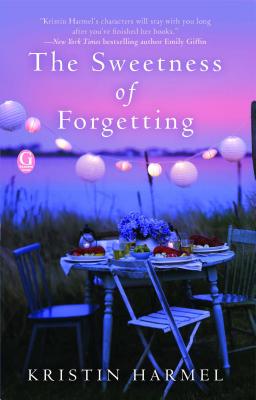 The Sweetness of Forgetting
A Book Club Recommendation!
Paperback

* Individual store prices may vary.
Description
A baker in Cape Cod, Massachusetts, must travel to Paris to uncover a family secret for her dying grandmother—and what she learns may change everything. The Sweetness of Forgetting is the book that made Kristin Harmel an international bestseller.

At thirty-six, Hope McKenna-Smith is no stranger to bad news. She lost her mother to cancer, her husband left her for a twenty-two year old, and her bank account is nearly depleted. Her own dreams of becoming a lawyer long gone, she's running a failing family bakery on Cape Cod and raising a troubled preteen.

Now, Hope's beloved French-born grandmother Mamie, who wowed the Cape with her fabulous pastries for more than fifty years, is drifting away into a haze of Alzheimer's. But in a rare moment of clarity, Mamie realizes that unless she tells Hope about the past, the secrets she has held on to for so many years will soon be lost forever. Tantalizingly, she reveals mysterious snippets of a tragic history in Paris. And then, arming her with a scrawled list of names, she sends Hope to France to uncover a seventy-year-old mystery.

Hope's emotional journey takes her through the bakeries of Paris and three religious traditions, all guided by Mamie's fairy tales and the sweet tastes of home. As Hope pieces together her family's history, she finds horrific Holocaust stories mixed with powerful testimonies of her family's will to survive in a world gone mad. And to reunite two lovers torn apart by terror, all she'll need is a dash of courage, and the belief that God exists everywhere, even in cake...
Praise For The Sweetness of Forgetting: A Book Club Recommendation!…
"Harmel manages to deliver an immersive and evocative tale of generations struggling to survive. Recipes sprinkled throughout the book allow readers to experience firsthand the sweetness of Hope's journey."
--Publishers Weekly

"THE SWEETNESS OF FORGETTING is absolutely enthralling and full of twists and turns that add to the drama and keeps the tale moving along. Author Kristin Harmel does a magnificent job of telling this saga of one family's search for understanding. She also handles her approach to Alzheimer's disease with gentleness and understanding. Readers will remember THE SWEETNESS OF FORGETTING long after the final page is turned."
— Fresh Fiction

"Kristin Harmel's novels are written with a lot of heart and soul. She has a way of bringing the reader into her stories in such a powerful way that they can often forget they're reading at all. The Sweetness of Forgetting may just be Harmel's best book yet."
— Lisa Steinke

"Kristin Harmel writes with such insight and heart that her characters will stay with you long after you've finished her books."
—New York Times bestselling author Emily Giffin

"Kristin Harmel...[is] one of my favorite authors!"
–Melissa Senate, bestselling author of The Love Goddess' Cooking School
Gallery Books, 9781451644296, 368pp.
Publication Date: August 7, 2012
About the Author
Kristin Harmel is the New York Times bestselling author of a dozen novels including The Book of Lost Names, The Winemaker's Wife, The Room on Rue Amélie, and The Sweetness of Forgetting. She is also the cofounder and cohost of the popular web series, Friends and Fiction. She lives in Orlando, Florida.