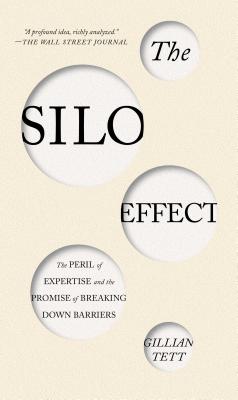 The Silo Effect (Paperback)
The Peril of Expertise and the Promise of Breaking Down Barriers
Simon & Schuster, 9781451644746, 304pp.
Publication Date: September 27, 2016
Other Editions of This Title:
Digital Audiobook (8/31/2015)
Hardcover (9/1/2015)
Paperback, Chinese (2/3/2016)
* Individual store prices may vary.
Description
Award-winning journalist Gillian Tett "applies her anthropologist's lens to the problem of why so many organizations still suffer from a failure to communicate. It's a profound idea, richly analyzed" (The Wall Street Journal), about how our tendency to create functional departments—silos—hinders our work.

The Silo Effect asks a basic question: why do humans working in modern institutions collectively act in ways that sometimes seem stupid? Why do normally clever people fail to see risks and opportunities that later seem blindingly obvious? Why, as Daniel Kahnemann, the psychologist put it, are we sometimes so "blind to our own blindness"?

Gillian Tett, "a first-rate journalist and a good storyteller" (The New York Times), answers these questions by plumbing her background as an anthropologist and her experience reporting on the financial crisis in 2008. In The Silo Effect, she shares eight different tales of the silo syndrome, spanning Bloomberg's City Hall in New York, the Bank of England in London, Cleveland Clinic hospital in Ohio, UBS bank in Switzerland, Facebook in San Francisco, Sony in Tokyo, the BlueMountain hedge fund, and the Chicago police. Some of these narratives illustrate how foolishly people can behave when they are mastered by silos. Others, however, show how institutions and individuals can master their silos instead.

"Highly intelligent, enjoyable, and enlivened by a string of vivid case studies….The Silo Effect is also genuinely important, because Tett's prescription for curing the pathological silo-isation of business and government is refreshingly unorthodox and, in my view, convincing" (Financial Times). This is "an enjoyable call to action for better integration within organizations" (Publishers Weekly).
About the Author
Gillian Tett oversees global coverage of the financial markets for the Financial Times, the world's leading newspaper covering finance and business. In 2007 she was awarded the Wincott prize, the premier British award for financial journalism, and in 2008 was named British Business Journalist of the Year. Tett is the author of Saving the Sun: How Wall Street Mavericks Shook Up Japan's Financial World and Made Billions and The Silo Effect: Ordered Chaos, the Peril of Expertise, and the Power of Breaking Down Barriers.
Praise For The Silo Effect: The Peril of Expertise and the Promise of Breaking Down Barriers…
Praise for THE SILO EFFECT

"Highly intelligent, enjoyable and enlivened by a string of vivid case studies. It is also genuinely important, because her prescription for curing the pathological silo-isation of business and government isr efreshingly unorthodox and, in my view, convincing." —Financial Times

"A complex topic and lively writing make this an enjoyable call to action for better integration within organizations."— Publishers Weekly

"In"The Silo Effect" she applies her anthropologist's lens to the problem of why so many organizations still suffer from a failure to communicate. It's a profound idea, richly analyzed."— The Wall Street Journal

"'Silo'has become a cliché among management consultants—and executives trying to hang onto their jobs by speaking the language of the au courant—but Tett gives the metaphor life in her engaging, case-study-filled new book." —New York Post

"The Silo Effect comes across in print much as Tett comes across in person—sharp, insightful, and concise. And the book, which is informed as much by her training as an academic anthropologist as by her experience covering the global financial crisis, is an excellent attempt to help both organizations and individuals figure out how to harness the benefits of specialization without creating tunnel vision."—Strategy+Business

"The Silo Effect comes across in print much as Tett comesacross in person—sharp, insightful, and concise. And the book…is an excellentattempt to help both organizations and individuals figure out how to harnessthe benefits of specialization without creating tunnelvision."—Strategy+Business

"A complex topic and lively writing make this an enjoyable call to action for better integration within organizations."

"Highly intelligent, enjoyable and enlivened by a string of vivid case studies. It is also genuinely important, because her prescription for curing the pathological silo-isation of business and government is refreshingly unorthodox and, in my view, convincing."

"In "The Silo Effect" she applies her anthropologist's lens to the problem of why so many organizations still suffer from a failure to communicate. It's a profound idea, richly analyzed."

"'Silo' has become a cliché among management consultants—and executives trying to hang onto their jobs by speaking the language of the au courant—but Tett gives the metaphor life in her engaging, case-study-filled new book."