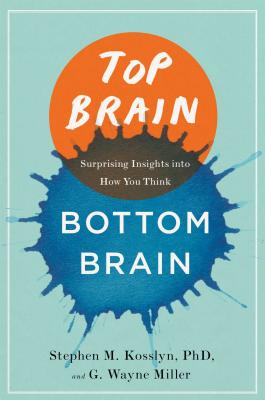 Top Brain, Bottom Brain
Surprising Insights into How You Think
Hardcover

* Individual store prices may vary.
Other Editions of This Title:
MP3 CD (3/4/2014)
Paperback (3/31/2015)
Description
In this groundbreaking contribution to the literature of human personality, a celebrated psychologist and an award-winning author offer an exciting new way of thinking about our minds—and ourselves—based on a new way of looking at the brain.

IN THIS GROUNDBREAKING contribution to the literature on human personality, a celebrated psychologist and an award-winning author offer a novel way to learn about how each of us thinks. For the past fifty years, popular culture has led us to believe in the left brain vs. right brain theory of personality types. It would be an illumi­nating theory if it did not have one major drawback: It is simply not supported by science. In contrast, the Top Brain, Bottom Brain theory is based on solid research that has stayed within the confines of labs all over the world—until now.

With cowriter G. Wayne Miller, Stephen M. Kosslyn, PhD, a leader in the field of cognitive neuroscience, explains this exciting new theory for the first time. Kosslyn and Miller describe how the top and bottom parts of the brain work together, summarizing extensive research with ease and accessibility. In doing so, they introduce us to four modes of thought: Mover, Perceiver, Stimulator, and Adaptor.

These ways of thinking and behaving shape your personality, and with the scientifically developed test provided in the book, you'll quickly be able to determine which mode best defines your dominant way of thinking. Once you've identified your dominant cognitive mode, you can reflect on the many possible practical applications from the way you conduct business to your relationships to your voyage of personal discovery.
Praise For Top Brain, Bottom Brain: Surprising Insights into How You Think…
"Kosslyn is one of the world's great cognitive neuroscientists of the late 20th and early 21st century."
— Steven Pinker, bestselling author of The Language Instinct

"An exciting new way to think about our brains, and ourselves. Original, insightful, and a sweet read to boot."
— Daniel Gilbert, Edgar Pierce Professor of Psychology, Harvard University, author of the international best seller Stumbling on Happiness

"Kosslyn and Miller have written a lively, informative, and easily assimilated summary of several important principles of brain function for the general reader who does not have the time or background to follow the complexities of neuroscience research but would like a scaffolding on which to place the new facts that dominate each day's headlines."
— Jerome Kagan, emeritus professor of psychology, Harvard University

"A bold new theory, with intriguing practical implications, formulated by one of America's most original psychologists."
— Howard Gardner, co-author of The App Generation

"An invigorating thought-experiment on reassembling the brain's dynamic parts."

"Stephen Kosslyn has long been one of the world's leading cognitive psychologists. In his new book, along with Wayne Miller, he proposes a novel synthesis for thinking about the modes of cognition and the neurobiology that underlies it. This is an extremely stimulating book and a wonderfully readable one as well, even containing useful information for how each of us can make sense of our own ways of thinking."
— Robert M. Sapolsky, Stanford University Professor of Neurology and MacArthur Fellow
Simon & Schuster, 9781451645101, 240pp.
Publication Date: November 5, 2013
About the Author
Stephen M. Kosslyn, PhD, is founding dean of the Minerva Schools at the Keck Graduate Institute. He previously served as director of the Center for Advanced Study in the Behavioral Sciences and Professor of Psychology at Stanford University and as the John Lindsley Professor of Psychology at Harvard University, where he also served as chair of the Department of Psychology and dean of Social Science. Stephen has been recognized by election to the American Academy of Arts and Sciences, three honorary doctorates, a Guggenheim Fellowship, and the National Academy of Sciences Award for Initiatives in Research.

G. Wayne Miller is a staff writer at The Providence Journal, a documentary filmmaker, and the author of seven books of nonfiction, three novels, and three short story collections. He is also director and cofounder of the Story in the Public Square program at Salve Regina University's Pell Center for International Relations and Public Policy in Newport, RI. Find him at GWayneMiller.com or on Twitter @GWayneMiller.
or
Not Currently Available for Direct Purchase