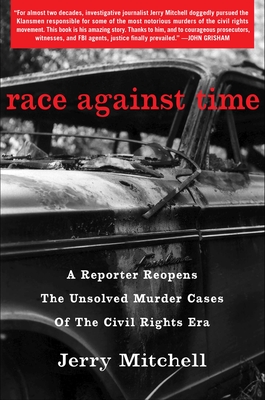 Race Against Time
A Reporter Reopens the Unsolved Murder Cases of the Civil Rights Era
Hardcover

* Individual store prices may vary.
Other Editions of This Title:
Digital Audiobook (2/3/2020)
Paperback (2/2/2021)
Compact Disc (2/4/2020)
Description
"For almost two decades, investigative journalist Jerry Mitchell doggedly pursued the Klansmen responsible for some of the most notorious murders of the civil rights movement. This book is his amazing story. Thanks to him, and to courageous prosecutors, witnesses, and FBI agents, justice finally prevailed." —John Grisham, author of The Guardians

On June 21, 1964, more than twenty Klansmen murdered three civil rights workers. The killings, in what would become known as the "Mississippi Burning" case, were among the most brazen acts of violence during the civil rights movement. And even though the killers' identities, including the sheriff's deputy, were an open secret, no one was charged with murder in the months and years that followed.

It took forty-one years before the mastermind was brought to trial and finally convicted for the three innocent lives he took. If there is one man who helped pave the way for justice, it is investigative reporter Jerry Mitchell.

In Race Against Time, Mitchell takes readers on the twisting, pulse-racing road that led to the reopening of four of the most infamous killings from the days of the civil rights movement, decades after the fact. His work played a central role in bringing killers to justice for the assassination of Medgar Evers, the firebombing of Vernon Dahmer, the 16th Street Church bombing in Birmingham and the Mississippi Burning case. Mitchell reveals how he unearthed secret documents, found long-lost suspects and witnesses, building up evidence strong enough to take on the Klan. He takes us into every harrowing scene along the way, as when Mitchell goes into the lion's den, meeting one-on-one with the very murderers he is seeking to catch. His efforts have put four leading Klansmen behind bars, years after they thought they had gotten away with murder.

Race Against Time is an astonishing, courageous story capturing a historic race for justice, as the past is uncovered, clue by clue, and long-ignored evils are brought into the light. This is a landmark book and essential reading for all Americans.
Praise For Race Against Time: A Reporter Reopens the Unsolved Murder Cases of the Civil Rights Era…
"For almost two decades, investigative journalist Jerry Mitchell doggedly pursued the Klansmen responsible for some of the most notorious murders of the civil rights movement. This book is his amazing story. Thanks to him, and to courageous prosecutors, witnesses, and FBI agents, justice finally prevailed."
—John Grisham, author of The Guardians

"Chilling and gripping. And rest assured, Jerry Mitchell is the real deal—a dogged, fearless crusader for truth, and one hell of a story teller."
—Erik Larson, author of The Splendid and The Vile

"Jerry Mitchell's memoir revives promise for journalism. In this stirring, insider's account of four notorious crimes from the 1960s, his tenacious allies defy race and resignation to win historic miracles for justice."
—Taylor Branch, Pulitzer Prize-winning author of Parting the Waters

"Jerry Mitchell is an instrument of redemption for Mississippi, and boy do we need him now. Read his story and be inspired by it."
—Greg Iles, New York Times bestselling author of Cemetery Road and Natchez Burning

"Race Against Time chronicles Jerry Mitchell's relentless and fearless pursuit of truth in decades old crimes from the civil rights era that provided justice for families and communities and put murderous Klansmen behind bars for life. He is living proof of the central role investigative journalism plays in preserving our democracy. This book should be read and studied for many years to come."
—U.S. Senator Doug Jones

"It's one thing to have a great story to tell. But it's another thing to have it told by a great storyteller. Jerry Mitchell has written this book with power, talent, and conscience."
—Rick Bragg, author of All Over but the Shoutin'

"This is a deep dive into the soul of America, a must-read for anybody interested in the Civil Rights Movement."
—Jeff Steinberg, founder of the Sojourn Project

"I've never met anyone so committed to the truth and revealing the truth than Jerry Mitchell. He ignited the movement to bring justice to my family and so many others."
—Reena Evers-Everette, daughter of slain civil rights leader Medgar Evers

"The nation owes Jerry Mitchell a debt of gratitude."
—David Goodman, brother of slain civil rights worker Andrew Goodman

"Brave, bracing and instructive…Race Against Time admirably assumes the heavy burden that Jerry Mitchell takes on; it warrants praise, gratitude, and a wide audience."
—Randall Kennedy, The New York Times Book Review

"Taut and riveting…Race Against Time provides a sobering view of white-supremacist politics…Like a child turning over rocks in a creek bed to reveal what slimy creatures lie beneath, Mr. Mitchell has taken pleasure in making life difficult for these homegrown terrorists."
—Joseph Crespino, The Wall Street Journal

"[A] valuable memoir…no other journalist has made a greater contribution to cold-case investigations."
—David J. Garrow, The Washington Post

"Mitchell's work deserves applause for his tenacity in bringing justice where the system failed miserably. His work also highlights the value of high-ideals journalism in a democracy. Were he reporting in Washington or New York, Mitchell would be a nationally renowned journalist, mentioned in the same sentence as Woodward, Bernstein and Hersh."
—Jeff Rowe, Associated Press

"Race Against Time is [Mitchell's] spellbinding account of how his dogged reporting and relentless pursuit of the truth changed history. Think Spotlight meets All the President's Men."
—Southern Review of Books

"Race Against Time provides the pleasures of both a detective novel and a courtroom drama....And the raw material for Race Against Time is storyteller's gold: a compelling pursuit of justice combined with a real-life Southern Gothic atmosphere....an important and often compelling book. And Mitchell is a national treasure."
—Christian Science Monitor

"Exacting and nail-bitingly exciting...[Race Against Time is] a far-reaching, sometimes quixotic quest for the truth."
—O Magazine

"[A] fast-paced account of the slow path to justice in a series of racially motivated murder cases...A fine work of investigative journalism and an essential addition to the history of the civil rights movement."
—Kirkus Reviews, starred review

"[A] superb first book...Under death threats, [Jerry Mitchell] raced against time to interview witnesses before they died and bring justice to families who had been denied it. This thrilling true crime account deserves a wide audience."
—Publishers Weekly, starred review

"[Race Against Time] is riveting...this is both an important Civil Rights document and a timely read in the wake of the recent rise of hate crimes."
—Booklist, starred review

"In what would be the genesis of a far-reaching, sometimes quixotic quest for the truth, ultimately leading to a conviction in that case and others, Mitchell experienced 'the electric feeling of discovering a story that needs to be told.' Readers can expect the same sensation on every page of Mitchell's vital and timely inquiry, especially as his remarkable shoe-leather effort finally brings the justice King dreamed of."
—Oprahmag.com

"With a title that could not be more apt, Race Against Time is an expansion of Jerry Mitchell's work as an investigative reporter. It reads like a fictional thriller, but is an all-too-true account of horrifying past crimes and those who perpetrated them."
—Newsweek

"Gripping…It is, on one level, the closest memoir can get to a John Grisham thriller. On another level, it's a profound firsthand testament to how, per Faulkner, the past is never dead, but neither is the need for justice."
—Garden & Gun

"In [Race Against Time], Mitchell never portrays himself as a hero. Readers, however, might correctly conclude that 'hero' is an appropriate word."
—Minneapolis Star Tribune

"Mitchell has made it his life's work to bring to trial the homegrown terrorists who fostered white supremacy and hatred for decades in the American South, particularly in Mississippi. He has done so at great personal sacrifice and risk, and [Race Against Time] is a compelling record of his efforts."
—Washington Review of Books

"[This] riveting book tells the harrowing and triumphant story of an uncompromising quest for justice."
—The Philadelphia Sun

"[An] uncovering of some of the South's deepest, darkest secrets."
—Atlanta Journal-Constitution

"Sobering and suspenseful...a must-read."
—Florida Courier

"We cannot know where we are going, unless we know where we have been. Mississippi investigative journalist Jerry Mitchell has reported for decades on southern racist violence. His book, Race Against Time, offers a clear-eyed assessment of race relations in America that helps us come to term with our painful past. There is a through line from slavery, to Jim Crow, to the protests of today. We are in a "race against time" to save our democracy from itself, an existential crisis born of our own original sin. Read this book, and begin the work that needs to be done, now."
—Jami Floyd, Host & Legal Editor, New York Public Radio

"In an era of George Floyd and Ahmaud Arbery, Race Against Time is required reading. Before cellphone videos could move a nation to action, Race Against Time tells the stories of how murders of black men were covered up, how white perpetrators were protected, and how so many cases grew cold. But the coldest of cases were no match for Jerry Mitchell. With his fearless, truth-at-all-costs investigative reporting, Mitchell found the evidence needed to send klansmen to jail, to expose the Mississippi Sovereignty Commission, and find justice in some our countries most storied cold cases. Race Against Time tells the stories of the most infamous cold cases of the civil rights movement—the assassinations of Medgar Evers and Vernon Dahmer, the Sixteenth Street church bombing, and the Mississippi Burning murders—and, decades later, the story of one reporter's unstoppable quest for justice."
—Dave Tell, author of Remembering Emmett Till

"It's really tempting in reading Jerry Mitchell's riveting book, Race Against Time, to stare at the face of evil and miss the obvious: white Southerners of all stripes dutifully protected these Klansman for decades. Minus some brave journalists and prosecutors, these terrorists could have lived out their days, drawing air from the white supremacy that formed them. In 2020, we're witnessing in excruciating detail how noxious that environment remains—and just how widespread. Mitchell's harrowing narrative forces us to look closely at law enforcement in 1960s' America, only to see that a Cecil Price and Lawrence Rainey are perhaps more common than we could have possibly imagined."
—Davis Houck, co-editor of The Speeches of Fannie Lou Hamer
Simon & Schuster, 9781451645132, 432pp.
Publication Date: February 4, 2020
About the Author
Jerry Mitchell has been a reporter in Mississippi since 1986. A winner of more than 30 national awards, Mitchell is the founder of the Mississippi Center for Investigative Reporting. The nonprofit is continuing his work of exposing injustices and raising up a new generation of investigative reporters.