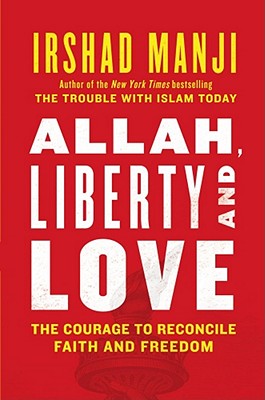 Allah, Liberty and Love
The Courage to Reconcile Faith and Freedom
Hardcover

* Individual store prices may vary.
Other Editions of This Title:
Paperback (2/7/2012)
Description
In Allah, Liberty and Love, Irshad Manji paves a path for Muslims and non-Muslims to transcend the fears that stop so many of us from living with honest-to- God integrity: the fear of offending others in a multicultural world as well as the fear of questioning our own communities. Since publishing her international bestseller, The Trouble with Islam Today, Manji has moved from anger to aspiration. She shows how any of us can reconcile faith with freedom and thus discover the Allah of liberty and love—the universal God that loves us enough to give us choices and the capacity to make them.

Among the most visible Muslim reformers of our era, Manji draws on her experience in the trenches to share stories that are deeply poignant, frequently funny and always revealing about these morally confused times. What prevents young Muslims, even in the West, from expressing their need for religious reinterpretation? What scares non-Muslims about openly supporting liberal voices within Islam? How did we get into the mess of tolerating intolerable customs, such as honor killings, and how do we change that noxious status quo? How can people ditch dogma while keeping faith? Above all, how can each of us embark on a personal journey toward moral courage—the willingness to speak up when everybody else wants to shut you up?

Allah, Liberty and Love is the ultimate guide to becoming a gutsy global citizen. Irshad Manji believes profoundly not just in Allah, but also in her fellow human beings.
Praise For Allah, Liberty and Love: The Courage to Reconcile Faith and Freedom…
"Like the uprisings against Middle East dictators, Allah, Liberty and Love is a jolt of adrenalin in the struggle against enemies of humanity -- those who would coerce a people's rights or an individual's conscience. Irshad Manji is a brave woman whose moral courage brings threats against her life. Now, even as she equips her Muslim brothers and sisters to "stay with integrity" in their effort to replace dogma with faith, Manji challenges us who are not Muslims to take on the closed minds of our own religion, party, community, or clan. This is a passionate yet practical guide for the journey of moral courage that each of us must begin if we are to live with dignity on a crowded planet."

— Bill Moyers

"As a reporter, I have witnessed the impact of Irshad Manji's work on young Muslims in the Middle East. By listening to their ideas about how to use emerging technologies to circumvent state censors, Manji has reached a new generation of Arab activists and helped raise their democratic aspirations."

— Katherine Zoepf, Journalist and Schwartz fellow at the New America foundation

"In the Qur'an, God is not offended when the angels question Him. In Allah, Liberty and Love, Irshad Manji asks powerful questions of God's self-appointed spokespeople. They will be affronted, but God is greater. Muslims like me cheer Irshad."

— Representative Keith Ellison

"Everyone thinks about courage: we admire it in others; we fear the shallowness of our own. Irshad Manji has earned our admiration; now, in her new book, she calls on the rest of us to summon our "moral courage." She asks both her fellow Muslims and non-Muslims to overcome the disapproval of family and peers -- and speak truth. Manji writes in her usual vibrant and accessible style, with rich, compelling anecdotes and revealing interviews. This is an important and timely book, written by the master of moral courage."

— Lesley Stahl, correspondent for 60 Minutes

"Irshad Manji once again shows herself to be a Muslim reformist of outstanding courage. Hers is the unwavering conviction that all religions, including Islam, fulfill their timeless moral precepts through universal love, freedom and reason. To understand how these virtues can be allied with Allah and the Quran -- not in theory, but in our messy real world -- you must read this book."

— N.J. Dawood, translator of The Koran

"Irshad Manji is the new voice of reform, not only for Islam, but for all religions. When we realize that liberty and love, meaning and purpose are more sacred than ideology and dogma, our religion and spirituality will come of age."

— Deepak Chopra, author of The Soul of Leadership: Unlocking Your Potential for Greatness

"Irshad Manji's Allah, Liberty and Love is a passionate argument for passionate argument -- in all of life and especially within Islam. I leave these pages strengthened by her humor, intelligence, bravery, fairness and faith."

— Gloria Steinem

"Irshad Manji never gives up. In Allah, Liberty and Love, she chronicles her continuing struggle for an authentic Islamic reformation, one that she has rooted deeply in Islam's own traditions... Manji writes about her relations with a community that doesn't quite know what to make of her -- but also of the many Muslims who support her as she keeps her faith. Manji is at the forefront of some crucially important trends that are slowly changing the world of Islam."
--Fareed Zakaria
Atria Books, 9781451645200, 288pp.
Publication Date: June 14, 2011
or
Not Currently Available for Direct Purchase