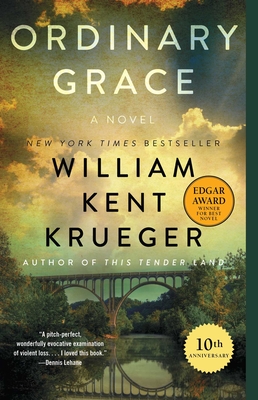 Ordinary Grace (Paperback)
A Novel
Atria Books, 9781451645859, 336pp.
Publication Date: March 4, 2014
* Individual store prices may vary.
Description
NEW YORK TIMES BESTSELLER
WINNER OF THE 2014 EDGAR AWARD FOR BEST NOVEL
WINNER OF THE 2014 DILYS AWARD
A SCHOOL LIBRARY JOURNAL BEST BOOK OF 2013

"That was it. That was all of it. A grace so ordinary there was no reason at all to remember it. Yet I have never across the forty years since it was spoken forgotten a single word."

New Bremen, Minnesota, 1961. The Twins were playing their debut season, ice-cold root beers were selling out at the soda counter of Halderson's Drugstore, and Hot Stuff comic books were a mainstay on every barbershop magazine rack. It was a time of innocence and hope for a country with a new, young president. But for thirteen-year-old Frank Drum it was a grim summer in which death visited frequently and assumed many forms. Accident. Nature. Suicide. Murder.

Frank begins the season preoccupied with the concerns of any teenage boy, but when tragedy unexpectedly strikes his family—which includes his Methodist minister father; his passionate, artistic mother; Juilliard-bound older sister; and wise-beyond-his-years kid brother—he finds himself thrust into an adult world full of secrets, lies, adultery, and betrayal, suddenly called upon to demonstrate a maturity and gumption beyond his years.

Told from Frank's perspective forty years after that fateful summer, Ordinary Grace is a brilliantly moving account of a boy standing at the door of his young manhood, trying to understand a world that seems to be falling apart around him. It is an unforgettable novel about discovering the terrible price of wisdom and the enduring grace of God.
About the Author
William Kent Krueger is the award-winning author of the New York Times bestselling Ordinary Grace, winner of the Edgar Award for best novel, as well as eighteen Cork O'Connor novels, including Desolation Mountain and Sulfur Springs. He lives in the Twin Cities with his family. Visit his website at WilliamKentKrueger.com.
Praise For Ordinary Grace: A Novel…
"A pitch-perfect, wonderfully evocative examination of violent loss. In Frank Drum's journey away from the shores of childhood—a journey from which he can never return—we recognize the heartbreaking price of adulthood and its 'wisdoms.' I loved this book."
— Dennis Lehane, New York Times bestselling author of Live by Night and The Given Day

"Krueger's elegy for innocence is a deeply memorable tale."

"A respected mystery writer turns his attention to the biggest mystery of all: God. An award-winning author for his long-running Cork O' Connor series, Krueger aims higher and hits harder with a standalone novel that shares much with his other work.... 'the awful grace of God,' as it manifests itself within the novel, would try the faith of the most devout believer. Yet, ultimately, the world of this novel is one of redemptive grace and mercy, as well as unidentified corpses and unexplainable tragedy. A novel that transforms narrator and reader alike."

"...elegiac, evocative.... a resonant tale of fury, guilt, and redemption."

"Once in a blue moon a book drops down on your desk that demands to be read. You pick it up and read the first page, and then the second, and you are hooked. Such a book is Ordinary Grace…This is a book that makes the reader feel better just by having been exposed to the delights of the story. It will stay with you for quite some time and you will always remember it with a smile."

"One cannot read Ordinary Grace without feeling as if it is destined to be hailed as a classic work of literature. Ordinary Grace is one of those very rare books in which one regrets reaching its end, knowing that the experience of having read it for the first time will never be repeated. Krueger, who is incapable of writing badly, arguably has given us his masterpiece."

"My best read so far this year."

"A thoughtful literary mystery that is wholly compelling and will appeal to fans of Dennis Lehane and Tom Franklin. . . Don't take the title too literally, for Krueger has produced something that is anything but ordinary."

"Not often does a story feel at once fresh and familiar. But Ordinary Grace, a new novel from William Kent Krueger, is both, and it is affecting."

"Ordinary Grace is engaging from the first page, a quiet novel that unfurls its sad story slowly, but eloquently, leaving its mark on your heart."

"There's such a quiet beauty in his prose and such depth to his characters that I was completely captivated by this book's ordinary grace."

"A superb literary novel."

"...the tone is much like To Kill a Mockingbird, with its combination of dread and nostalgia."

"Everything about this book, from language to ideas to Aeschylus's epigram is beautiful and you'll think about it long after you're finished reading."

"I realized within pages this would be one of the best books I've read in recent years. The gathering threat and its consummation are satisfying and meaningful. This is an intelligent and compelling story told with great heart.... A perfect book club read, truly a book to love and read more than once. Absolutely recommended."

"Besides being a terrific story that examines a powerful range of human experiences and emotions, it was the authentic voice of the teenage narrator, Frank Drum, that kept me reading late into the night. Though the tone is quiet, Krueger artfully layered the story with suspenseful examinations of family life, death, fury, spiritual fiber and redemption."
— Beth Hoffman, New York Times bestselling author of Saving CeeCee Honeycutt

"Sometimes a work of fiction just comes to you, sits in your soul, touches your life experiences and then is hard to remember as fiction. Ordinary Grace by William Kent Kruger is such a novel."