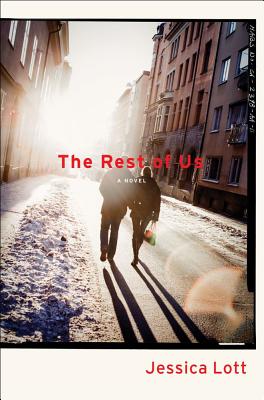 The Rest of Us
A Novel
Hardcover

* Individual store prices may vary.
Other Editions of This Title:
Paperback (7/29/2014)
Description
A smart literary debut, The Rest of Us is an indelible love story that explores the legacy of an affair between a young student and her older professor.

A gorgeous literary debut about second chances, The Rest of Us is an indelible love story that explores the legacy of an affair between a young student and her older professor.

As a college student, Terry fell madly and destructively in love with Rhinehart, her famous poetry professor, tumbling into a relationship from which she never fully recovered. Now, fifteen years later, she's single, still living in the same walk-up she moved into after college, and languishing as a photographer's assistant, having long abandoned her own art. But when she stumbles upon Rhinehart's obituary online, she finds herself taking stock of the ways her life has not lived up to her youthful expectations and grows disproportionately distraught at the thought that she'll never see him again.

She is shocked when a few weeks later she bumps into Rhinehart himself: very much alive, married, and Christmas shopping at Bloomingdale's. What ensues is an intense and beautiful friendship, an unexpected second act that pushes Terry to finally reckon with the consequences of their past and the depth of her own aspirations—and to begin to come back alive as an artist and a woman. Set in New York's vibrant art world, The Rest of Us is a captivating read and is as much a love letter to the city and the struggles of its artists as it is a sharp and stirring novel of the heart.
Praise For The Rest of Us: A Novel…
"[A] stellar fiction newcomer…Lott executes some unexpected riffs on the student-professor relationship plot."
— Maureen Corrigan

"Jessica Lott's debut surges with life...both its central love story and its account of an artistic coming of age glow with verisimilitude. From the start it's evident that Lott has a mordantly acute comic sensibility. It turns out that she can also write with tenderness and restraint about life's inevitable tragic turns."
— Julia Klein

"The Rest of Us proves to be a compelling, resonant, richly nuanced, and sometimes heartbreaking portrait of cross-generational love and the meaning of art...[it's] beautifully paced and totally engrossing."
— Karen Campbell

"Lott's talent for poetic language…her realistic depiction of the plight of the female artist, and the difficulty of female friendships prove her to be a promising new voice in fiction."

"Layered, engaging…Lott's characterization, dialogue, and affection for her characters is winning…Accomplished debut fiction."

"A finely wrought story, insightfully detailing the anguish of intense love and the struggles of an aspiring artist."

"The Rest of Us is a deeply moving May-December love story as well as a fascinating look into the mind and soul of a struggling artist. A well-written, deeply satisfying read, Lott's story is a thoughtful exploration of what it means to bring our dreams to life and an important reminder of the courage it takes to do so."

"An unapologetically feminist portrait of a young female artist struggling to make her way…Lott portrays an unusually equitable and mutually beneficial May-December romance, one that will unexpectedly touch and inspire readers."

"Although The Rest of Us is about art, love, and life, it is also about longing and belonging. Jessica writes with tremendous skill and sophistication, and the novel is truly a pleasure to read."
— Ha Jin

"In her debut novel, the vastly talented and wise beyond her years Jessica Lott crafts a beautifully written and clear-eyed portrait of the artist as a young woman…while tackling the complicated issues of female identity and ambition and the need to make art and feel known."
— Elissa Schappell

"The Rest of Us is a sharply observant and sexy debut about love, art, feminism, and the search for identity. It's also a valentine to New York, a city whose every landscape here offers memories of the past and opportunities for the future. I particularly admire the emotional nuance and complexity of Lott's characters."
— Enid Shomer, author of The Twelve Rooms of the Nile

"Jessica Lott's debut is a heartbreaking work of staggering insights written in admirably crystalline prose. An intelligently-rendered May-September story of love, longing, and obsession, The Rest of Us recalls both Philip Roth's The Dying Animal and Chad Harbach's The Art of Fielding, but with a compassion, a point of view, and an attention to detail that are all Lott's own."
— Adam Langer
Simon & Schuster, 9781451645873, 304pp.
Publication Date: July 2, 2013
About the Author
Jessica Lott is the author of The Rest of Us and Osin, which won Low Fidelity Press's Novella Award. She has an MA in creative writing from Boston University and an MA in English literature from Washington University in St. Louis. She writes for Art21, and her art reviews have appeared in Frieze and New York Arts. She lives in New York City.
or
Not Currently Available for Direct Purchase