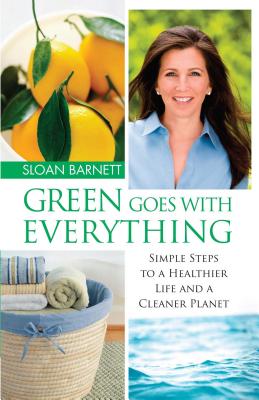 Green Goes with Everything
Simple Steps to a Healthier Life and a Cleaner Pla
Paperback

* Individual store prices may vary.
Other Editions of This Title:
Hardcover (9/23/2008)
Description
Imagine if your best friend gave you vital information that could protect you and your family, and save you money, and help the planet. Imagine if you were given clear, simple choices, small changes that could have a big impact on your life. And you could still wear leather shoes and deodorant. You'd listen, right? Well, think of Today show contributor Sloan Barnett as that friend. A mother of three, a dedicated consumer advocate, Sloan gives us a fast, simple, down-toearth primer on the ways our homes are making us sick, and what we can all do to transform them into the safe sanctuaries we want and need them to be. Sloan exposes the toxic truth behind the household products we use every day -- from laundry detergent to toothpaste to lipstick. She explains how these and other seemingly benign stuff can harm us and our children. She offers an array of alternatives, and inspires us to see that we're never helpless: Every day, we have the power to make better, smarter, safer choices. Packed with common sense and sass, product picks and practical tips, Green Goes With Everything is for everyone who wants to live a healthier life.
Praise For Green Goes with Everything: Simple Steps to a Healthier Life and a Cleaner Pla…
"A must-read for anyone who cares about the health of their family and our wonderful blue planet. Sloan has done a lot of background investigation to support the incredible information that is given in a very reader-friendly and engaging style." -- Professor Wangari Maathai, Winner of the 2004 Nobel Peace Prize, and founder of The Green Belt Movement



"Sloan Barnett has written a thoroughly researched, highly readable handbook for 'cleaning up our act' at home. Follow even a little of her advice, and your children will eat healthier, breathe cleaner air, and learn for themselves how to identify and avoid potentially toxic materials." -- Dr. John Spengler, Akira Yamaguchi Professor of Environmental Health and Human Habitation, Harvard School of Public Health.



"Barnett's well-written environmental call-to-arms is passionate and authoritative; her findings correlating childhood illnesses with ordinary -- and highly toxic -- cleaning supplies is alarming." -- Publishers Weekly



"Those seeking an easy-to-use handbook with clearly stated actions to take for a greener life will enjoy Barnett's, which organizes its chapters around various aspects of clean: clean body, food, water, air and energy." -- Booklist
Atria Books, 9781451646177, 320pp.
Publication Date: April 2, 2011