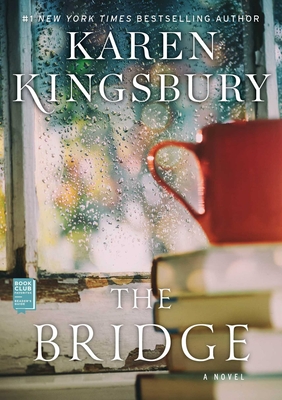 The Bridge
A Novel
Hardcover

* Individual store prices may vary.
Other Editions of This Title:
Digital Audiobook (10/22/2012)
Paperback (10/27/2015)
CD-Audio (11/5/2013)
Paperback, Large Print (11/14/2013)
CD-Audio (10/23/2012)
Paperback (11/7/2013)
Hardcover, Large Print (11/1/2012)
Mass Market (10/29/2013)
Description
The New York Times bestselling author of Learning and Leaving shares a heartwarming Christmas story about a devastating flood, lost love, and the beauty of enduring friendships.

Number one New York Times bestselling author Karen Kingsbury delivers an instant classic with this heartwarming Christmas story about a hundred-year flood, lost love, and the beauty of enduring friendships.

Molly Allen lives alone in Portland, but she left her heart back in Tennessee with a man she walked away from five years ago. They had a rare sort of love she hasn't found since.

Ryan Kelly lives in Nashville after a broken engagement and several years on the road touring with a country music duo. He can still hear Molly's voice encouraging him to follow his dreams; Molly, whose memory stays with him. At least he can visit The Bridge—the oldest bookstore in historic downtown Franklin—and remember the hours he and Molly once spent there.

For thirty years, Charlie and Donna Barton have run The Bridge, providing the people of middle Tennessee with coffee, conversation, and shelves of good books—even through dismal book sales and the rise of digital books. Then in May, the hundred-year flood swept through Franklin and destroyed nearly every book in the store.

Now the bank is pulling the lease on The Bridge. Despondent and without answers, Charlie considers the unthinkable. Then tragedy strikes, and suddenly, everything changes. In the face of desperate brokenness and lost opportunities, could the miracle of a second chance actually unfold?

The Bridge is a love story set against the struggle of the American bookstore, a love story you will never forget.
Praise For The Bridge: A Novel…
"Popular inspirational novelist Kingsbury goes mainstream in her newest, which mixes a love story with a seasonal one that borrows from the Christmas favorite It's A Wonderful Life. . . . Kingsbury fans may acquire a new holiday favorite read in this sugary tale of second chances."
— Publishers Weekly

Reader Praise for The Bridge:

"The Bridge is a reminder that all things aren't as they seem. That things really do work together for the good! That God IS in control even when we can't see it. Karen's books make you laugh, cry, and leave you wanting more! Her characters are so real you feel like you know them, and want to be friends with them. Once I read the first page of The Bridge I couldn't put it down. I read the entire book in one day!!"
— Hellen (Annette) H.

"Karen Kingsbury once again uses her beautiful talent to illustrate God's awesome love and grace for us! Each new story speaks to so many hearts across the world. Karen's gift is certainly a loving legacy that I share with others!"
— Cyndi A.

"Gripping from the beginning, The Bridge is an amazing story where we learn even in tragedy or loss God is the God of second chances and we should learn to treasure the miracles He sends our way."
— Chris V.

"Karen Kingsbury's newest book, The Bridge, will tug at the heart-strings of old time bookstore lovers everywhere! Blend in a little romance with the timeless principle of doing unto others as you would have them do unto you, and you have a classic story built around classic books!"
— Annette W.

"The Bridge is a story of friendship, love, forgiveness, and God's amazing grace. Join Charlie, Donna, Molly, and Ryan on an adventure of never-ending friendship in this wonderful story that God will never leave us and always protect us."
— Hope P.

"Karen Kingsbury has done it again with The Bridge. She is more than an author. She's a vessel that God has used to minister to myself, as well as her other readers. She is a passionate and inspirational woman of God. I am grateful for her faithfulness and obedience to write when God gives her a story. Thank you, Karen, for your faithfulness. Your stories have touched my life more than you could ever know."
— Tami D.

"Once again Karen writes such strong characters that draw deep emotions, you feel like you are right there, a part of the story. The Bridge is a beautiful love story intertwined with many types of love. You will be truly moved and inspired by this story. Have the tissues ready!!!"
— Renette S.

"The Bridge is an incredibly heart-warming collection of love stories—the story of a young couple in love, the story of an older couple who love each other and their fledgling business, and the love of a community coming together for one of its own. I could not put The Bridge down, because I was captivated by the events and anxious to read 'the rest of the story!' Inspirational! A beautiful story about second chances!"
— Lisa H.

"The Bridge will be a bridge to your heart. It is a heart-warming story of second chances that you will not want to put down until you finish it. You will fall in love with the Barton's and their wonderful store & ministry as well as Molly and Ryan. This is a must read. God does give second chances and answer our prayers."
— Marnie M.

"The enduring message of The Bridge generates hope for second chances. This powerful love story is guaranteed to tug at your heart, remind you of the essence of friendship, and leave you yearning for God's unfailing love."
— Becky S.

"A story of forbidden love, friendship, loyalty, and God's amazing grace. A MUST READ for everyone."
— Donna K.

"The Bridge has appealing characters and was a true love story not only with people but also with books! Being an avid reader, I understand that there is nothing like the smell and feel of books. In a world that is so ripe with technology, it is refreshing to see that the love of a good book and the people that they touch will never be replaced!"
— Kim F.

"I found the story in The Bridge to be relatable to my college days when I, too, walked away from a man who loved me. I was rooting all the way for Molly and Ryan to find forever love. The power of prayer and the community of friends remained the focus of this book's story. A dying man, a bookstore on its deathbed, and a long ago lost love. Karen did it again as she kept me reading from one chapter to the next, never quite sure which would be revived."
— Gigi M.

"Karen Kingsbury's The Bridge renews your faith by showing the love of a community for a man who is tragically injured. His obedience to God results in a life of service and compassion for his community through a bookstore, and this book will start you on a path of serving God with obedience."
— Jennifer S.

"The Bridge by Karen Kingsbury reaffirmed my belief in the God of second chances! I want to sit in the bookstore with Charlie and Donna as they share their story. Thank you, Karen, for letting God speak through your book and touching my heart. You gave me a moment at The Bridge!"
— Jessica E.

"The Bridge brings to mind the feeling of coming across a neighborhood bookstore and exploring it for the first time—the enchanting charm of stories yet unread and people unknown except for their shared love of reading. The Bridge reminds me of the power and potential of miracles."
— Shannon K.

"'Life Changing Fiction' is a profound definition of Karen Kingsbury's books. God has placed the words of this book in her heart with her readers in mind. Through the powerful words and Karen's testimony, don't be surprised if you open your heart a little wider to let God write the story of your life."
— Caitlyn C.

"The whole time you are reading The Bridge, not only are you right there in the story, but also you want to get in your car and drive to the bookstore and see this place for yourself! Karen Kingsbury has a way when she writes to help you visualize every aspect of this quaint historical bookstore along with the characters. Long after you have finished reading this book, you will find yourself thinking about, The Bridge. (I still want to get in my car!) Another fantastic book by Karen Kingsbury!!"
— Betty W.

"Moving, inspiring, thought provoking. A story about finding your way back. Once you start reading you don't want to put the book down. A story that demonstrates real feelings and shows consequences of decisions that are not made in faith. It is a reminder that miracles can happen with belief and love. There are amazing messages in this story for everyone as long as you are open to them."
— Natasha D.

"The Bridge is an excellent example of God's grace that is extended to us time and again despite our own shortcomings. Karen has created a touching and challenging story yet again."
— Nicole S.
Howard Books, 9781451647013, 272pp.
Publication Date: October 23, 2012
About the Author
Karen Kingsbury, #1 New York Times bestselling novelist, is America's favorite inspirational storyteller, with more than twenty-five million copies of her award-winning books in print. Her last dozen titles have topped bestseller lists and many of her novels are under development as major motion pictures. Her Baxter Family books are being developed into a TV series slated to debut soon. Karen is also an adjunct professor of writing at Liberty University. She and her husband, Donald, live in Tennessee near their children and grandchildren.
Book Videos
or
Not Currently Available for Direct Purchase