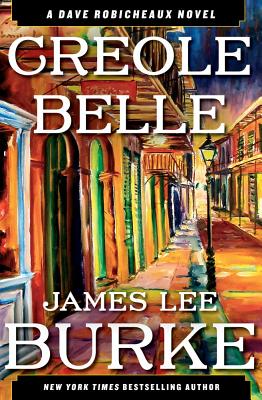 Creole Belle
A Dave Robicheaux Novel
Hardcover

* Individual store prices may vary.
Other Editions of This Title:
Digital Audiobook (7/16/2012)
Digital Audiobook (7/18/2012)
Digital Audiobook (7/16/2012)
Paperback (10/23/2018)
CD-Audio (7/17/2012)
Paperback (12/31/2020)
Hardcover, Large Print (8/1/2012)
Paperback, Large Print (9/3/2013)
Mass Market (8/27/2013)
Description
"America's best novelist" James Lee Burke returns with another New York Times bestselling entry in the Dave Robicheaux thriller series (The Denver Post).

Set against the events of the Gulf Coast oil spill, rife with "the menaces of greed and violence and man-made horror" (The Christian Science Monitor), Creole Belle finds Dave Robicheaux languishing in a New Orleans recovery unit since surviving a bayou shoot-out. The detective's body is healing; it's his morphine-addled mind that conjures spectral visions of Tee Jolie Melton, a young woman who in reality has gone missing. An iPod with an old blues song left by his bedside turns Robicheaux into a man obsessed…And as oil companies assign blame after an epic disaster threatens the Gulf's very existence, Robicheaux unearths connections between tragedies both global and personal—and faces down forces that can corrupt and destroy the best of men.
Praise For Creole Belle: A Dave Robicheaux Novel…
"Gripping."—
People Magazine
"Burke is the reigning champ of nostalgia noir. . . . To be sure, the destruction of a pristine natural environment is a thematic staple of the regional crime novel, but nobody can touch Burke in the lyrical expression of howling grief. . . . [
Creole Belle
is] a novel that shows how the sins of the fathers poison the ground their children walk on."—
The New York Times Book Review
"I think [James Lee] Burke is the best fiction writer in the country."
—Bill O'Reilly
"All the characters . . . are superbly drawn, and the plot is heart-pounding . . . sure to be embraced by author James Lee Burke's fans."—
The Washington Post
"Burke, 75, creates lyrical mysteries with what can only be described as deceptive ease. Whether it's Robicheaux, stand-alone novels, or separate series starring
Texas
cousins Billy Bob and Hackberry Holland, the themes remain constant. Every novel Burke writes delves into moral ambiguity, the menaces of greed and violence, the degradation of people and land, the juxtaposition of natural beauty and man-made horror and, finally, the sublime joy of human love and loyalty."
—The Christian Science Monitor
"Burke never goes wrong with his exquisite gift for taking us into the heart of Louisiana, its wetlands, small towns, the glory of old New Orleans and, as always, its checkered history. Combined with some of the finest characters ever to grace a page, that makes any Robicheaux novel a joy to read."
— The Globe and Mail (Canada)
"Like its 18 predecessors in Burke's series,
Creole Belle
is a work of dark and radiant brilliance."
—Richmond Times-Dispatch
"Reading James Lee Burke is a religious experience. …
Creole Belle
may be one of Burke's best; it is certainly one of his most complex. . . . Intense doesn't begin to describe a Burke story . . . Biblical . . . now that about does it."—
San Antonio Express
"The plot is fast-moving and thriller-tough, the bodies mount quickly, and the writing is lyrical and evocative . . . as laced with complications as the canals crosscutting Robicheaux's beloved, threatened wetlands."—
New Orleans Times-Picayune
"If all novelists were as thoughtful and nuanced as James Lee Burke, we could finally put to rest those groundless prejudices against genre fiction . . . the [Dave Robicheaux] books are works of dark art. At their unflinching best, they examine the cost of violence, even when it's performed in the name of justice, and the haunted worlds inhabited by those resigned to limping through life with a blood-soaked conscience."
— Miami Herald
"Burke weaves a rich example of his trademark bayou noir. Filled with cruelty and valor, greed and sacrifice, and surprises of the worst and best kind,
Creole Belle
is a dark but irresistible cruise."—
Tampa Bay Times
"As a crime novel,
Creole Belle
delivers everything fans of the genre crave, and more: a masterful tale of good, evil, organized crime and the corporate-led destruction of the once-idyllic land of the Gulf Coast.
Burke muses along at a steady pace, never hurrying, never stalling. He uses the modern crime novel the way a master chef uses local, organic foods to create a gastronomic feast—in this case, a classical tragedy with all the fixin's."—
ShelfAwareness.com
"[
Creole Belle
] is a wild ride of a novel, but the true joys of Burke's novels are the exquisitely fine writing and his character's familiarity with great thinkers and theologians. . . . It is fair to say that Burke truly stands with Chandler and Hammett in the pantheon of great American crime fiction novelists."—
Asbury Park Press
"This tale plays out much like
The Glass Rainbow—
intimations of mortality; melancholic musing on the pillaging of once-Edenic South Louisiana; cathartic, guns-blazing climax—but, as always, Burke brings something new to the table . . . Dave and Clete may still be unbowed, but they are certainly broken—and all the more interesting for it."
—Booklist (starred review)
"Another stunner from a modern master."
—Publishers Weekly (starred review)
"Great news for readers who feared that Burke had left Iberia Parish Sheriff's Deputy Dave Robicheaux dying at the end of
The Glass Rainbow
(2010); Dave and his old friend Clete Purcel are back for an even more heaven-storming round of homicide, New Orleans–style. . . . A darkly magnificent treat for Dave's legion of admirers."
—Kirkus Reviews
"One of the masters, James Lee Burke, has a new Dave Robicheaux novel just out,
Creole Belle
. Elmore Leonard famously advises all writers to never write about 'boring stuff' like the weather, but Burke's catalog is a direct contradiction to that advice. He writes about Louisiana and the Gulf with such sensual detail about sights, smells, and yes—the weather—that you can skip paying Delta for that flight to the Big Easy."
—Detroit News
"Fortunately for us, we can luxuriate in the 500-plus pages of Burke's sinuous tale before we can decipher this complex puzzle."
—Dayton Daily News
"Burke's fascinatingly conflicted Cajun anti-hero Dave Robicheaux returns."
—Dallas Morning News
"Burke has a knack for giving the reader atmosphere through descriptions of architecture, the sights and sounds of overheated New Orleans and southern Louisiana's quirky folks."
— Albuquerque Journal
"When something terrible happens in Louisiana, the only consolation might be that James Lee Burke is inspired to write another Dave Robicheaux novel about it."—
Houston Chronicle
Simon & Schuster, 9781451648133, 544pp.
Publication Date: July 17, 2012
About the Author
James Lee Burke is a New York Times bestselling author, two-time winner of the Edgar Award, and the recipient of the Guggenheim Fellowship for Creative Arts in Fiction. He's authored thirty-seven novels and two short story collections. He lives in Missoula, Montana.
or
Not Currently Available for Direct Purchase