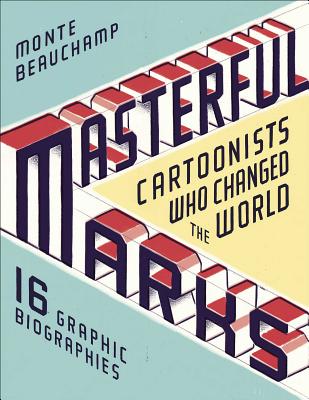 Masterful Marks
Cartoonists Who Changed the World
Hardcover

* Individual store prices may vary.
Description
In a first-of-its-kind collection, award-winning illustrators celebrate the lives of the visionary artists who created the world of comic art and altered pop culture forever.

Sixteen Graphic Novel Biographies of:

• Walt Disney • Dr. Seuss • Charles Schulz • The Creators of Superman • R. Crumb • Jack Kirby • Winsor McCay • Hergé • Osamu Tezuka • MAD creator, Harvey Kurtzman • Al Hirschfeld • Edward Gorey • Chas Addams • Rodolphe Töpffer • Lynd Ward • Hugh Hefner

The story of cartoons—the multibillion-dollar industry that has affected all corners of our culture, from high to low—is ultimately the story of the visionary icons who pioneered the form.

But no one has told the story of comic art in its own medium—until now.

In Masterful Marks, top illustrators—including Drew Friedman, Nora Krug, Denis Kitchen, and Peter Kuper—reveal how sixteen visionary cartoonists overcame massive financial, political, and personal challenges to create a new form of art that now defines our world.
Praise For Masterful Marks: Cartoonists Who Changed the World…
"What better way to pay tribute to groundbreaking cartoonists than in cartoon form? Top contemporary illustrators including Drew Friedman, Peter Kuper, and Nora Krug chronicle the breakthroughs of iconic forbears such as Charles M. Sculz, Dr. Seuss, Robert Crumb, and Jack Kirby."
— Entertainment Weekly

"What a joy to see the raw, unvarnished insides of these handmade lives finally placed in the right hands: their heirs in art—masters who learned from the masters. How smart of Monte Beauchamp to cast their stories in the visual structures, color palettes, and signature rhythms of the very art forms that our strangest and best-loved supermen originally expanded to worldwide glory."
— David Michaelis

"At long last, someone has taken a refreshing and diverse approach to profiling the giants who shaped the cartoon medium. Penetrating, intimate, entertaining, and bittersweet... Beauchamp has given the world a masterful work."
— Joel Surnow

"Inspiration is cyclic – every cartoonist has a hero, a visionary colossus who ignites their own creative journey. Reading Drew Friedman's account of how R. Crumb became his spiritual father is, in itself, inspirational, as are the many other memoirs contained in Monte Beauchamp's celebratory collection of cross-generational comics creativity."
— Nick Abadzis

"What an imaginative and appropriate way for today's cartoonists to salute some of their heroes. The result is a unique blend of love and irreverence."
— Leonard Maltin

"[W]hat's great here is really terrific."
— Kirkus

"Its hard not to love the concept behind this hardcover comics collection, in which top-notch cartoonists create comic biographies of some of the medium's biggest names (Edward Gorey, Charles Schulz, R. Crumb, Jack Kirby)."
— USA Today

"16 fascinating and artistically vivid graphic biographies of such notable cartoonists as Charles Addams, R. Crumb, Walt Disney, Edward Gorey and Dr. Seuss."
— Tampa Bay Times

"Finally there's a book that gives cartoon artists the attention they deserve.Masterful Marks features top illustrators, including Drew Friedman, Nora Krug, Denis Kitchen, and Peter Kuper. The book reveals how visionary cartoonists overcame financial, political, and personal challenges to create a new form of art that now defines so many elements of pop culture."
— Complex.com

"…this collection offers a praiseworthy sampler of approaches for other artists interested in doing biography comics."
— Library Journal

"If you're a comics history enthusiast or a comics fan just starting to explore that tapestry of creativity, Monte Beauchamp's Masterful Marks: Cartoonists Who Changed the World [Simon & Schuster [$24.99] is a must-have volume.... I read Masterful Marks through my local library and ordered a copy before I was halfway through. That's how good this book. It earned a place in my own comics library. Highly recommended."
— TalesofWonder.com

"Who were the original comic artists that left an indelible mark upon the world, paving the way for those who followed? Monte Beauchamp identifies the genre's early masters."
— Book Forum

"[A] riot of colorful comics homages to the giants of comics, by a great assemblage of currently working cartoonists"
— Copaceticcomics.com
Simon & Schuster, 9781451649192, 128pp.
Publication Date: September 2, 2014
About the Author
Monte Beauchamp is an art director and graphic designer whose books include The Life & Times of R. Crumb, Striking Images: Vintage Matchbook Cover Art, New & Used BLAB!, and Krampus: The Devil of Christmas. In 2012, Beauchamp was awarded the Society of Illustrators' prestigious Richard Gangel Art Director Award.
or
Not Currently Available for Direct Purchase