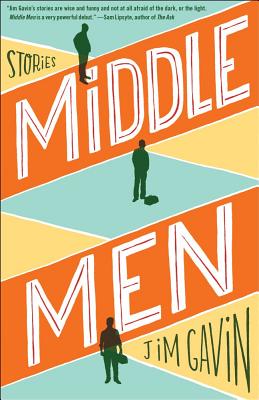 Middle Men
Stories
Hardcover

* Individual store prices may vary.
Other Editions of This Title:
Digital Audiobook (8/29/2013)
Paperback (2/11/2014)
Description
In Middle Men, Stegner Fellow and New Yorker contributor Jim Gavin delivers a hilarious and panoramic vision of California, portraying a group of men, from young dreamers to old vets, as they make valiant forays into middle-class respectability. In "Play the Man" a high-school basketball player aspires to a college scholarship, in "Elephant Doors", a production assistant on a game show moonlights as a stand-up comedian, and in the collection's last story, the immensely moving "Costello", a middle-aged plumbing supplies salesman comes to terms with the death of his wife. The men in Gavin's stories all find themselves stuck somewhere in the middle, caught half way between their dreams and the often crushing reality of their lives. A work of profound humanity that pairs moments of high comedy with searing truths about life's missed opportunities, Middle Men brings to life a series of unforgettable characters learning what it means to love and work and be in the world as a man, and it offers our first look at a gifted writer who has just begun teaching us the tools of his trade.
Praise For Middle Men: Stories…
"Who is Jim Gavin? The second coming of Denis Johnson if his debut collection is any indication. These sad, funny stories about nowhere men—some young, some bent-backed, all pained and searching for something they'll never find—knocked me out….These short stories will transport you, will educate you, will entertain you, will fill you with fear and laughter and sadness."

"Middle Men" aspires to do what ambitious fiction has always done: show the world (especially the world we think we know) in a way that's recognizable and revealing, while telling us something fundamental about where and how we live."

"Gavin's debut short-story collection reads like a modern-day Dubliners. . . . Middle Men finds wonder in the most ordinary places and, even in bleak situations, it elevates the everyday doldrums in a way that's closer to comedy than tragedy."

"The stories in Mr. Gavin's first collection are carved from the follies and frustrated longings of modern manhood….[He] strikes a fine balance in each tale, wielding a sharp sense of humor but never losing sight of people's dignity."

"Middle Men deserves its hype and demonstrates a top-shelf talent….A brilliant sense of humor that animates each story and creates a state of near-continuous reading pleasure….A superlative debut."

"Excellent….extremely entertaining….Gavin's writing delivers jab after jab, the hilarious and the poignant mingling in compelling ways….He has a way of quickly and vividly drawing the minor characters who drift in and out of his stories….Overall, Gavin's writing is eminently readable and reminiscent of some of Tom Perrotta's best work."

"With impressive precision, [Gavin] describes everything from being creatively unfulfilled to dodging landlords looking for back rent…. his writing achieves new insight, power and grace."

"A hilarious and moving debut of stories."

"[A] superb debut collection….laugh-out-loud funny…. all of Gavin's stories are gems….Middle Men [is], as all good collections should be, greater in total than merely a succession of well-crafted stories."

"Middle Men is a fantastic book…The stories here that stick the hardest…are symphonic triumphs, gut-wrenchers of male life."

"Sad and funny…Middle Men captures its mishap-prone and chronically underemployed characters on the cusp of moving beyond their muddled dreams of grandeur."

"New Yorker contributor Jim Gavin's debut story collection, praised as "exceptional" in a starred Kirkus review, portrays a group of men whose dreams are at odds with the reality of their lives."

"Jim Gavin is the real deal….[he] confronts [Southern California] with the power and weary enthusiasm of a D.J. Waldie, Joan Didion or Raymond Chandler….Perfect."

"Gavin's characters are funny and sad….These lovable souls have held onto their dignity but not a whole lot more….This is a writer who understands both the painful and the beautiful moments that make up a human life, and spending time with his characters is a great gift. This collection is a triumph of storytelling and Gavin's loose, relaxed prose is nearly perfect."

"Gavin's exceptional debut collection, set mainly in southern California, harkens to an earlier literary Los Angeles…[Middle Men is] the best kind of satire: barbed and hilarious, but suffused with compassion."

"Gavin's young protagonists may not exactly be a credit to their generation, but they make for the kind of fiction that catches you off guard and brutalizes you with humor. . . . [He] speaks with authority, and his colloquial, detail-driven dialogue oscillates nicely between Flaubert and The Simpsons. Sad and overtly hysterical, the stories dodge self-pity and indie quirk for pensive American tales of turn-of-the-20th century manchildren gesturing vaguely toward a future of eroded opportunity."

"Distinctive and powerful….Gavin plumbs the hearts and minds of his men with laserlike accuracy, but he also brings surprising humor to the stories, especially in the relief that his characters often feel when they realize that they won't be able to live up to their own expectations."

"Jim Gavin's Middle Men is perfectly titled -- these are characters gloriously unaware of how adrift they are. Gnostic high school basketballers, romantic pursuers, open mic comedians -- I've rarely seen such a keen depiction of souls so out of focus. These stories -- especially "Elephant Doors" -- brought back some hilarious, uncomfortable memories for me. Immerse yourself! Immerse!"
— Patton Oswalt

"The best debut collection of short stories I've read in a very long time."
— Adam Haslett

"Jim Gavin's stories are wise and funny and not at all afraid of the dark, or the light. Middle Men is a very powerful debut."
— Sam Lipsyte

"With its sharply drawn characters, its humor and affection and melancholy, its deep wisdom of the ways we live and cope and endure, and its panoramic and precise vision of California, Middle Men is a phenomenal story collection, and Jim Gavin an extravagantly talented writer. I could not put this book down. Gavin brings the California and SoCal I know and love to the page with searing intelligence, beauty, and an emotive force, making Middle Men one of the finest and most unusual fictions I've read in years."
— Victoria Patterson

"Like the heroes of this stunning collection, Jim Gavin's stories negotiate and illuminate the gray, authentic middle, bridging the divide that exists between California's—and indeed, America's—golden mythology and her starker realities. There is deep truth, beauty, and humor to be found in this territory, and in Gavin we have found the ultimate emissary. This book is an absolute triumph of sympathy and revelation."
— Skip Horack

"I love the wit and intelligence and rigor with which Jim Gavin renders characters who find themselves spiraling down the water column. Middle Men is peerless in its portraits of American males dimly coming to appreciate the disastrous convergence of their own fecklessness and feelings of entitlement with the increasingly unforgiving hard times bearing down on them, and on most of the rest of us as well."
— Jim Shepard

"[Gavin's] debut dramatizes, in odd or mundane circumstances, the surprises that quiet epiphanies can present to the attentive wanderer."

"In this brilliant debut of short stories, Jim Gavin manages to humorously cover a cross-section of sad men – of all ages – going mindlessly through the motions of life, some with hope, many without. The collection would be sad if not for Gavin's knack for pointing out the humor in the mundane."
Simon & Schuster, 9781451649314, 240pp.
Publication Date: February 19, 2013
About the Author
Jim Gavin's fiction has appeared in The New Yorker, The Paris Review, Zoetrope, Esquire, Slice, The Mississippi Review, and ZYZZYVA. He lives in Los Angeles.
or
Not Currently Available for Direct Purchase