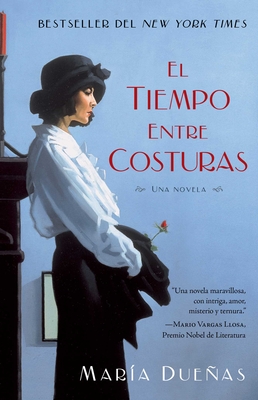 El Tiempo Entre Costuras = The Time Between Seams (Paperback)
Atria Books, 9781451649857, 614pp.
Publication Date: November 8, 2011
Description
An outstanding success around the world, The Time in Between has sold more than two million copies and inspired the Spanish television series based on the book, dubbed by the media as the "Spanish Downton Abbey." In the US it was a critical and commercial hit, and a New York Times bestseller in paperback. La joven modista Sira Quiroga abandona el Madrid agitado de los meses previos al alzamiento arrastrada por el amor desbocado hacia un hombre a quien apenas conoce. Con el se instala en Tanger, una ciudad exotica y vibrante donde todo puede suceder. Incluso la traicion. Sola, desubicada y cargada de deudas ajenas, Sira se traslada a Tetuan, capital del Protectorado Espanol en Marruecos. Gracias a la ayuda de nuevas amistades forjara una nueva identidad y lograra poner en marcha un taller de alta costura en el que atendera a clientas de origenes lejanos y presentes insospechados. A partir de entonces, con los ecos de la guerra europea resonando en la distancia, el destino de Sira queda ligado al de un punado de carismaticos personajes que la empujaran hacia un inesperado compromiso en el que las artes de su oficio ocultaran algo mucho mas arriesgado. El tiempo entre costuras es una novela de amor, de ritmo imparable cargada de encuentros y desencuentros, de identidades encubiertas y giros inesperados; de ternura, traiciones y angeles caidos.
Praise For El Tiempo Entre Costuras = The Time Between Seams…
"Destinada a ser un clásico literario." --Javier Sierra, autor bestseller del New York Times



"Una novela maravillosa, con intriga, amor, misterio y ternura."—Mario Vargas Llosa, Premio Nobel de Literatura.



"El tiempo entre costuras es una magnífica novela que reúne a la perfección la historia y la intriga. Sira Quiroga - la costurera - no será fácil de olvidar." —Juan Gómez-Jurado, autor de The Moses Expedition



"Tiene el aire cinematográfico de Casablanca y el poderoso estilo de una novela de amor y de intriga." --Mayra Montero autora de Son de Almendra



"¡Me encantó!" --Esmeralda Santiago, autora de Conquistadora



"Lee este novela y prepárate para un viaje inolvidable." –Kate Morton, autora bestseller del New York Times
Advertisement