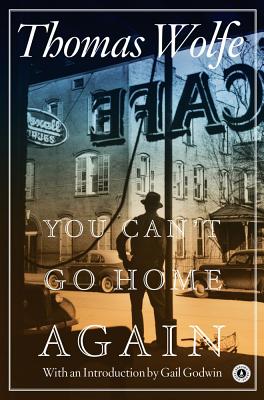 You Can't Go Home Again (Paperback)
Scribner, 9781451650495, 656pp.
Publication Date: October 11, 2011
Other Editions of This Title:
Hardcover (8/25/2010)
Hardcover (10/11/2011)
Paperback (9/1/1998)
Paperback (9/1/2009)
Hardcover (8/1/2008)
* Individual store prices may vary.
Description
Now available from Thomas Wolfe's original publisher, the final novel by the literary legend, that "will stand apart from everything else that he wrote" (The New York Times Book Review)—first published in 1940 and long considered a classic of twentieth century literature.

A twentieth-century classic, Thomas Wolfe's magnificent novel is both the story of a young writer longing to make his mark upon the world and a sweeping portrait of America and Europe from the Great Depression through the years leading up to World War II.

Driven by dreams of literary success, George Webber has left his provincial hometown to make his name as a writer in New York City. When his first novel is published, it brings him the fame he has sought, but it also brings the censure of his neighbors back home, who are outraged by his depiction of them. Unsettled by their reaction and unsure of himself and his future, Webber begins a search for a greater understanding of his artistic identity that takes him deep into New York's hectic social whirl; to London with an uninhibited group of expatriates; and to Berlin, lying cold and sinister under Hitler's shadow. He discovers a world plagued by political uncertainty and on the brink of transformation, yet he finds within himself the capacity to meet it with optimism and a renewed love for his birthplace. He is a changed man yet a hopeful one, awake to the knowledge that one can never fully "go back home to your family, back home to your childhood…away from all the strife and conflict of the world…back home to the old forms and systems of things which once seemed everlasting but which are changing all the time."
About the Author
Thomas Wolfe (1900–1938) was born in Asheville, North Carolina, and educated at the University of North Carolina and Harvard University. He taught English at New York University and traveled extensively in Europe and America. Wolfe created his legacy as a classic American novelist with Look Homeward, Angel; Of Time and the River; A Stone, a Leaf, a Door; and From Death to Morning.
Praise For You Can't Go Home Again…
"In 1949, when I was sixteen, I stumbled on Thomas Wolfe, who died at thirty-eight in 1938, and who made numerous adolescents aside from me devotees of literature for life. In Wolfe, everything was heroically outsized, whether it was the voracious appetite for experience of Eugene Gant, the hero of his first two novels, or of George Webber, the hero of his last two. The hero's loneliness, his egocentrism, his sprawling consciousness gave rise to a tone of elegiac lyricism that was endlessly sustained by the raw yearning for an epic existence—for an epic American existence. And, in those postwar years, what imaginative young reader didn't yearn for that?"

— Philip Roth

"Wolfe wrote as one inspired. No one in his generation had his command of language, his passion, his energy." --Clifton Fadiman, The New Yorker

"You Can't Go Home Again will stand apart from everthing else that [Wolfe] wrote because this is the book of a man who had come to terms with himself, who was on his wa to mastery of his art, who had something profoundly important to say." –New York Times Book Review