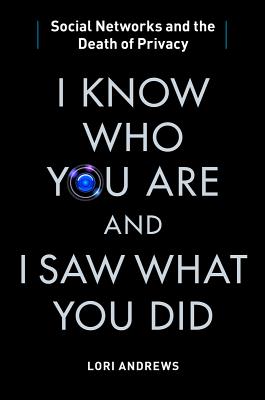 I Know Who You Are and I Saw What You Did (Hardcover)
Social Networks and the Death of Privacy
Free Press, 9781451650518, 272pp.
Publication Date: January 10, 2012
Other Editions of This Title:
Paperback (1/1/2013)
Pre-Recorded Audio Player (6/1/2012)
Compact Disc (4/1/2012)
MP3 CD (4/1/2012)
Compact Disc (4/1/2012)
* Individual store prices may vary.
Description
A leading specialist on social networks writes a shocking exposé of the widespread misuse of our personal online data and creates a Constitution for the web to protect us.

Social networks are the defining cultural movement of our time. Over a half a billion people are on Facebook alone. If Facebook were a country, it would be the third largest nation in the world. But while that nation appears to be a comforting small town in which we can share photos of friends and quaint bits of trivia about our lives, it is actually a lawless battle zone—a frontier with all the hidden and unpredictable dangers of any previously unexplored place.

Social networks offer freedom. An ordinary individual can be a reporter, alerting the world to breaking news of a natural disaster or a political crisis. A layperson can be a scientist, participating in a crowd-sourced research project. Or an investigator, helping cops solve a crime.

But as we work and chat and date (and sometimes even have sex) over the web, traditional rights may be slipping away. Colleges and employers routinely reject applicants because of information found on social networks. Cops use photos from people's profiles to charge them with crimes—or argue for harsher sentences. Robbers use postings about vacations to figure out when to break into homes. At one school, officials used cameras on students' laptops to spy on them in their bedrooms.

The same power of information that can topple governments can also topple a person's career, marriage, or future. What Andrews proposes is a Constitution for the web, to extend our rights to this wild new frontier. This vitally important book will generate a storm of attention.
About the Author
Lori Andrews is the director of the Institute for Science, Law, and Technology at Illinois Institute of Technology. She was named a "Newsmaker of the Year" by the American Bar Association Journal and has served as a regular advisor to the U.S. government on ethical issues regarding new technologies. Learn more at LoriAndrews.com.
Praise For I Know Who You Are and I Saw What You Did: Social Networks and the Death of Privacy…
"Unnerving narrative about the misuse of personal online information—without our knowledge—to track, judge and harm us in innumerable aspects of our lives.

"Social-network executives often dismiss online privacy concerns: 'You have zero privacy anyway. Get over it,' said Sun Microsystems' Scott McNealy. But the constitutional freedoms of millions of people posting personal data on Facebook and other networks are violated routinely, and the law has not kept up with the new technology, writes lawyer Andrews (Institute for Science, Law and Technology/Illinois Institute of Technology; Immunity, 2008, etc.). Noting that social networks make their profits on users' data, she describes the multibillion-dollar industry of data aggregators who mine online data for the advertising industry, often 'weblining' people, denying them certain opportunities due to observations about their digital selves. Most users have no idea how much information is being collected about them: 'People have a misplaced trust that what they post is private.' The results can be devastating: A Georgia teacher posted a photo showing her drinking a glass of Guinness at an Irish brewery, and she was forced to resign after the photo was e-mailed anonymously to her school superintendent. After seeing a mother's MySpace page showing her posing provocatively in lingerie, a judge awarded custody of her young children to her husband. 'Virtually every interaction a person has in the offline world can be tainted by social network information,' writes the author, who proposes creating a 'Social Network Constitution' to govern our lives online. Her governing principles would protect against police searches of social networks without probable cause, require social networks to post conspicuous Miranda-like privacy warnings and set rules for the use or collecting of user information.

"Authoritative, important reading for policymakers and an unnerving reminder that anything you post can and will be used against you."

--Kirkus Reviews
Book Videos
or
Not Currently Available for Direct Purchase