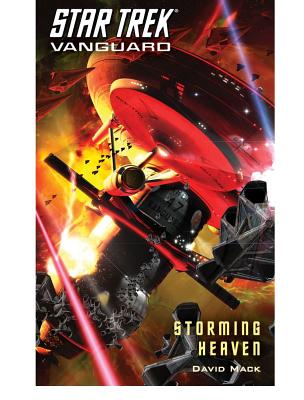 Vanguard: Storming Heaven (Mass Market Paperbound)
Storming Heaven
Star Trek, 9781451650709, 368pp.
Publication Date: March 27, 2012
* Individual store prices may vary.
or
Not Currently Available for Direct Purchase
Description
The final novel in the acclaimed Vanguard saga, based on Star Trek: The Original Series Secret operations, sealed orders, high-risk military special operations--such dangerous missions have been at the core of the Star Trek Vanguard series since its inception. Four great nations--the Federation, the Klingon Empire, the Tholian Assembly, and the Romulan Star Empire--have all taken tremendous risks in their race to learn and control the technologies of the ancient interstellar hegemons known as the Shedai. Now get ready for the mystery of the Taurus Reach to be revealed....
About the Author
David Mack is the national bestselling author of more than a dozen books, and the Star Trek Destiny trilogy--Gods of Night, Mere Mortals, and Lost Souls. His first original novel, the supernatural thriller The Calling, debuted in July 2009 to critical acclaim. In addition to novels, Mack's diverse writing credits span several media, including television (for episodes of Star Trek: Deep Space Nine), film, short fiction, magazines, newspapers, comic books, computer games, radio, and the Internet. He currently resides in New York City. (TM), (R), & (c) 2012 CBS Studios, Inc. Star Trek and related marks are trademarks of CBS Studios, Inc. All Rights Reserved.
Advertisement