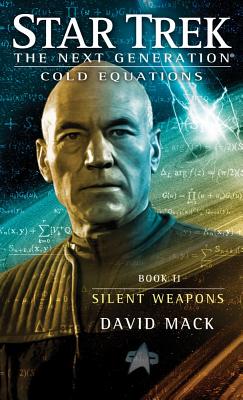 Cold Equations (Mass Market)
Silent Weapons: Book Two (Star Trek: The Next Generation)
Pocket Books/Star Trek, 9781451650730, 352pp.
Publication Date: November 27, 2012
* Individual store prices may vary.
Description
Book Two in the New York Times bestselling Cold Equations trilogy set in the expanded universe of Star Trek: The Next Generation!

A WAR OF LIES
Three years after the disastrous final Borg Invasion, a bitter cold war against the Typhon Pact has pushed Starfleet's resources to the breaking point. Now the rise of a dangerous new technology threatens to destroy the Federation from within.

Captain Jean-Luc Picard and the Enterprise crew answer a distress call from an old friend, only to become targets in a deadly game of deception. To protect a vital diplomatic mission, they must find a way to identify the spies hiding in their midst, before it's too late.

But Worf soon realizes the crew's every move has been predicted: Someone is using them as pawns. And the closer they get to exposing their enemy, the deeper they spiral into its trap…
About the Author
David Mack is the award-winning and New York Times bestselling author of more than thirty novels of science fiction, fantasy, and adventure, including the Star Trek Destiny and Cold Equations trilogies. His writing credits span several media, including television (for episodes of Star Trek: Deep Space Nine), film, short fiction, and comic books. He resides in New York City.
or
Not Currently Available for Direct Purchase