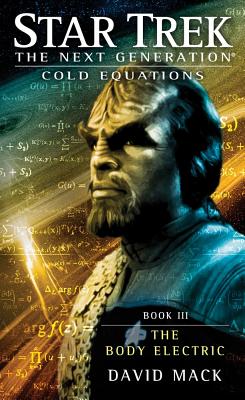 Cold Equations (Mass Market)
The Body Electric: Book Three (Star Trek: The Next Generation)
Pocket Books/Star Trek, 9781451650747, 352pp.
Publication Date: December 26, 2012
* Individual store prices may vary.
Description
Book Three in the New York Times bestselling Cold Equations trilogy set in the expanded universe of Star Trek: The Next Generation!

AT THE CENTER OF THE GALAXY…
A planet-sized Machine of terrifying power and unfathomable purpose hurls entire star systems into a supermassive black hole. Wesley Crusher, now a full-fledged Traveler, knows the Machine must be stopped…but he has no idea how.

Wesley must enlist the aid of Captain Jean-Luc Picard and the Enterprise crew, who also fail to halt the unstoppable alien juggernaut's destructive labors. But they soon divine the Machine's true purpose—a purpose that threatens to exterminate all life in the Milky Way Galaxy. With time running out, Picard realizes he knows of only one person who might be able to stop the Machine in time to avert a galactic catastrophe—if only he had any idea how to find him…
About the Author
David Mack is the award-winning and New York Times bestselling author of more than thirty novels of science fiction, fantasy, and adventure, including the Star Trek Destiny and Cold Equations trilogies. His writing credits span several media, including television (for episodes of Star Trek: Deep Space Nine), film, short fiction, and comic books. He resides in New York City.
or
Not Currently Available for Direct Purchase