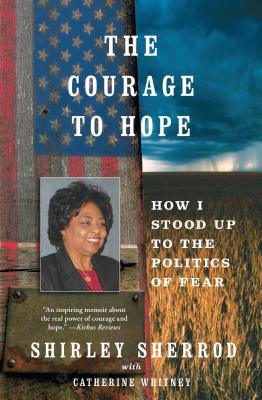 The Courage to Hope
How I Stood Up to the Politics of Fear
Paperback

* Individual store prices may vary.
Other Editions of This Title:
Hardcover (8/28/2012)
Description
In this "inspiring memoir about the real power of courage and hope" (Kirkus Reviews), lifelong activist Shirley Sherrod explains why she was fired from the USDA under false charges and how she stood up against the politics of fear.

Sherrod was a lifelong activist who served as Georgia's first black director of rural development. In the summer of 2010, a right-wing blogger disseminated an ill- conceived video clip of a speech Sherrod had given to the Georgia NAACP, intending to make her an example of "reverse racism." The media frenzy that ensued caused the Obama administration to demand her resignation. After hearing from Sherrod herself and learning the entire truth of what she said in that speech, the administration tried to backtrack. Public officials and media professionals admitted to being duped and apologized for their rush to judgment. Ultimately, Sherrod found herself the subject of a teachable moment. The Courage to Hope addresses this regrettable moment in American politics, but it also tells Sherrod's own story of growing up on a farm in southwest Georgia during the final violent years of Jim Crow.
Praise For The Courage to Hope: How I Stood Up to the Politics of Fear…
Sherrod sets the record straight on her forced resignation from the Department of Agriculture in 2010. An inspiring memoir about the real power of courage and hope. –Kirkus Reviews

"When I first met Shirley Sherrod, she was advocating for black farmers in Georgia. We needed her expertise for all farmers and she immediately jumped in to work with every farmer, no matter their color. [She] has always stood for equality, and she does not bow to fear. I am proud to have worked together with [her] in the movement to keep family farmers on the land, but I'm even more proud to call her my friend." –Willie Nelson, President of Farm Aid and music legend.

"The stories of inequality and those striving for solutions may sound familiar to many, but the ability of Shirley Sherrod and her husband Charles and many of those represented in this book to forgive and move forward with strength in the face of these examples is unparalleled and holds invaluable lessons for us all." – Majora Carter, MacArthur Award-winning environmental activist

"Shirley Sherrod is a survivor." –The Washington Post

"One of those books that makes you want to yell, cry, and stand up and cheer." – Terri Schlichenmeyer, WashingtonInformer.com
Atria Books, 9781451651010, 256pp.
Publication Date: July 16, 2013
About the Author
Shirley Sherrod lectures nationally on issues of importance to middle class families, the poor, and small communities. She promotes empowerment strategies for economically and socially disadvantaged people and runs educational projects for struggling farmers. She lives in Georgia with her husband.

Catherine Whitney has coauthored more than fifty books on legal, political, and social issues, including Where Have All the Leaders Gone? and The Weekend That Changed Wall Street. She lives in New York.