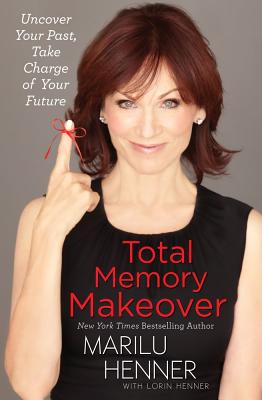 Total Memory Makeover: Uncover Your Past, Take Charge of Your Future (Hardcover)
Uncover Your Past, Take Charge of Your Future
Gallery Books, 9781451651218, 256pp.
Publication Date: April 24, 2012
* Individual store prices may vary.
or
Not Currently Available for Direct Purchase
Description
Moonwalking with Einstein made memory hot, and now beloved actress and New York Times bestselling author Marilu Henner presents an engaging, personal, and prescriptive guide to enhancing your life by improving your memory. If you could remember the confidence you felt when your prom date said yes, could it embolden you to ask for a raise today? Could the thrill you felt fitting into your skinny jeans five years ago inspire you to skip the doughnuts this morning? Would the details of your early days with a heartbreaking ex help you recognize the potential red flags in a sexy new romance? Marilu Henner says, "YES " In this revolutionary new book, the New York Times bestselling author, renowned health advocate, actress, performer, and memory expert helps you develop the ability to remember more of your past, to recall it more clearly, and most of all, to understand your memories as a blueprint for the extraordinary life you were meant to have Marilu is gifted with Highly Superior Auto-biographical Memory (HSAM), a rare and incredible ability that allows her to vividly recall every detail of her life since childhood. While most of us may prefer to keep the unhappy times buried in the past, Marilu has discovered that only by remembering what happened then can we change our lives for a better now. The past is prelude to the future. But how much of our lives do most of us really remember? And what would our memories tell us if they could? Get ready to harness the power of your autobiographical memory. Total Memory Makeover is unlike any memory book ever written. It's not about using mnemonic devices or unusual strategies to remember lists, definitions, names, or numbers. The simple, practical (and fun ) exercises in this unique book will help you: - Stop turning painful memories into emotional baggage - Discover your personal memory Track - Unlock repressed memories that are holding you back - Understand the four types of memory retrieval--Horizontal, Vertical, Mushrooming, and Sporadic--and determine which works best for you - Recall memories faster and stop them from fading - Teach your kids to have great memories - Turn your newfound memories into a treasure map to a successful future Are you ready? Let's get started on your Total Memory Makeover
Praise For Total Memory Makeover: Uncover Your Past, Take Charge of Your Future…
"The author's awe-inspiring memory skills, profiled in an episode of 60 Minutes, have eclipsed the fame she won for her portrayal of Elaine Nardo on the beloved TV sitcom Taxi. Despite realizing from an early age that she processed memory differently than other people, Henner didn't know there was a name for her superlative powers of recollection until she began working with researchers at the University of California, Irvine. There, she learned that she is one of a very small number of people classified with Highly Superior Autobiographical Memory. The average person can recall up to 11 events from each year of their life; Henner remembers—in precise detail—every day of her life since the age of 12. By sharing her ability, Henner writes, readers will be able to "use these lessons to transform your memory, your past, and ultimately, your future." Blending anecdotes from her personal life and career with scientific data and exercises designed to trigger specific types of memories, the author guides readers on a tour through their past. Henner forgoes typical approaches like mnemonics, place pegs and memory palaces. One test stimulates the olfactory nerves to turn up sense memories; another asks readers to revisit their 21st birthdays to uncover the different ways they archive memories. As the text progresses, Henner skillfully demonstrates how memories can help readers process their past, direct their present and shape their future. Other useful chapters address how to effectively record events in a journal and the ways parents can help their children preserve memories. Henner's enthusiasm is infectious."—Kirkus Reviews



"This is not a book that will, as many others do, teach you how to memorize the order of the cards in a deck, or long sequences of pi. It is not a book about improving one's memorization skills, however helpful that might or might not be. Instead, this is a book about reclaiming what, in many cases, has been lost—the individual's ability to recall the details of his or her own life. And as such, this is perhaps the most valuable book on memory to have been published to date.
This is therefore a book about revelations—the private, personal revelations that can come about when one is able to give context to a restructured and reinvigorated ability to recall.
Pretty heady stuff.
It is always most impressive, in this reader's opinion, when in today's culture of dependency on "experts," an individual chooses instead to blaze their own path to health and healing. Ms. Henner is just such an individual, and as her impressive track record of books old and new attests she gets remarkable results."—New York Journal of Books
Advertisement