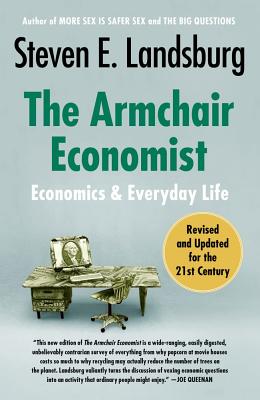 The Armchair Economist
Economics and Everyday Life
Paperback

* Individual store prices may vary.
Other Editions of This Title:
Paperback (3/1/1995)
Paperback (5/1/2012)
Description
The extensively revised and updated edition of Steven Landsburg's hugely popular book, The Armchair Economist--"a delightful compendium of quotidian examples illustrating important economic and financial theories" (The Journal of Finance). In this revised and updated edition of Steven Landsburg's hugely popular book, he applies economic theory to today's most pressing concerns, answering a diverse range of daring questions, such as: Why are seat belts deadly?
Why do celebrity endorsements sell products?
Why are failed executives paid so much?
Who should bear the cost of oil spills?
Do government deficits matter?
How is workplace safety bad for workers?
What's wrong with the local foods movement?
Which rich people can't be taxed?
Why is rising unemployment sometimes good?
Why do women pay more at the dry cleaner?
Why is life full of disappointments? Whether these are nagging questions you've always had, or ones you never even thought to ask, this new edition of The Armchair Economist turns the eternal ideas of economic theory into concrete answers that you can use to navigate the challenges of contemporary life.
Praise For The Armchair Economist: Economics and Everyday Life…
"This new edition of The Armchair Economist
is a wide-ranging, easily digested, unbelievably contrarian survey of
everything from why popcorn at movie houses costs so much to why
recycling may actually reduce the number of trees on the planet.
Landsburg valiantly turns the discussion of vexing economic questions
into an activity that ordinary people might enjoy." – Joe Queenan
Free Press, 9781451651737, 316pp.
Publication Date: May 1, 2012
About the Author
Steven E. Landsburg is a professor of economics at the University of Rochester. He is the author of "More Sex Is Safer Sex" and "The Big Questions." He has written for "Forbes," "The Wall Street Journal, " and "Slate." He lives in Rochester, New York.