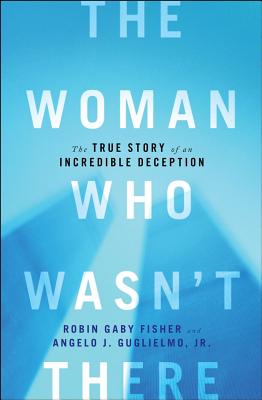 The Woman Who Wasn't There
The True Story of an Incredible Deception
Hardcover

* Individual store prices may vary.
Other Editions of This Title:
Paperback (1/8/2013)
Description
The astounding story of Tania Head, whose heartrending account of surviving the World Trade Center attacks made her a celebrity—until it all turned out to be an elaborate hoax.

It was a tale of loss and recovery, of courage and sorrow, of horror and inspiration. Tania Head's astonishing account of her experience on September 11, 2001—from crawling through the carnage and chaos to escaping the seventy-eighth-floor sky lobby of the burning south tower to losing her fiancé in the collapsed north tower—transformed her into one of the great victims and heroes of that tragic day.

Tania selflessly took on the responsibility of giving a voice and a direction to the burgeoning World Trade Center Survivors' Network, helping save the "Survivor Stairway" and leading tours at Ground Zero, including taking then-governor Pataki, Mayor Bloomberg, and former mayor Giuliani on the inaugural tour of the WTC site. She even used her own assets to fund charitable events to help survivors heal. But there was something very wrong with Tania's story—a terrible secret that would break the hearts and challenge the faith of all those she claimed to champion.

Told with the unique insider perspective and authority of Angelo J. Guglielmo, Jr., a filmmaker shooting a documentary on the efforts of the Survivors' Network, and previously one of Tania's closest friends, The Woman Who Wasn't There is the story of one of the most audacious and bewildering quests for acclaim in recent memory—one that poses fascinating questions about the essence of morality and the human need for connection at any cost.
Praise For The Woman Who Wasn't There: The True Story of an Incredible Deception…
"I finished reading this book weeks ago, but I can't put it down. It continues to haunt me and it will you as well. A story impossible to believe...except it's all true."
— Meredith Vieira

"Alternately heartbreaking and horrifying, The Woman Who Wasn't There is a compelling real-life mystery as disturbing as a psychological thriller. The depths of Tania Head's deception hit me like a punch in the gut."
— Terence Winter, Creator & Executive Producer, Boardwalk Empire

"Thought provoking, heart wrenching, and unbelievable... Even knowing the outcome, I could not put the book down, awed by the stunning impact of one woman on so many lives."
— Marian Fontana, author of the New York Times bestseller A Widow's Walk

"Taut and riveting as a mystery novel, except that it's all true. The tale of Tania Head, the 'celebrity survivor' is a fascinating psychological study of the best and worst of human nature. In their deft, compelling narrative, Robin Gaby Fisher and Angelo J. Guglielmo, Jr. slowly, but inexorably, lift the curtain on one of the saddest, senseless, and yet most spectacular frauds in recent history. You will not be able to put this book down until you finish the last sentence, and when you do, you will shake your head in wonder."
— Amy Ellis Nutt, author of Shadows Bright as Glass and Pulitzer Prize-winning writer for the Star-Ledger

"Not since Professor Harold Hill in The Music Man has a con been portrayed in such an empathetic and yet unsparing manner. At the end of Fisher and Guglielmo's masterfully nuanced portrait, Tania Head's deception of the survivors becomes understandable -- even as it remains unforgivable -- as a remarkable outgrowth of the capacity of the human psyche to deceive others by deceiving itself first."
— John J. Farmer, Jr., former Senior Counsel and Team Leader to the 9/11 Commission and author of The Ground Truth: The Untold Story of America Under Attack on 9/11

"Through the prism of a virtually inconceivable web of lies, Robin Gay Fisher and Angelo J. Guglielmo, Jr. offer deep and compassionate insight into the true legacy of pain, guilt, and existential challenges facing those who experienced and lived through the terror of the September 11 attacks."
— Alice M. Greenwald, Director, National September 11 Memorial Museum

"Filmmaker Angelo J. Guglielmo Jr., who became one of Tania's closest friends, teamed with prize-winning journalist Robin Gaby Fisher to write a compelling insider's view of this audacious post-9/11 episode and the mysteries that remain about motive and morality. ... A fascinating read."
— Bob Giles, Retired Curator, Nieman Foundation for Journalism, Harvard University.

"It's a terrific read. The reporting is tremendous. Robin Gaby Fisher and Angelo J. Guglielmo Jr. have written a detailed and memorable account of the woman who betrayed countless World Trade Center survivors."
— Sandy Padwe, Special Lecturer, Columbia University School of Journalism

"In this disturbing, riveting reporting of Head's tenure as the face of the survivor movement, Fisher (After the Fire) and Guglielmo (a filmmaker) depict a woman who inspires anger and heartbreak but also admiration."
— Publisher's Weekly

"A riveting real-life mystery, a probe into the inner depths of humanity. This is a page-turner for every American."
— The Star Tribune

"It's not often that readers encounter a riveting fictional character in a nonfiction book, but that's exactly what happens when they pick up this title. Fisher (After the Fire: A True Story of Friendship and Survival) and filmmaker Guglielmo offer a gripping account of one of the most disturbing scams perpetrated in recent U.S. history, bringing readers close to Tania Head, a walking enigma. Head, claiming to be a 9/11 survivor, brought national attention to fellow survivors of the World Trade Center attacks, but as she helped give hope, courage, and direction to a group of people who needed it, her hidden past threatened to pull everything down. Readers will ride the highs and lows of Head's short but brilliant burst into the national scene. VERDICT This is a fantastic read, cowritten by a man (Guglielmo) whom Head herself asked to film her group for a documentary. The authors' intimacy with their subject makes for a page-turning unveiling of Head's true identity. Recommended for readers who enjoy gripping true crime and tales of deception and survival."

"Fisher and Guglielmo team up to bring readers a page-turning account of Tania Head...[A] disquieting retelling of 9/11 by one survivor with a surprising twist."

"What emerges is a biography of one of the most loathsome liars in recent history. The prevailing — and largely unanswered question — remains: Why would someone do something so despicable?"
Atria Books, 9781451652086, 304pp.
Publication Date: April 3, 2012
About the Author
Robin Gaby Fisher is the author of the New York Times bestseller After the Fire. She is a two-time finalist for the Pulitzer Prize in Feature Writing and a member of a Pulitzer Prize–winning team. She teaches narrative journalism at Rutgers University.

Angelo J. Guglielmo, Jr., is the award-winning director of the documentary The Woman Who Wasn't There, produced by Meredith Vieira Productions. Visit TheWomanWhoWasntThere.com.
or
Not Currently Available for Direct Purchase