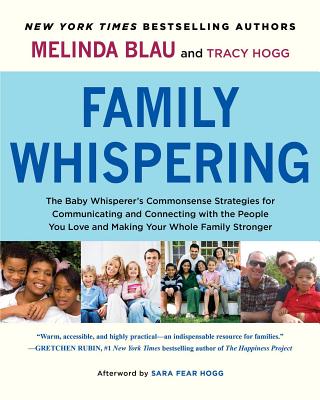 Family Whispering (Hardcover)
The Baby Whisperer's Commonsense Strategies for Communicating and Connecting with the People You Love and Making Your Whole Family Stronger
Atria Books, 9781451654462, 336pp.
Publication Date: February 18, 2014
Other Editions of This Title:
Paperback (10/8/2016)
* Individual store prices may vary.
Description
The long awaited Baby Whisperer's guide to building a strong and loving family.

Parenting is something you do. Family is something you are. —Tracy Hogg

Before her untimely death in 2004, Tracy—aka the Baby Whisperer—and her longtime collaborator, journalist Melinda Blau, conceived a fourth book that would apply the commonsense principles of baby whispering to the "whole family." This ground-breaking book explains why "family" is defined by much more than the relationship between parent and child. By widening the lens to focus on the family as an entity, Blau uses the Baby Whisperer philosophy to illuminate how the multiple bonds and interactions that unfold within a household of adults and children coalesce to form a larger family dynamic. By taking this wider perspective, she enables readers to see everyday challenges—such as sibling rivalry, communication, and time management—with fresh eyes.

Informed both by research and stories of real families, this new book is filled with the handy tips and memorable acronyms that Baby Whisperer fans have come to expect. The advice is simple, practical, and often counterintuitive (asking kids to help more around the home can make them happier; setbacks can often make a family closer). The hopeful message is that with insight, awareness, and "family-think," we can actually design our families to be happier and more productive, improving the daily lives of parents and kids—and, thereby, benefiting society as a whole in the process.
About the Author
Melinda Blau is an award-winning journalist who has written fifteen books and more than 100 magazine articles. Since 2000, when she began collaborating with the late Tracy Hogg, Blau has been the "voice" of the bestselling Baby Whisperer books.

Tracy Hogg devoted her twenty-five-year career to helping parents understand and communicate with their babies and young children. A nurse, lactation educator, and newborn consultant, Hogg's sensible and compassionate philosophy, now translated into more than twenty languages, is known throughout the world.
Praise For Family Whispering: The Baby Whisperer's Commonsense Strategies for Communicating and Connecting with the People You Love and Making Your Whole Family Stronger…
"This warm, accessible, and highly practical guide will be an indispensable resource for families who are eager to find ways to thrive--together."
— Gretchen Rubin

"This book is full of common sense and clarity and will help families mend their bridges and their ways. It is proof that we are all utterly interdependent and teaches us how to respond to one another with decency and respect."
— Andrew Solomon

"Our first and most important relationships are formed in our families. Melinda Blau encourages us to have an expansive perspective, showing child-obsessed parents how to become more family-focused and to empower their kids to form loving, resilient connections. Healthy families are the best defense against the anxieties of our modern world."
— Dr. Drew Pinsky

"Recommended for fans of the Baby Whisperer books and for readers looking for guidance on how to strengthen their families."

"Family Whispering is chockfull of solutions for parents with children who want to control the family, siblings who are long on rivalry, and for your own instinct to be a protective or Helicopter parent. The move into family-centered parenting allows everyone in the family to have a voice and be heard—precisely what is needed to raise children who thrive."

"Systems theory teach us that one individual has the power to affect a larger group. Give that individual a book like Family Whispering, and he or she will have the knowledge and the tools to positively change and impact the most basic and important group of all: the family. Thanks to Melinda and Tracy for helping to make the world a better place--one parent, one child, and now one family at a time."
— Jay Morgan

"Just when I thought we didn't need another book on making families work, I came upon this one! Filled with down home wisdom, and terrific advice, it's the book to reach for when you're asking the question, But what do I do?"
— Harriet Lerner, Ph.D.

"While the time of traditional families is long past, we've never felt a greater desire for practical advice on boosting happier, healthier relationships between all family members. That's why this book is destined to be the most-consulted and comforting guide for children and adults to get along better–in whatever kind of modern family arrangement they have."
— Kare Anderson

Melinda Blau brilliantly translates research on family relationships into clear, easy to read prose. She asks intriguing questions and tells colorful stories that get at the heart of what makes families work. This book is a gem–it's one that people will read and refer to over and over again."
— Anita Vangelisti, Ph.D.

"Family Whispering combines deep wisdom with practical tips, on a topic that couldn't be more important—how to thrive as a family. Intelligent and compassionate, this book is a call to action for a resilient new family model co-created by all of the family members and the surrounding community."
— Neal Gorenflo, co-founder, Shareable.net

"Even if moms and dads apply only 10% of what they learn in Family Whispering, they will become better parents. Packed with useful advice, charts, relatable examples, common sense, and big-hearted insights, this is a book America needs."
— Sally Koslow
or
Not Currently Available for Direct Purchase