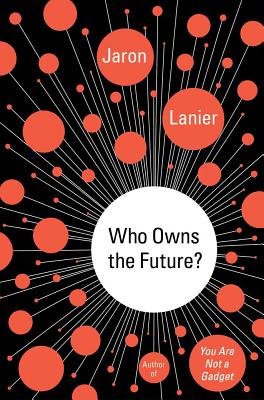 Who Owns the Future?
Hardcover

* Individual store prices may vary.
Other Editions of This Title:
Digital Audiobook (7/15/2013)
Paperback (3/4/2014)
CD-Audio (8/6/2013)
Description
THE DAZZLING NEW MASTERWORK FROM THE PROPHET OF SILICON VALLEY


Jaron Lanier is the father of virtual reality and one of the world's most brilliant thinkers. Who Owns the Future? is his visionary reckoning with the most urgent economic and social trend of our age: the poisonous concentration of money and power in our digital networks.

Lanier has predicted how technology will transform our humanity for decades, and his insight has never been more urgently needed. He shows how Siren Servers, which exploit big data and the free sharing of information, led our economy into recession, imperiled personal privacy, and hollowed out the middle class. The networks that define our world—including social media, financial institutions, and intelligence agencies—now threaten to destroy it.

But there is an alternative. In this provocative, poetic, and deeply humane book, Lanier charts a path toward a brighter future: an information economy that rewards ordinary people for what they do and share on the web.
Praise For Who Owns the Future?…
"The most important book I read [this year] . . . Provocative, unconventional ideas for ensuring that the inevitable dominance of software in every corner of society will be healthy instead of harmful."
— Joe Nocera, The New York Times

"Daringly original . . . Lanier's sharp, accessible style and opinions make Who Owns the Future? terrifically inviting."
— Janet Maslin

"Lanier's career as a computer scientist is entwined in the central economic story of our time, the rapid advance of computation and networking. . . . [Who Owns the Future?] not only makes a convincing diagnosis of a widespread problem, but also answers a need for moonshot thinking."

"Lanier has a mind as boundless as the internet . . . [He is] the David Foster Wallace of tech."

"Lanier has a poet's sensibility and his book reads like a hallucinogenic reverie, full of entertaining haiku-like observations and digressions."

"Everyone complains about the Internet, but no one does anything about it . . . except for Jaron Lanier."
— Neal Stephenson

"Who Owns the Future? explains what's wrong with our digital economy, and tells us how to fix it. Listen up!"
— George Dyson

"Who Owns the Future? is a deeply original and sometimes startling read. Lanier does not simply question the dominant narrative of our times, but picks it up by the neck and shakes it. A refreshing and important book that will make you see the world differently."
— Tim Wu

"This book is rare. It looks at technology with an insider's knowledge, wisdom, and deep caring about human beings. It's badly needed."
— W. Brian Arthur

"One of the triumphs of Lanier's intelligent and subtle book is its inspiring portrait of the kind of people that a democratic information economy would produce. His vision implies that if we are allowed to lead absorbing, properly remunerated lives, we will likewise outgrow our addiction to consumerism and technology."
Simon & Schuster, 9781451654967, 416pp.
Publication Date: May 7, 2013
About the Author
Jaron Lanier is a scientist and musician best known for his work in Virtual Reality research, a term he coined and popularized. Time named him one of the "Time 100" in 2010. He lives in Berkeley, California.
or
Not Currently Available for Direct Purchase