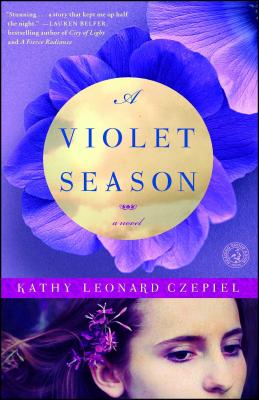 A Violet Season
A Novel
Paperback

* Individual store prices may vary.
Description
A mother's choices in a time of crisis threaten the one person she means to protect—her only daughter—and force her to make the boldest move of her life.

A MOTHER'S CHOICES IN A T IME OF CRISIS THREATEN THE ONE PERSON SHE MEANS TO PROTECT—HER ONLY DAUGHTER— AND FORCE HER TO MAKE THE BOLDEST MOVE OF HER LIFE.

The violet industry is booming in 1898, and a Hudson Valley farm owned by the Fletcher family is turning a generous profit for its two oldest brothers. But Ida Fletcher, married to the black sheep youngest brother, has taken up wet nursing to help pay the bills, and her daughter, Alice, has left school to work. As they risk losing their share of the farm, the two women make increasingly great sacrifices for their family's survival, sacrifices that will set them against each other in a lifelong struggle for honesty and forgiveness. A Violet Season is the story of an unforgettable mother-daughter journey in a time when women were just waking to their own power and independence.
Praise For A Violet Season: A Novel…
"A mother and daughter discover empathy, courage and autonomy in this powerful first novel . . . rich with historical detail and strongly defined characters . . . a finely tuned study in human endurance. An excellent debut."
— Kirkus Reviews (starred)

"Engrossing."
— Booklist

"An intriguing portrait . . . accomplished."
— Publishers Weekly

"Fiercely compelling . . . well played and suspenseful."
— Historical Novels Review

"A Violet Season is the rare moment we hold history in our hands. A hundred years ago we loved and feared and we worked and tired as fiercely as we do today. A Violet Season is fully imagined and a beautifully written book, the transport complete and unforgettable. It's a wonderful and well-earned debut for a brand new writer and I so look forward to her next book."
— Robert Olmstead

"In this stunning debut, Kathy Leonard Czepiel illuminates the sometimes heartbreaking choices women can face as they struggle to preserve their families, their marriages, their very sense of self. A Violet Season combines searing realism with propulsive suspense to create a story that kept me up half the night."
— Lauren Belfer

"The best historical fiction doesn't bring the past to the reader but carries the reader into the past, to see it, touch it, smell it, live it. In A Violet Season Kathy Leonard Czepiel transplants her readers among the blooms at a turn-of-the-century violet farm in New York State, a captivatingly unique time and place, and teaches them how hardy a plant—and a woman—can be. Smell the violets with Joe Jacobs, and with Joe you will 'hardly imagine anything wrong with the world.' See Ida Fletcher's pain—'a great room with a cold floor and a light so bright it hurt to look,' and you won't be able to leave Ida's side, through mistakes and accomplishments large and small. As a writer I say, 'kudos.' As a reader I say, 'more!'"
— Sally Gunning

"A Violet Season by Kathy Leonard Czepiel is a moving and detailed look at the hopes and hardships women faced at the turn of the last century. Czepiel centers her fascinating story on the world of mass-market violet growers in the Hudson River Valley. Her narrative is hopeful, painful and empowering. Rich in historical detail, A Violet Season paints a delicate portrait of the ways women could support and sustain each other and their painful struggle for autonomy at a time when they had few explicit rights."
— Taylor Polites

"Engrossing."
— ATraveler'sLibrary.com
Simon & Schuster, 9781451655063, 272pp.
Publication Date: July 10, 2012
About the Author
Kathy Leonard Czepiel is the recipient of a creative writing fellowship from the National Endowment for the Arts and teaches writing at Quinnipiac University. Her short fiction has been published in numerous journals including Cimarron Review, Indiana Review, Calyx, Confrontation, and The Pinch. A native of New York State's mid-Hudson Valley, she now lives in Connecticut with her husband and two children.