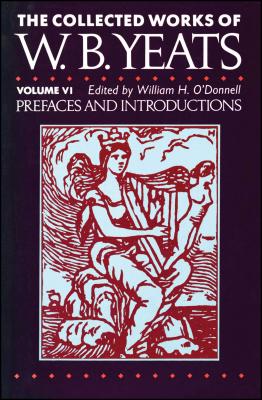 The Collected Works of W.B. Yeats Vol. VI
Prefaces an
Paperback

* Individual store prices may vary.
Other Editions of This Title:
Paperback (5/1/2011)
Paperback (4/6/2013)
Paperback (7/18/2015)
Paperback (5/1/2010)
Hardcover (9/30/1994)
Paperback (9/24/2011)
Paperback (11/5/2011)
Hardcover (12/4/2001)
Hardcover (6/2/2004)
Hardcover (6/1/1993)
Hardcover (2/2/1990)
Description
"Prefaces and Introductions," Volume VI of "The Collected Works of W.B. Yeats," brings together for the first time thirty-two introductions by Yeats to the works of such literary greats as William Blake, J.M. Synge, Lady Gregory, Oscar Wilde, Oliver St. John Gogarty, Lionel Johnson, and Rabindranath Tagore. The introductions, which span the Nobel laureate's entire career, reflect the broad reach of Yeats's literary and cultural interests.
Writing of fairies, ghosts, and witches in his introduction to "Fairy and Folk Tales of the Irish Peasantr"y, Yeats discovers that they were still extant in Ireland, at least in 1888, "giving gifts to the kindly, and plaguing the surly." In his preface to Stories from Carleton he tells of that sweetest ginger of Gaelic tunes, Mary Carleton, who was once asked to sing the air "The Red-haired Man's Wife" and replied: "I will sing for you, but the English words and the air are like a quarreling man and wife. The Irish melts into the tune: the English does not." And in distinguishing the Irish from the English poets of his day in "A Treasury of Irish Poetry in the English Tongue," Yeats remarks: "Contemporary Irish poets believe in spiritual life, invisible and troubling, and express their belief in their poetry. Contemporary English poets are interested in the glory, the order, the passion or the pleasure of the world."
Always insightful and often charming, "Prefaces and Introductions" reveals the breadth of Yeats's talent as essayist, critic, folklorist, and raconteur.
Scribner Book Company, 9781451655070, 384pp.
Publication Date: August 6, 2011