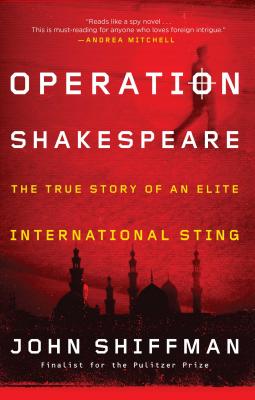 Operation Shakespeare (Hardcover)
The True Story of an Elite International Sting
Simon & Schuster, 9781451655131, 288pp.
Publication Date: July 8, 2014
Other Editions of This Title:
Digital Audiobook (7/14/2014)
Paperback (8/25/2015)
MP3 CD (7/15/2014)
Compact Disc (7/15/2014)
Compact Disc (7/15/2014)
Pre-Recorded Audio Player (10/2/2014)
* Individual store prices may vary.
Description
On today's high-tech battlefields, the most lethal weapons are not the big ones, but rather the ones that are small enough to be smuggled inside a pack of chewing gum. Microchips. Gyroscopes. Radar-cloaking and night-vision technology. Developed and manufactured in the United States at extraordinary cost, these tiny weapons of war—which can guide missiles, see through walls, and trigger anything from a wireless IED to a nuclear weapon—are what currently give the U.S. its military advantage. Unfortunately, they are increasingly being discovered in the hands of our enemies.

In Operation Shakespeare, Pulitzer Prize finalist John Shiffman tells the true story of an elaborate sting operation launched by an elite Homeland Security team that was created to stop Iran, Russia, China, and North Korea from stealing U.S. military technology. The sting, codenamed Operation Shakespeare to disguise its true nature, targets an Iranian arms broker who works on behalf of Tehran. Over the course of three years, the American agents go undercover to outwit not only the Iranian, but U.S. defense contractors and bankers willing to put profit over national security. The chase moves around the world, from Philadelphia to Shiraz, London to Dubai, Beverly Hills to Tbilisi. A mysterious British informant helps the U.S. team lure the Iranian to a former Soviet republic. The Iranian walks into the sting carrying a laptop containing a road map to Tehran's secret military plans. As the United States tries to bring the Iranian to justice, his own government plots to assassinate him, fearful of what he might reveal.

More than a thrilling cat-and-mouse chase, Operation Shakespeare opens our eyes to a vast secret war the United States is waging across the globe. How does rocket guidance technology that is manufactured in California wind up in the hands of terrorists in Lebanon? How do IED triggers travel from the factories of Arizona to insurgents on the battlefields of Iraq and Afghanistan? In addition to answering questions like these, Operation Shakespeare reveals how many of the world's biggest banks have systematically helped enemy states conceal trillions of dollars' worth of wire transactions over the past decades. Shiffman also bares others who put profits over U.S. troops, including a major corporation that hands night vision secrets to China and an American scientist who helps Beijing develop stealth technology.

Tenacious, richly detailed, and boasting unprecedented access to both the Iranian broker and the U.S. agents who caught him, Operation Shakespeare combines the rigor of the best investigative journalism with the drama of Homeland. The result is a fast-paced, masterful account of a little-explored front in the national security wars: the covert struggle to preserve American military supremacy and protect U.S. troops.
About the Author
John Shiffman is an investigative reporter for Reuters. He worked as a staff writer at The Philadelphia Inquirer from 2003 to 2011, where he was a finalist for the Pulitzer Prize. He is the author of Operation Shakespeare and with former FBI agent Robert Wittman, he coauthored Priceless, a New York Times bestseller published in nine languages. He is a lawyer and lives near Washington, DC.
Praise For Operation Shakespeare: The True Story of an Elite International Sting…
"Vivid . . . An impressive and important work . . . Shiffman illuminates the network of smugglers, brokers, governments, and corporations that facilitates the illegal sale and shipment of sensitive American military technologies to foreign enemies. . . . The book has the glamour of a spy novel and the gravity of a meticulously researched exposé."

"Heart-pounding . . . So mesmerizing I couldn't put it down . . . This book stuns."

"A riveting new book, Operation Shakespeare, tells the thrilling inside story of how an elite team of Homeland Security operatives snatched an Iranian arms dealer from the shadows in a triumph of American justice. . . . Operation Shakespeare reads like a spy thriller—but Shiffman's meticulous reporting leaves no doubt that he is telling nothing less than scary truth."

"A tale that seems almost ready-made for Hollywood . . . A cross between a great detective story and an intricate spy yarn from John le Carré, with a cast of burly American agents, slippery international arms dealers, and an Iranian agent."

"One might think that curbing the smuggling of weapons to America's enemies would be a significant priority for the U.S. government. One would be wrong."

"John Shiffman's Operation Shakespeare reads like a spy novel, but this meticulously reported book has the added virtue of being completely true. Shiffman has uncovered one of the great undercover stings in recent U.S. history, a Homeland Security operation aimed at protecting U.S. troops from an Iranian arms dealer. This is must-reading for anyone who loves foreign intrigue—a welcome covert operation where the U.S. agents are the good guys."
— Andrea Mitchell

"One of the nation's premier journalists takes you into the world of smugglers, snitches, and secret agents. Operation Shakespeare is a real-life cloak-and-dagger adventure, with American lives hanging in the balance."
— Matt Apuzzo, Pulitzer Prize winner and author of Enemies Within

"In this fascinating tale, John Shiffman takes us inside the shadowy world of international arms dealing, exposing a high-stakes battle against smuggling that takes place far from the front pages—even as it threatens our soldiers and national security on a daily basis. Leaping from Philadelphia to Tiblisi to Tehran, Operation Shakespeare is so richly detailed you'd never know that Shiffman wasn't actually part of the sting himself."
— Garrett Graff, author of The Threat Matrix: The FBI at War

"Captivating . . . Shiffman's exciting and eye-opening look into the 'tiny weapons of modern war' and the international machinations that control them will appeal to espionage junkies and the techno-thriller crowd."

Praise for Priceless:

"Riveting . . . This should be a TV series."

"Gripping . . . Enough intrigue and suspense for a Hollywood screenplay."

"Stunning . . . Authoritative and superbly crafted, Priceless is absolutely, hands down, the best book ever written on art crime. It is also a fascinating memoir."

"Entertaining . . . Crime buffs will receive a painless education while they enjoy a lively account of art thieves and the man who pursued them."

"With suspense, intrigue, and candor, FBI agent Robert Wittman takes us inside the secret world of stolen art as he goes undercover to solve some of the most notorious art thefts of our time."
— Ronald Kessler

"Priceless is a gem of a story, part James Bond, part art history. If Robert Wittman didn't already exist, Dan Brown would have made him up."
— George Anastasia

"More realistic than The Thomas Crown Affair, more entertaining than Catch Me If You Can. It's hard to believe one undercover FBI Agent rescued so many cultural and national treasures . . . but it's all true."
— Jack Garcia
or
Not Currently Available for Direct Purchase