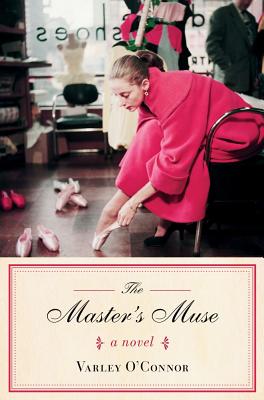 The Master's Muse (Hardcover)
Scribner Book Company, 9781451655384, 248pp.
Publication Date: May 8, 2012
* Individual store prices may vary.
or
Not Currently Available for Direct Purchase
Description
In the tradition of Loving Frank and The Paris Wife comes an unforgettable novel based on the life of George Balanchine's fifth wife, a star ballerina whose career was cut short after she contracted polio at age twenty-six. "We set our sights on each other almost from the beginning." So begins The Master's Muse, an exquisite, deeply affecting novel about the true love affair between two artistic legends: George Balanchine, the Russian emigre to America who is widely considered the Shakespeare of dance, and his wife and muse, Tanaquil Le Clercq. Copenhagen, 1956: Tanaquil Le Clercq, known as Tanny, is a gorgeous, talented, and spirited young ballerina whose dreams are coming true. She is married to the love of her life, George Balanchine-- the famous mercurial director of New York City Ballet. She dances the best roles in his newest creations, has been featured in fashion magazines and television dramas, socializes with the country's most renowned artists and intellectuals, and has become a star around the world. But one fateful evening, only hours after performing, Tanny falls suddenly and gravely ill; she awakens from a feverous sleep to find that she can no longer move her legs. Tanny is diagnosed with polio and Balanchine quits the ballet to devote himself to caring for his wife. He crafts exercises to help her regain her strength, deepening their partnership and love for each other. But in the ensuing years, after Tanny discovers she will never walk again, their relationship is challenged as she endeavors to create a new identity for herself and George returns to the company, choreographing ballets inspired by the ever-younger, more beautiful and talented dancers. Their marriage is put to the ultimate test as Tanny battles to redefine her dreams and George throws himself into his art. The Master's Muse is an evocative imagining of the deep yet complicated love between a smart, beautiful woman and her charismatic, ambitious husband; it is the story of an extraordinary collaboration in art and in life.
About the Author
Varley O'Connor is the author of three novels. She teaches fiction and creative nonfiction writing at Kent State University and for the Northeast Ohio Universities Consortium MFA program.
Praise For The Master's Muse…
"A thoroughly researched and lively tribute toboth the couple (Le Clercq became Balanchine's fourth wife when she was 23 andhe was 48) and the essence of a private, dauntless woman struck down by polioat the height of her career."



"A highlyreadable, absorbing account of the interdependence between Tanaquil Le Clercqand George Balanchine. A must read for dance fans."



"The Master'sMuse is most interestingwhen O'Connor does try to get inside Le Clercq's head. O'Connor's writing is atits best here, too, and it's very readable throughout."



"Thewriting is as beautiful as Tanny herself. "


"Loving Frank was a novel about architect Frank Lloyd Wright's most scandalous love affair. The Paris Wife centered on the first Mrs. Ernest Hemingway. Into this group of well-researched novelizations of famous love lives comes Varley O'Connor's The Master's Muse, about New York City Ballet artistic director George Balanchine."



"Choreographer George Balanchine's fifth wife, ballerina Tanaquil Le Clercq, never wrote about her relationship with her husband, but if she had we can only hope it would be as graceful and penetrating as what O'Connor portrays in [The Master's Muse]. This passionate novel not only gives a glimpse into the ballet world of the '50s, '60s, and '70s, its eccentric characters bring the story to life."
--Publishers Weekly



"A fictional portrait of ballerina Tanaquil Le Clercq's struggle with polio—and George Balanchine. This is not a novel about victimization or the malevolence of genius, but rather about the painful accommodations all of us make for the things and people we love. Thoughtful, tender and quite gripping, even for readers unfamiliar with the historical events the author sensitively reimagines."



"What a rare pleasure to be introduced to Tanaquil Le Clercq through The Master's Muse. I was enchanted from the first page by Varley O'Connor's graceful portrait of this remarkable woman. How privileged we readers are to have the life in all of its strength and intelligence and elegance. Le Clercq is rendered without fuss or ornament, in a manner wholly at one with the beauty she and Balanchine strove for in their art."


-Paul Harding


"A brilliant novel in memoir form, The Master's Muse is pure magic. As I read and was thoroughly absorbed by the writing, the remarkable characters, and the story, I simply could not believe this was a work of fiction, not an authentic memoir, expertly written. The Master's Muse is a superb performance by Varley O'Connor. From one writer to another, my hat's off."


-Sena Jeter Naslund


"An utterly gorgeous rendering of the life of ballerina Tanaquil Le Clercq, whose career was destroyed overnight by polio in 1956. O'Connor vividly recreates the personalities and intrigues of the dance world of the fifties and sixties, but her greatest triumph is in her fascinating portrait of the steely Le Clercq and the enigmatic Balanchine, who first made her his perfect ballerina, then married her, and ultimately betrayed her."

-Adrienne Sharp, author of The True Memoirs of Little K, The Sleeping Beauty, and White Swan, Black Swan
Advertisement