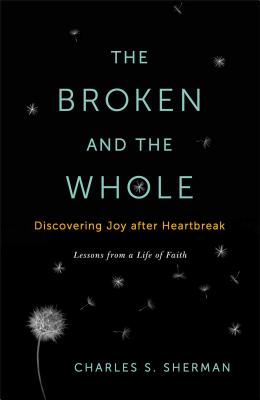 The Broken and the Whole (Hardcover)
Discovering Joy after Heartbreak
Scribner, 9781451656169, 224pp.
Publication Date: March 11, 2014
Other Editions of This Title:
Paperback (3/10/2015)
* Individual store prices may vary.
Description
A powerful, inspiring memoir in the vein of When Bad Things Happen to Good People about the wisdom a rabbi gained after his young son suffered a catastrophic brain stem stroke that left him quadriplegic and dependent on a ventilator for each breath.

A wise, uplifting memoir about a rabbi's search for understanding and his discovery of hope and joy after his young son suffered acatastrophic brain-stem stroke that left him a quadriplegic and dependent on a ventilator for each breath

As a young, ambitious rabbi at one of New York's largest synagogues, Charles Sherman had high expectations for what his future would hold—a happy and healthy family, professional success, and recognition. Then, early one morning in 1986, everything changed. His son Eyal spiked a fever and was soon in serious respiratory distress. Doctors discovered a lesion on the four-year-old's brain stem. Following high-risk surgery, Eyal suffered a stroke. Sherman and his wife later learned that their son would never walk, talk, feed himself, or breathe on his own again—yet his mind was entirely intact. He was still the curious, intelligent boy they had always known.

The ground had shifted beneath the Sherman family's feet, yet over the next thirty years, they were able to find comfort, pleasure, and courage in one another, their community, their faith, and in the love they shared. The experience pointed Rabbi Sherman toward the answers to some of life's biggest questions: To what lengths should parents go to protect their children? How can we maintain faith in God when tragedy occurs? Is it possible to experience joy alongside continuing heartbreak?

Now, with deep insight, refreshing honesty, humor, and intelligence, Charles Sherman reflects back on his life and describes his struggle to address and ultimately answer these questions. The Broken and the Whole is a moving, affecting, and inspiring meditation on what it means to embrace life after everything you've known has been shattered to pieces.
About the Author
Charles S. Sherman is the Senior Rabbi of Temple Adath Yeshurun, the largest synagogue in Central New York. Active in numerous faith-based and secular organizations, he has received many awards for his service and has been a respected member of his community for over forty years. He and his wife, Leah, parents of five children, live with their son Eyal in Syracuse, New York.
Praise For The Broken and the Whole: Discovering Joy after Heartbreak…
A meaningful portrayal of how tragedy affected and transformed one family and especially one religious leader...Deeply moving, extraordinarily thought-provoking and entirely humane.

"This is truly an unforgettable and amazing story—heart wrenching, inspiring, and ultimately reassuring. There's no denying the searing pain of heartbreak, but also no denying the strength of the human spirit to carry on. I can't imagine a person that this wonderful book won't touch. I loved reading every page."
— Wolf Blitzer, CNN Anchor

"For anyone who has ever asked 'How can I possibly survive this?' Charles Sherman has written The Broken and The Whole. This heartfelt and honest memoir of life with his severely disabled son, Eyal, is a soaring poem of hope that gently leads the reader to a place of renewed joy - no matter how impossible or painful the circumstances."
— Kay Warren

"The reader will come away with admiration for the courage of a young boy and for the boundless dedication of his devoted family. A deeply moving book."
— Harold S. Kushner

"A work redolent with the wisdom and the joy wrung from pain. Eyal and his family deepen our understanding of what it means to love."
— Rabbi David Wolpe

"Rabbi Charles Sherman's odyssey with his son, Eyal, who suffered a catastrophic brain stem stroke, is a masterful portrayal of a family with courage, fortitude and eternal hope against all odds. The way Rabbi Sherman weaves his tale with personal stories, insights into Jewish tradition, undefended honesty about his own personal growth, and much more is a truly enriching read. Have a tissue (or a box of tissues) with you – because you will laugh, cry and jump for joy at different parts of this remarkable book. It will open your heart and stretch your soul."
— Rabbi Dov Peretz Elkins

"Charles Sherman's book on loss touches the heart. It validates the deep emotional price we all pay when faced with serious challenges. In the process, Rabbi Sherman softly helps the reader to turn loss into something positive; gently, ever so gently, one is able to learn from the hurt of the past while moving forward to a new day. He does all this with a sense of gentility, sensitivity and an awareness of God's role in making all this possible. It is beautiful reading."
— Rabbi Avi Weiss
or
Not Currently Available for Direct Purchase